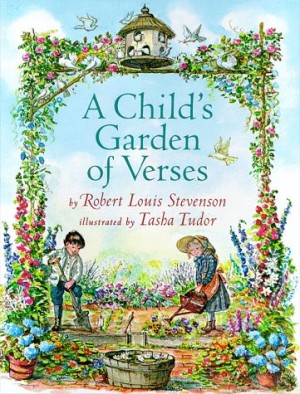 When the big ones were little, we got the Child's Garden of Songs CD (like every other Charlotte Masonish homeschooler in the country), and oh how those small girls of mine adored it. For years it was their most frequently requested music, especially at bedtime–especially in summer. 😉 We got the beloved Tasha Tudor-illustrated picture-book-sized edition of Child's Garden of Verses, too, of course: another CM requisite. My girls liked the book well enough, but it was the CD they cherished, and it's the CD they still recall with affection, and hum around the house from time to time. Those lovely Celtic-flavored melodies got into my blood, too; that's the kind of music I love best; it stirs my heart, gives me the shivers.
Now and then I'll realize suddenly that there are these books and songs that meant the world to us ten, twelve years ago (Amazon informs me I purchased the Tasha Tudor book on April 14, 2000—six years to the day before Rilla was born; gosh, even before Beanie was born; and now I'm a little whelmed by the thought that in some respects, Amazon has a better record of my family history than I do)—important to us years ago, I was saying, but my younger trio don't know them at all. It happened with Miss Rumphius (heresy!) and it happened with Child's Garden of Songs.
I realized this a week or two ago and tracked down the CD, and we've listened to it every couple of days since. Rilla and Wonderboy are as enchanted by its melodies as their big sisters were. Huck remains somewhat indifferent, but then there aren't any songs about trucks, are there?
The large book with the Tasha Tudor illustrations has failed to jump out from any of the shelves on which I'd expect it to be residing. All I found was the little Dover paperback edition, print only, no pictures; but Rilla doesn't care. She sprawled on my bed today, frantically hunting each of the poems during the opening measures of its corresponding song on the CD—pause, Mommy, I can't find it! oh here it is—and then calmly, almost serenely, singing along, kicking her feet, looking up to identify various instruments in the musical arrangement. Guitar, piano, violin, a fluty thing, those little round things you wear on your fingers, more violin, maracas. It was supposed to be my quiet reading time but I gave up on my book and watched her instead. It was a fancy dress day; she likes her sash tied in a fastidious bow, but she scorns anything that binds or tames her hair. The ragged locks fell over her face as she peered down at the book. Amazon says I purchased the Garden of Songs CD on July 19, 2002. Jane was seven that June. You know, last week.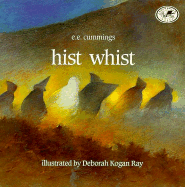 The other book Rilla wanted today—wanted fiercely, rejecting my offer of the next Brambly Hedge story—was hist whist, the little paperback picture book that is an e.e. cummings poem set to pictures. Beautiful, haunting, Halloweenish paintings by Deborah Kogan Ray, whose bibliography I must remember to look up. Her work here is exquisite. If I had a second copy, I'd take it apart and hang up the pictures each October. I don't have to look to Amazon for a record of how this one came to us; it's a Dragonfly Book, which means I probably picked it up on the giveaway table when I worked at Random House/Knopf. Scott and I have loved this book forever. The language of the poem is marvelously rich, cummings at his best:
little hoppy happy
toads in tweeds
tweeds
little itchy mousies
with scuttling
eyes    rustle and run     and
hidehidehide
whisk
You can see why Rilla asked for it five times in a row this afternoon. Five times. I had to smile: yesterday when I added it to our bookstack, she was disgruntled, didn't think she'd like it. I just began reading it aloud, as if to myself, and by page three she had clambered up beside me and was rapt.
For our family, more than anything else it may be books that serve as our links to years past, our bridges back to the selves we were some time ago. Music, yes, especially for Scott, and for me the 80s tunes of my teens, or certain songs from the Bruce Springsteen mix tape Scott made for me that first summer after we started dating, when he was in Connecticut and I was back home in Colorado—but books are more numerous bridges for me. I'll remember what bed or sofa we were curled up on, reading this novel, that picture book. The bay window in our Virginia house with Favorite Poems Old and New on its sill, behind the little brown table with the three tiny chairs; and out the window, a red cardinal on the bird feeder, bright against the snow. "Read it again!" they'd beg, shouting. "Page 36!"—The Thomas Hood poem they loved, still love, though now Huck, not Wonderboy, is the three-year-old "imp of mirth and joy" it depicts.
hist    whist
little ghostthings
tip-toe
twinkle-toe
I think perhaps it isn't only a Halloween poem after all…
* * *
{{Visit Poetry Friday at Paper Tigers}}