Mostly tell. Because: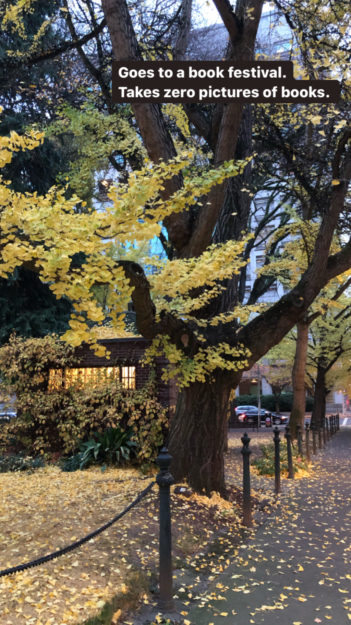 I remember how, as a kid, I used to come home from the library with a stack of books—as many as I could haul home on my bike—and then find it impossible to decide which book to read first. I'd spread them out, flipping through this one and reading a page or two of that one, feeling the torment of indecision sweep over me, paralyzed by all the enticing options.
I'm fifty now, and nothing has changed.
Which book to read next? Which book to write next? Which stitch to try in my embroidery project? Which color? Or maybe I'd rather sketch. Paint. Take a walk. Take a photo! Write a blog post. Water the plants. Fill the bird feeders. Read a book. Oh no, which book??
This hits me hardest on Sundays, when I have a little free time. I often have to start the day by making a list of all the lovely things I could do. It's funny, though—I can power through a to-do list like nobody's business, but a fun list? Let me just sit here for an hour, doodling in the margins as I try to decide.
Example: I went to the Portland Book Festival yesterday and had a splendid time. I'm bubbling over with tidbits to share, but when I sat down to begin, I fell into the old needs-to-be-an-organized-well-crafted-post trap. Organized writing takes time! I often think: I'll save this topic until I can do a proper job with it. Turns out that's a death sentence for most topics.
Then it struck me that when I read AV Club recaps of a show I'm watching, my favorite part is always the list of bullet-pointed "stray observations" at the end. (In fact, I usually huff with irritation as I read the main body of the post, because so often the reviews seem to be grumpy takes on how the episode could have been better if only it were an entirely different episode, and possibly a different show. But the "stray observations" tend to celebrate memorable moments, and that's what I'm there for!)
All right, stray observations—that's an attainable goal. 🙂
• There are a lot of really great independent bookstores in Portland, and I need to visit more of them.
• Had lunch with Kortney and Tonia, and I need way more time with them too!
• Had a very interesting chat with Sue Campbell of Pages and Platforms about book launch strategies. She winced when I admitted that yes, I do have a mailing list, but I haven't sent out a newsletter since 2015. Um. Yeah. Sounds like I need to bump Project Revive My Bookletter higher on the list.
• (Ugh, you guys, promoting your own work is the worst part of being a writer. I can happily, eagerly talk about other writers' books until I'm blue in the face! But my own? OH THE PAIN.)
• (Having said that, I am pretty doggone excited to do the cover reveal for my new novel. December 2nd! It's getting close! The cover is sooo great. I squealed pretty hard when I saw it. You'll see.)

• I got a demo of a manuscript-writing app called Shaxpir that surprised me by knocking my socks off! It has some features similar to Scrivener (which is what I've used for my last two novels) but with a cleaner, better-for-me interface and some extremely nifty tools to clue you in to patterns in your writing. I'm just finishing a trial of Ulysses, another kind of writing/publishing software which has some features I like very much indeed, but I think I might like Shaxpir better. The two platforms are really quite different. Stay tuned for a report. Also: how fabulous is this logo?
• (I'll always love Scrivener for the corkboard with movable index cards, though. I love moving scenes around on that thing!)
• Shaxpir has a related website called Prosecraft: Linguistics for Literature. If you're a word nerd, you're in for some serious fun.
• I enjoyed a chat with the publisher of Two Lines Press, which publishes "exceptional new writing and overlooked classics that have not previously been published in English." Their list looks amazing. Books from all over the world. I started enthusing about a recent episode of Commonplace Podcast in which Rachel Zucker's interview of Jennifer Croft knocked my socks off—Jennifer is the English translator of Polish author Olga Tokarczuk and the author of a novel-memoir called Homesick—and it turned out the Two Lines publisher is close friends with Jennifer. Such a fun conversation. Naturally I jumped on Edelweiss as soon as I got home and requested a review copy of That We May Live, a collection of Chinese speculative fiction stories. Stay tuned!
• When I'm at a downtown event, I love to walk across one of the bridges toward home and let Scott pick me up on the east side. Easier drive for him and a beautiful walk for me. I left the festival and reached the Hawthorne Bridge just in time to see the riverfront lights pour themselves into the water. Magical.
Comments
Kortney Garrison says:

I talked to the folks at Two Lines as well! Fascinating work they do!

Penny says:

"I discovered books, and then I read forever." – John Adams

Yep. 🙂

tonia says:

Wow! So much goodness in this post! I have lots of new links to follow and I'm going to check out Shaxpir because Scrivener and I have a dysfunctional relationship. :/

Thanks for spending lunch with us and sharing all your book excitement! I can't wait to read it!

tanita♥ says:

What a nice thought, to walk home from all of that. Looking forward to what you have to say about Shaxpir; I've never found Scrivener very intuitive but know there must be something better than Word…

Susanne Barrett says:

I'm intrigued by Shaxpir. I've debated about using Scrivener, but haven't had the $$ to invest, nor the time or energy lately. I had plans for NaNoWriMo as I have a bit of a break from Brave Writer this month, but my body and mind decided they needed a break, so a break we took. I used to be so much more focused, but taking care of parents and sick grown "kids" has taken the wind outta my sails for now.

Loved your bullet points!! So much fun–each one was an unexpected surprise!! 😀

Enjoy your lovely fall weather in Portland as we're in the midst of fire season down here in San Diego. We've lost power three times in three weeks, two from SDG&E Red Flag Warning shutoffs (about 36 hours each) and one unexpected outages last week. That's three Thursdays in a row without power…which means I have awesome excuses for reading by candlelight!! And then there is our bumper crop of Pippins this year–they are crisp and delicious, the perfect balance of sweet and tart; my kitchen smells scrumptious as we dry them to make the best apple chips ever!!

Happy autumn!

~Susanne 🙂

Stephanie Elms says:

Stray observations are good! I might need to steal the idea…

Judy Coleman says:

I love that the icon, while clearly a typewriter, if quickly glanced at sideways looks likes a Converse sneaker!

Teresa Lynn says:

Great post. Great format! Great info. Hmm, I think there's a pattern here…
Thanks for sharing.