Reviews and Interviews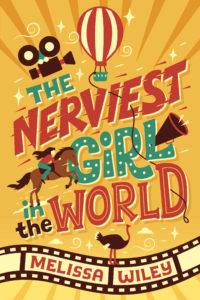 "Pearl, 11, lives on a cattle and ostrich ranch outside San Diego, where she helps to tend temperamental ostriches, learned to ride horses early on, and rivaled her older brothers on horseback by the time she was nine. The brothers' advanced riding skills get them recruited to play "Death-Defying Cowboys" in the new moving pictures. When Pearl visits the set and her horse spooks, her ability to remount the galloping animal earns her a part in the director's next film. Pearl learns to act on the job ("Can you show me scared instead of stomachache-y?") and begins her career doing parts that require stunts, such as jumping out of a window and even shinnying down a rope out of a hot air balloon. Along the way, she discovers a passion for acting and navigates relationships with her difficult brother, as well as Mary, a town girl jealous of Pearl's film roles. Lively illustrations by Deas mirror the heart, humor, and bravery of Pearl herself. Set in the early 20th century and inspired by real-life silent-film star Pearl White, Wiley's (The Prairie Thief) vivid snapshot of cinema's early days, as well as Pearl's life on the ranch, offers warmth and wit."—Publishers Weekly

"Wiley channels the spirit of silent-film star Pearl White in this lively yarn about a rancher's daughter roped into the movie business. This Pearl—Pearl Donnelly—could ride a horse before she could run, and she wouldn't have it any other way. She loves living on her family's ranch in Lemon Springs, California, though she wouldn't mind if someone else had to tend their ornery ostriches. But that was before Mr. Corrigan came to town to film moving pictures called westerns. Pearl's older brothers quickly get work performing stunts in his movies, and Pearl accidentally gets a break when the director sees her hold her own on a spooked horse. Soon, Pearl's jumping out of windows and riding like lightning for the camera. Wiley's novel is a thrill ride excitingly grounded in film history, which is discussed in a fascinating afterword. Best of all is Pearl, a treasure of a protagonist whom readers will love for her candor and bravery as much as for her willingness to admit to her own failings."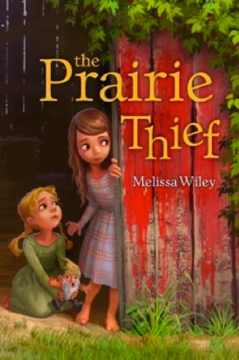 School Library Journal on The Prairie Thief:
"Wiley has created a charming, inventive tale that reads like a delightful mash-up of Little House on the Prairie and Tony DiTerlizzi's 'The Spiderwick Chronicles' (S & S). Short chapters and the air of mystery and suspense keep the pages turning, and readers will be taken with Louisa, who is sweet and mild-mannered, yet has the strength to fight for what is right. The writing is breezy and lyrical…[a] top-notch story."
The Prairie Thief at Kirkus:
"Fans of the Little House books will recognize the setting and enjoy the fantastic twist. Stylized black-and-white illustrations capture key moments and add to the warm tone. The comedic, unexpected, satisfying conclusion hits just the right note. A pleasing folkloric/historical blend."
Bulletin of the Center for Children's Books review of The Prairie Thief:
"Frontier fiction and folkloric fantasy are an unusual combination, but they actually blend remarkably well here, and Wiley does a fine job of staying true to the pioneer inflections of Louisa's story while effectively integrating the magical brownie…The effective mashup of popular genres will make this a hit with a variety of readers, so try handing it to Little House fans and folktale-lovers alike."
Semicolon Blog review of The Prairie Thief:
What if a brownie, or some other such legendary creatures, were transplanted to the New World? To the prairie? Would these native Scots creatures thrive in the lonesome prairie grasses and winds, or would they be homesick for their native land? Would they, like the European (human) people who came to America, take up new ways while keeping some of the old customs, too?
Melissa Wiley has written a delightful little tale for little girls who love fairies and leprechauns and brownies and all the inhabitants of faery land.
"Karen Edmisten: Our Prairie Thief Luncheon (and a book review)":
"What I will tell you about the book is that it's a bewitching blend of literary comfort food and spice. There is the familiar, cozy feeling that we've settled in with Lissa's historical fiction (you know how much we love Martha and Charlotte) and that we get to spend time with the realistic and sweetly brave heroines she conjures. But this book is unique, with its own surprises, not a rerun of anything-Little-House. The writing is lively and magical, and refreshingly wholesome for the intended age group (middle grade.) At the same time, The Prairie Thief deftly but subtly explores for the young reader the ethics of when to tell the truth, or the whole truth, or nothing but the truth. The tightly woven plot is a delight to unwind and the ending will leave your child hoping for a sequel. The book was loved by all in our club."
The Prairie Thief at Jen Robinson's Book Page:
"…a delight from start to finish. Highly recommended for middle grade readers, boys or girls, age eight and up."
Review of The Prairie Thief by Amy at Hope is the Word:
"Thankfully, I was alone when I read the denouement of this lovely little middle grade tale; anyone who watched while I was reading would surely have wondered how I could derive so much enjoyment (as evidenced by the broad grin on my face) out of what is obviously a children's story.  This one is pure enjoyment."
Review of The Prairie Thief at Writing on the Sidewalk:
Every now and then a book makes me miss having a class to read to. Some books absolutely beg to be read aloud. The Prairie Thief by Melissa Wiley is that kind of book….And then, the must of all musts for reading a story aloud… the language. The Prairie Thief is rich with gorgeous, evocative language that begs to be heard as well as read. We feel as though we've been transported back in time when we listen to expressions like, "He was wailing loud enough to curdle milk," or "Ye look like last year's scarecrow." Even the simple "Balderdash!" sounds better out loud. Wiley uses big words too – words that some kids will latch on to and roll around in their minds and mouths – like audacious, gesticulations, rapscallion, scrutinizing – they add to the mood and help us sink into this world.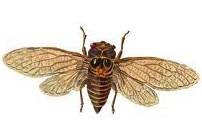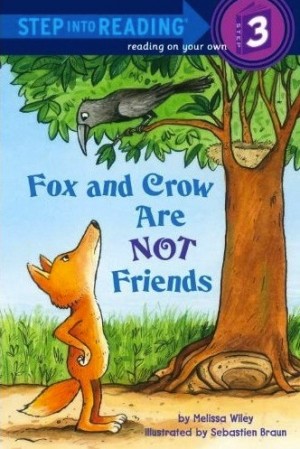 School Library Journal review of Fox and Crow Are Not Friends, October 2012 issue:
"Children eager to move beyond easy readers and older students requiring simple text in a chapter-book format will find this title a good choice. As in many familiar folktale themes, Fox and Crow are trying to outwit each other. In the first episode, Fox tricks Crow into dropping a chunk of cheese right into his mouth. Crow then uses cheese to lure Fox into a cleverly designed trap. But where does the cheese come from? The third chapter shows both tricksters recognizing their mistakes. 'That will teach you not to steal my cheese,' says Mama Bear, whose presence in the earlier chapters will be noted by astute observers of Braun's lively, colorful cartoon-style illustrations. With its crisp writing and short sentences, this is a solid addition."
School Library Journal, "Fresh and Fun | Books for Emergent Readers":
"Melissa Wiley retells and expands upon an Aesop's fable in Fox and Crow Are NOT Friends (Random House, 2012; Gr 1-3). Three entertaining chapters describe how these two enemies repeatedly—and humorously—try to outwit one another to earn bragging rights along with a tasty piece of cheese. Sebastien Braun clearly depicts the animals' antics with lighthearted artwork in sherbet hues. The straightforward text, amusing illustrations, and hilarious rivalry will encourage developing readers to persevere. Expand the reading experience by sharing other fables, and having your students come up with 'what happens next…' scenarios."
Fox and Crow Are Not Friends at Kirkus:
"The familiar fable about Fox and Crow, retold for new readers. Youngsters will quickly understand the word "outfoxed" after reading these tales of flattery, greed and cheese, told as three connected short stories. Fox and Crow are enemies, fighting over one hunk of cheese as if it were the last morsel of food on the planet. It won't take long for readers to giggle at just how far these two will go for the cheese. Fox gets the best of Crow in the first story, in which Fox flatters Crow into dropping the cheese directly into Fox's mouth. Next, Crow dreams of ways to get the cheese back and spends every waking moment constructing a cunning trap, with stew-covered Crow as the lure. Success! Fox retaliates in the final chapter, but both critters are outsmarted by the watchful Mama Bear. Humorous watercolor illustrations are punctuated by thought bubbles showing the animal's plans; other playful details include the owl's eyes watching the shenanigans from a safe distance and the eventual sheepish looks when the enemies are trapped in the same net, with Mama Bear chastising them from the side. Funny chapter titles will amuse adults, and subtle visual details make this a fable book that new readers will return to."
Review at Gail Gauthier's Original Content:
And this little volume is full of literary references, starting with its title. Fox and Crow Are Not Friends calls to mind Frog and Toad Are Friends the first of the Frog and Toad  I Can Read books by Arnold Lobel. I once saw this series referred to as the best I Can Read books ever written. The chapter title A Good Smell Is Hard to Find has to make adult readers think of Flannery O'Connor's A Good Man Is Hard to Find, a short story I've never understood. Another chapter title, Revenge Is a Dish Best Served with Cheese is a play on "revenge is a dish best served cold," which is not a Klingon proverb, people!
Interviews:
Brave Writer podcast with Julie Bogart
Author Spotlight at Writing on the Sidewalk
Authors Are ROCKSTARS! podcast
Author letter at Ready-to-Read
Thicklebit love:
Quinn Cummings at The QC Report: Draw the Line
Amy Kraft at Wired.com's GeekMom: Getting Into the Thicklebit
Hobbits, Home and Abroad: A Webcomic to Smile About