In February of 2005, when Bonny Glen was just a few weeks old, I wrote:
When I was setting up this blog, I created a category called "Things that Inspire Me" with Small Meadow Press in mind…
…and Lesley Austin's peaceful presence and lovely way of looking at home life have been inspiring me daily since then. There are Small Meadow touches all over my house: the "Peace Be on This House" garland hanging between living room and kitchen; the little stash of stationery (now almost gone, alas) in my correspondence basket; the small, handmade notebooks tucked into every bag I own; the calm brown binders I use for organizing paperwork; the quotation prints here and there about the house, framed or hung up with a ribbon.
I was sad when Lesley closed Small Meadow, though I well understand the necessary changes that come with new seasons of life. But with the closing of that door, Lesley opened a new one—a vine-covered door like the one into The Laurels or the Secret Garden, with a sundrenched radiance inside. Since its beginning, I've been a member at Wisteria and Sunshine, Lesley's subscription-based blog and forum for exploring "wild simplicity and deep domesticity," and in these swift months it has become not only one of my favorite corners of the internet, but practically a way of life.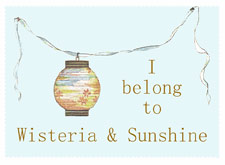 Each day at W&S, there is a new post from Lesley, sometimes two, discussing—in her exquisite prose, so lyrical it's almost poetry—topics related to home and hearth, simplifying, decluttering, making one's home-spaces lovely with simple, graceful touches. Some days she writes about a beloved author (it's Lesley whom I have to thank for inspiring me to read The Scent of Water) or a book we're enjoying together—right now it's Wise Child. Some days she shares a thought-provoking quote, inviting discussion. What she has created at W&S is rather remarkable: a close-knit community of women working together to cultivate an atmosphere of peace, joy, and order in our homes. Each month Lesley chooses a focus: a particular corner of the house (she did wonders for my bathrooms and even my closets!) or a particular corner of the soul, you might say. During the wild rush of my spring—nose-deep in my novel, busybusybusy with the blur of six growing children—I found I was approaching my housework with genuine calm and more joy than I've ever taken in it. And the changes have stuck. I actually enjoy cleaning my bathroom.
The name, of course, comes from Enchanted April, one of my favorite movies of all time. For those who appreciate wisteria and sunshine, reads the ad that captures Lottie's imagination and sets off that whole wonderful series of transformations. And just as the wisteria-and-sunshine garden of that Italian villa infuses its visitors with light and renewal and contentment that they carry back into the outside world, so too does the W&S forum. Can you tell I love it? I truly love it.
The monthly subscription fee is modest, and Lesley more than earns it with the hard work she puts into making the site nourishing, useful, welcoming, and beautiful; and I've also come to feel like the small commitment leads to a camaraderie and…hm, I started to say seriousness, but I don't mean in any way grave or somber, I mean nontrivial, mindful, engaged…among the members. I have so enjoyed getting to know the other forum members, and having a closer connection with the handful of friends I'd already known.
Lesley, ever generous, has graciously offered a free three-month gift subscription to a Bonny Glen reader. Now, I have to tell you this delights me on multiple levels: one, because I want to see W&S grow and thrive, and I think you really have to experience it to grasp what riches it offers; and two, because I love my Bonny Glen readers and this means at least one of you will get to join us in the garden. (I would be thrilled if more of you decide to give it a try, even if you don't win the giveaway.)
To enter, leave a comment on this post before 11pm Pacific time on Wednesday, July 4th. I'll use a random-number generator to draw a name on Thursday morning. Spread the word!
For a peek at each month's topics (and a sense of the beauty and tone of the site), visit the open-to-all blog Wisteria and Sunshine Tidings.
Comments
Jeanne says:

Well count me in. Wisteria and Sunshine sounds lovely!

Navhelowife says:

I need some of that in my life!

Ellie says:

Oh what a lovely opportunity, Lissa! Many thanks to Lesley for offering. I've wanted to join from the beginning, but well, the ol' penny jar, you know, it isn't what she used to be 🙂

xoxox

Theresa Marshall says:

Sounds great!

Leslie in VA says:

I would love to win this. I have drooled over that site many times! Thank you for the opportunity!

Jen in IL says:

I could use some peace. Count me in.

Mary G. says:

Sounds lovely … and just what I need to jump start my creativity this summer (where it's been so blasted hot here in the Old Dominion … it's hard to think let alone create!).

THANKS for offering this … and if I don't win, I just might have to subscribe anyhow!

Jamie says:

Every time you mention W&S I think about how nice it sounds!

Amy says:

I have been thinking about joining W&S…it sounds wonderful!

Karen in SC says:

Thanks for this chance! It sounds delightful.

Blythe says:

My house is decorated in dog hair and gobs of vintage oatmeal. I could use a little inspiration.

Diana says:

It all sounds so lovely. Can't wait to check it out.

Shonda says:

Pretty. What a nice offer!

Mrs. Mordecai says:

It sounds lovely. I am looking into it right now! Thanks.

Greta says:

I need to win this more than you know! Thank you for the opportunity. 🙂

Jennifer G. Miller says:

I've been dying to see if I would enjoy it, but the monthly fee is what stops me. 3 months trial would be so great!

Rachel says:

Oh, I'll give it a shot…looks lovely

emily says:

This sounds like something that I might find very useful in bringing some calm to my attempts at homemaking.

Mindy says:

This sounds so lovely! Enchanted April is one of my favorites too.

Heather says:

this sounds lovely!

Fe says:

I would certainly appreciate some inspiration!

Ryane says:

This sounds wonderful. Thanks for the chance.

susan fuerst says:

Oh, how I could use a bit of wisteria and sunshine in my life!

almamater says:

Sounds lovely; I would love to visit the garden.

Nancy says:

wow! that sounds like quite a lot of inspiration. pick me! 🙂

Amber says:

I would like to enter, thank you!

Heather says:

thanks for offering this! I've been curious about it for awhile now. sounds like it could be really helpful!

stephanie says:

I'd love to check it out!

Hope M says:

I've scoured the web for her designs. Such loveliness, and a lovely giveaway!

Phoebe says:

I'm game!

Alice Gunther says:

Pick me! Pick me!

KC says:

I would love this!

Christie Wessels says:

The site sounds lovely. I'm intrigued. I would love to see what it was like for a few months to see if it's something I would truly benefit from.

Theresa says:

Please count me in. I'd love to check it out.

Jenny says:

I have loved reading about Wisteria and Sunshine–would love to try it for myself!

Beate says:

Gorgeous pics 🙂

Sherry says:

This website and way of life does sound lovely. I wonder if it would "work" for even little old domestically-challenged me.

Sam(antha) says:

I'd love to be entered!

shannon says:

this is a great way to bring out those of us who read without comment, to actually make a comment. Thanks for the opportunity, looks lovely. reminds me a little of some lovely encouragement I received early on in our home school journey (14+ years ago) from a group of wise women on one of the email loops we used back then.

I have been reading in a very, very spasmodic manner posts from you since about 2000 – not from this blog, can't recall if it was a CM inspired group or else where. nice to keep bumping into you.

God Bless
Shannon

Mary says:

Sounds wonderful!

annie says:

I almost never comment (I get nervous…), so I feel funny commenting now. But, oh what a lovely corner of the internet. I would love to be entered. Thank you!

Hannah says:

The name alone sounds alluring! The way you describe W&S reminds me a little bit of Victoria magazine, which I used to love to read. Thanks for running this generous giveaway!

Lori B says:

I've been interested since the first time you mentioned W & S! It sounds beautiful.

Carol says:

I am so glad you shared this blog site! I have never heard of it before and am really looking forward to visiting and being inspired.

Lindsay says:

Count me in. What a wonderful opportunity. My "pin money" is going to music lessons these days, so the monthly fee has stopped me from giving it a try. If I knew for sure it worked for me…

Karen Edmisten says:

Don't count me in, simply because I'm already a subscriber, as you know. 🙂 I'm just adding my two cents that Wisteria and Sunshine is a beautiful, peaceful haven. I love it, I love Lesley, and I love the idea of this giveaway!

Jennifer says:

Oooh, I would love to try it out!

Hallie @ Betty Beguiles says:

How have I never heard of Wisteria and Sunshine? It looks like such a haven of peace and inspiration!

Elizabeth Swift says:

Karen Edmisten recommended this. Since Karen and I are kindred spirits I'll bet I'd enjoy it as well. So here's hoping…

Melissa H says:

That site sounds fantastic–I'd love to get a free trial!

sarah says:

Ooooohhh! Pick me–pick me! I truly miss Small Meadow Press. Down to my last few cards.

Aisha @ JustMomsMusings says:

Looks like a truly lovely place to linger. I would love have a subscription.

Meredith says:

Sounds like my cup of tea! Thank you!

Helen Russo says:

🙂 I'm sure I won't win however I do appreciate the intro to a site I can' t wait to explore when I have a quiet moment. Thanks!!

Jen L. says:

Thanks for the giveaway –here's hoping! 🙂

Mary Alice says:

This would just nourish my soul.

Devin Grayson says:

And here I've spent the last twenty years of my life believing that I was the only soul in the world who actually enjoyed cleaning the bathroom (my favorite part is tucking aromatherapy-scented cotton balls into the drawers and cabinets). If your random number generator picks me, roll again! I'm signing up now! <3

Patty says:

I, too, like wisteria and sunshine…
The blog sounds wonderful and a three month trial subscription does too!

Jody says:

What a terrific giveaway. I'd love something that could help me enjoy cleaning bathrooms.

sashwee says:

Please include me in the draw.

S/V Mari Hal-O-Jen says:

Oh yes please! This sounds delightful.

Lisa says:

Oh hooray!

Amy Carney says:

Charmed by your description . . . Please count me in!

Jill says:

I love Wisteria and Sunshine! (and Enchanted April, too….)

Joy says:

Would love to try this!

Leslie in Springfield says:

Oh! Me! I'd love to try out Wisteria & Sunshine! Random number generator, I will be your BFF if you pick me!

June @So_Meow says:

love at first site!

Hypatia says:

What a lovely review!

Elizabeth H. says:

I'm in!

Sally says:

There are so many wonderful blogs and sites out there hidden away until some soul shares them with you. Thanks so much for sharing the existence of this site and for a chance to win 3 free months. How lovely.

Pippi says:

This sounds lovely! I'll have to check it out!

Lindsay says:

I love a chance to try wisteria and sunshine.

Kathleen S says:

Pick me. I never win anything.

Stephanie says:

Coming in a little bit under the wire. I am very interested!

Paula says:

This sounds like something I have been longing for.

Amanda says:

Melissa,
When you join, do you have access to the archives or only the current month? If I join I'd want to see, for example, the June posts on kitchen drawers, etc. Too bad I missed the drawing! I read your post briefly and meant to come back, but appliance replacing distracted me for a while! 🙂

Melissa Wiley says:

Amanda, members have access to the archives and all forum posts. I myself have returned to the spring cleaning posts a number of times–I can see them becoming a regular seasonal boost for me.