September 15, 2014 @ 8:08 pm | Filed under:
Books
The other day I mentioned I've been meaning to write a post about the 1972 middle-grade novel Sarah and Katie by Dori White. THIS IS NOT THAT POST. This is purely a curiosity itch I can't wait to scratch. I took my query to Twitter, too, and…crickets. Now, ordinarily the merest mention of any book on Twitter, let alone a childhood favorite, garners zillions of immediate and enthusiastic responses. People love to talk about their childhood books.
Which leads me to believe that no one I know either on Twitter or here has heard of this book!
Can this be? Am I alone in my Sarah and Katie mini-obsession?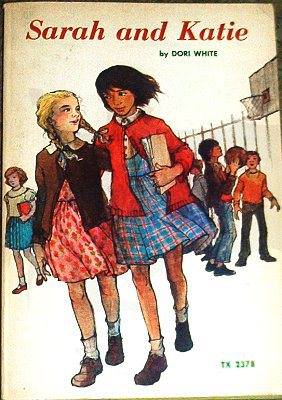 Illustrations by Trina Schart Hyman, you guys. It was a Scholastic Book Clubs book; I'm sure that's where I came across it.
Anybody? Bueller?
This book haunted me. I don't remember what age I was, maybe eleven? Story of two best friends, sixth graders, in Depression-era Oregon. Thick as thieves, a regular Betsy-Tacy pair, but the arrival of a new girl in their midst doesn't work out quite as well as when Tib shows up. (Then again, B-T and Tib were around six in that book. Big difference between six and twelve. Trios are much trickier, at twelve.) The new girl is dazzlingly beautiful, a cloud of red curls, glamorous, dazzling, a wee bit manic; and everyone including Sarah is smitten—except Katie, who sees through Melanie's stories. Ring a bell? No? There's a play, and of course Melanie gets THE PART, and she's amazing in it, she's this incredible actress, but that too sticks in Katie's craw…
And the whole scene when they go to Melanie's crummy apartment, and she's playing it up, lady of the manor, lavish, starletty…until her mother comes home and suddenly she's TOTALLY CHANGED—clothes, hair, voice, manner. All meek and humble. And Katie's like I KNEW IT!
What haunted me about it was the disturbed and disturbing tone, the undercurrents caused by Melanie's deception. And the idea, which must have been new to me then, that a girl could so thoroughly fool people, could fool even her own mother. And the gradual realization, handled so deftly by Dori White (as I noticed when rereading it last year for the first time in maybe two decades), that there was a deep longing and desperation behind Melanie's actions, that she wasn't just someone you could slap a Bad Guy label on. Katie awakens to this slowly, painfully, and she brought me right along with her. The only other children's book I remember experiencing that same awful poignancy in—almost a sense of guilt—was The Hundred Dresses.
Okay, so now I sort of have written the post I was thinking about, I guess. But really what I want to know is, have none of you heard of it?
Comments
Jennifer says:

Nope. I'm intrigued. Is it still in print? My sil gave my daughter The Hundred Dresses but I didn't read it with her. I'm tempted to go grab it off the bookshelf now even though we are closing in on midnight.

Melissa Wiley says:

Nope, out of print. But you can find them used.

Do go read Hundred Dresses! That book *sticks with you*, man. Until Hundred Dresses, I think you (10yo me, at least) assume that the narrator of a book, especially if she's a girl around your age, is going to be the good guy, the brave-strong-true heroine of the piece. It rocked my world that the narrator could be weak or flawed. I don't think I ever thought about storytelling quite the same way after that book. Wide open possibilities, and people more complicated than I knew.

Jennifer says:

I keep meaning to tell you that FB repeatedly asks me if I work for you and I couldn't figure out why but maybe FB knows that I pretty much do whatever you tell me to do because yeah, I already went and grabbed The Hundred Dresses.

sarah says:

I've never heard of it. But then, I read few – if any – American books in my childhood. They simply weren't in my milieu. Only when I was an adult did I discover what I had been missing.

sarah says:

By the way, it's a sweet coincidence that you have written about a favourite childhood book the same day I wrote about one of my own favourites. It reminds me of why I consider you a kindred spirit 🙂

Melissa H says:

Nope never heard of it. 100 dresses either. And I thought I had read a lot of children's books 😉

Libby Beer says:

I'd never heard of Sarah and Katie before your tweet, but I was definitely thinking THE HUNDRED DRESSES!! almost from the phrase "Depression-era".

Meg says:

I recognized that cover immediately, but couldn't recall the story until I read your synopsis. It must have been this book that gave me the idea that my middle school arch-nemesis might have some hidden redeeming qualities. I looked for them for a while, but never found any. 🙂

Emily D. says:

Read the Hundred Dresses. 🙂 Now I want to re-read it. But never this one, and my mom and her sisters had a good handle on tween/kid girl lit in the 60s and 70s since there were so many of them. 🙂

Ellie says:

You always post after I go to bed :-p otherwise I'd've been on here immediately saying, "YES YES!!! Oh my glory goodness, yes I read it (over and over) and I have been waiting for you to bring it up here since I neither tweet nor instagram and therefore can,t ever comment when you bring things up in those places, that i want to respond to, so i wait until you say it here, and you usually do 🙂

Anyhow, yes. This was one of those 'girl' books that I found equally disturbing and entrancing, and reread endlessly.

susan says:

Hi
I've never commented on your blog, but this book mention impelled me. I read this when I was around 12. I always wished for red curly hair, so I had too. I didn't think it made such an impact on me when I read it, but it is one that I often find myself remembering at random times. I love it when you talk books.

selvi says:

This reminds me of the "secret book" posts over at angry chicken. Its about books you read as a child that stuck with you but that no one else knows about. It sparked a lot of comments with people sharing their own secret books, and some follow-up posts. It's so great to discover someone that knows one of your secret books.

http://angrychicken.typepad.com/angry_chicken/2014/07/my-favorite-book-series-when-i-was-little.html

jep says:

I don't recognize the book, but love the Trina Schart Hyman illustrations. I met her at a children's literature conference right after she won the Caldecott Medal for Saint George And The Dragon and she was the most delightful person. Sounds like your book memories are really good ones. Amazing the books from our childhood that make an impression on us. My book was Madeleine L'engle's A Wrinkle In Time…helped an awkward kid (me) with glasses believe that good things can happen to everyone.

Melissa Wiley says:

Ellie! I might've known you'd know the book. 🙂 And Meg and Susan—so good to hear from someone who remember it! It held up well on rereading as an adult.

Okay now I have to ask about Anna Bennett's LITTLE WITCH!

Mama Squirrel says:

Oh yes, I remember Melanie too! I have a collection of vintage Scholastics, but that's one I haven't seen since the 1970's.

Sara says:

I never heard of Sarah and Katie, and I can't decide if I want to get it for my 12 year-old to read. Disturbing? Hmmmm.

60 seconds later—I reserved it anyway, along with Little Witch. I had a favorite book that I *thought* was called Which Witch, but it might have been Little Witch. Now, maybe I'll find out!

Fanny Harville says:

Never heard of Sarah and Katie, have vague, fond memories of Little Witch, and absolutely adore The Hundred Dresses. "A hundred of them. All lined up in my closet." Could there be a more devastating refrain?

Elizabeth says:

I have never heard of this story either.

Alysa says:

Never heard of any of these 3 books, but now I want to read them!

Karen Edmisten says:

I have not heard of Sarah and Katie, but yes to The Hundred Dresses and now I need to go look for S and K ….

Nancy says:

I'm so very happy to hear that people remember this book and loved it! Dori White was my aunt and I was privileged to receive one of the first copies for Christmas. I adored this book and read it many, many, many times. I was also very sad that she never wrote a sequel; though we talked about it a few times and I know she was asked on multiple occasions to continue the story.

I think about this story, many times when I hear news reports of bullying incidents in schools. For me, this story is all about bullying and the underlying personal pain that may be causing the bully to act out. So many times the act is only the symptom of how much a person is hurting inside. I think Dori was way before her time on this topic.

It was the gift of this book that inspired my love own for writing. In fact, that's how I stumbled on this post as I was trying to find the original publication date. Seeing the date above, I believe that I received the book for Christmas 1971.

My copy was inscribed: "To Nancy, For someone who will write a much better one some day, Love Dori." Sadly, I cannot find my copy of the book and believe that I lent it to a friend for her daughter and it didn't come back home. Should anyone stumble across this copy, I would absolutely love to have it back.

Melissa Wiley says:

Nancy, what a delight to see you here! Thanks so much for commenting. How wonderful to have been close to Dori White and be able to talk to her about her work. She was really something special.

I really hope your copy of S&K turns up someday!!