June 12, 2006 @ 11:03 am | Filed under: Nature Study
If you haven't read Part One of our caterpillar mystery, you'll want to go here first. Just don't get too attached to Homer. Someone else has already beaten you to it.
Of all the caterpillars in all the world, you had to lay an egg in mine.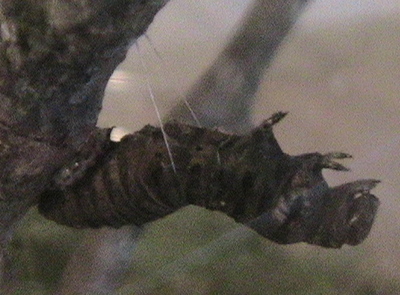 I know this is a lousy image, but believe me, it's the best of the fifty I snapped. It is clear why ClubMom didn't hire me to be the photo blogger. Lucky for me they had a need for a children's-book-author-slash-homeschooling-mom-who-unwittingly-invites-flesh-eating-monsters-into-her-home blogger.
If you click to enlarge that photo and then squint really hard while sticking out your tongue and holding your breath, you can see The Creature at the left end of the caterpillar, next to the twig. See the pointy thing on its head? That would be one of the little feelers it waves around when pausing to survey its licorice-scented domain between bites. BITES. Of caterpillar. Or rather, of pupa. Alas, poor Homer. Never shall he spread his blue-black wings and flit from blossom to blossom. He was doomed before we even met him, though we didn't know it.
The Mystery Creature's disappearing act? It seems the reason we kept losing track of him was because he was hiding inside Homer's body. ::::::can't stop shuddering:::::: We don't know for sure that he, the Monster, is the larva of an ichneumonid wasp, but it seems likely. The adult wasp, armed with a pointy flesh-piercing tube called an ovipositor, lays its eggs in the bodies of poor unsuspecting Homers. When the eggs hatch, they munch their way out, merrily feasting on their hosts. Wasp larva: Thanks for the lift. Caterpillar: No problem. And hey, dinner's on me!
I was all for chucking The Creature right out the door, but my gentle maidens are fascinated by Nature in all her gory splendor. So (gack) It remains a houseguest, still lunching on poor old Homer. You can bet its hours are numbered, though. I don't know how long its own pupa stage lasts, and there's no way we're letting that thing turn into a wasp. We've got Herodotus to think about.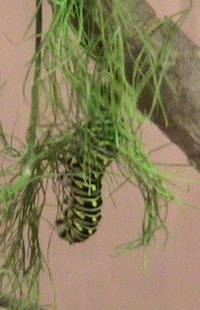 Herodotus says: Helllllp!
The story continues here.