April 4, 2009 @ 6:58 pm | Filed under:
Books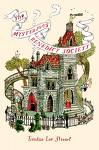 I'm halfway through The Mysterious Benedict Society by Trenton Lee Stewart, and already I know this is a keeper. Figuratively speaking, I mean, because the copy I'm reading doesn't belong to us. It's the kind of book you want to own a copy of, the kind the kids are going to fight over when they grow up and start claiming favorites from these overcrowded shelves. So good, this book. I can recommend it wholeheartedly even before I read the second half.
It's a mystery, full of puzzles, loaded with quirky characters in tight spots. Reynie Muldoon, our young hero, is an eleven-year-old orphan who answers an ad aimed at "gifted children seeking special opportunities." The first "opportunity" turns out to be a series of curious tests containing questions such as "What's wrong with this statement?" ("What's wrong with YOU?" writes another special-opportunity-seeking child, an obstinate and somewhat churlish girl named Constance.)
Only a very few children make it through the rounds of testing, either by merit of their intellect or their daring, their inventiveness, their creative approach to problem-solving—and all of them by merit of their strong sense of honor and truthfulness. The peculiar tests are but the beginning of an adventure that quickly escalates to a perilous mission requiring strength of character and quick wits.
And if this all sounds very vague, that's because I wouldn't dream of spoiling any of this captivating novel's many twists and turns. As I said, I'm halfway through, and I can't wait to find out what happens next.