April 24, 2009 @ 6:25 am | Filed under: Photos
This fine crop of sunflowers sprang up beneath our bird feeder. Thanks, birds!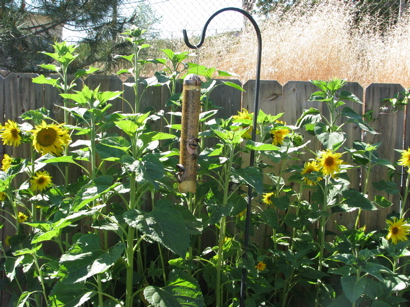 One of the sunflowers has nine blossoms on one stalk. I've never seen this before. It's very cool.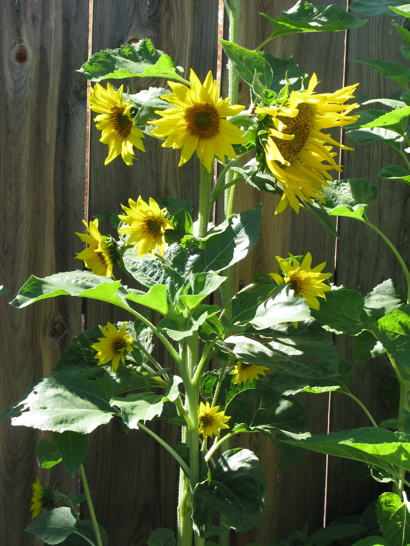 We're spending a lot of time in the backyard these days. This morning I packed a bag full of sketchbooks, colored pencils, watercolors, stuff I found around the house. A set of Sandra Dodd's Thinking Sticks I bought a couple of years ago, some Trivial Pursuit cards, a pencil sharpener. Borrowed Jenn's BRILLIANT idea of cutting good watercolor paper into postcard-sized pieces for kids to make small paintings.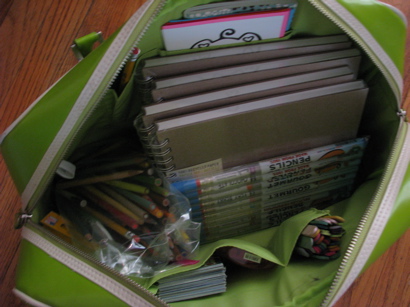 I figured we'd be much more likely to sketch and paint if I made it easy to transport to the yard. I was right. 🙂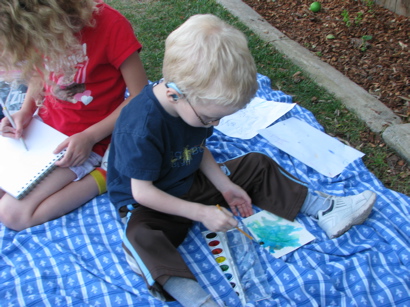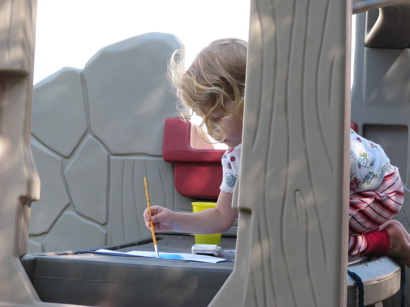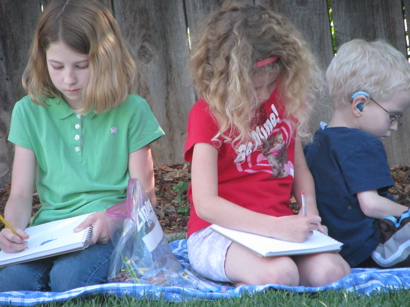 That blanket they're sitting on is my favorite tablecloth, a wedding gift from my friend Joan. It was on our table almost every day for, gosh, almost fourteen years. (Our 15th anniversary is coming up next month.) After holding up well to daily use and hundreds of washings, it finally began to grow a little threadbare. It makes me really happy to see it take on a new life as our picnic blanket. I love the contrast of that gorgeous blue against the green, green grass.
Another happy contrast: red geraniums against a white wall.