April 25, 2009 @ 1:05 pm | Filed under:
Art
"What brand are your sketchbooks? They look wonderfully sturdy and kid-friendly. I have never thought to take watercolors outside, your pictures make it look so simple (much simpler than inside painting) I must try it."
We're using these 8×8″ recycled sketchbooks from Stubby Pencil Studio. We like the small, square shape and the sturdy cardboard covers (plain brown, easily decorated). I bought them to give the kids for Christmas and forgot about them. I remembered I'd also bought and forgotten these neato-bandito "Smencils"—#2 pencils with yummy scents like cinnamon, orange, and root beer—and when I dug the box out from under my bed where I'd hidden it, the sketchbooks were there too, a nice surprise.
This is the same place I got the Crayon Rocks that so delighted Wonderboy on his birthday.
As for our outdoor painting supplies, the watercolors are just the cheap Crayola sets.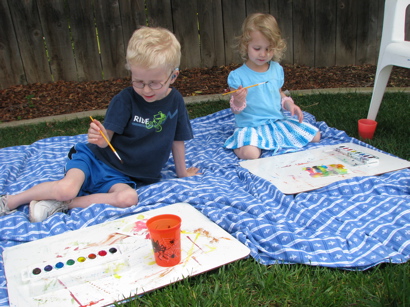 When my older kids were little, I read lots and lots about the benefits of providing children with really high quality art supplies. In some cases, I still agree: Prismacolor colored pencils are worlds better than your drugstore variety. The lead is so creamy and blendable. They're expensive but they last a long time—we're on our second set of 72 colors in over ten years.
But watercolors? Real watercolor paper makes a huge difference, but it's expensive; that's one reason I was so taken with Jenn's idea to cut it into smaller, postcard-sized pieces. But when it comes to the paints themselves, well, I've been the high-quality route, absorbed the persuasive literature that talks about rich pigments and translucent hues; bought the pricey tubes of red, yellow, blue; collected jars for mixing colors; watched my children squeeze out too much paint and gleefully swirl it into an expensive puddle of mud-colored glop.
Lesson learned. The 99 cent Roseart or Crayola sets work just fine. In fact, dare I say I think my preschoolers like them better? Mixing colors is fun, but there is nothing quite so appealing as that bright rainbow of pretty paint ovals all in a row. When Wonderboy and Rilla make a mess of their paints, Jane cleans them up with a rag and they're practically good as new.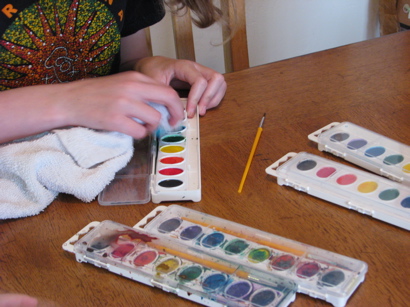 Jane's taking a watercolors class herself, and for that I was happy to buy nice quality paints. But for casual backyard painting for my other five kids? No more tubes.
One last note—we really like to use painting boards under our paper. A long time ago I bought a box of dry-erase markerboards very cheap. They were scratch-and-dent discount items. I wish I could remember the website. Anyway, these make fabulous painting boards. They clean up easily, if you're inclined to wipe them down. We usually aren't.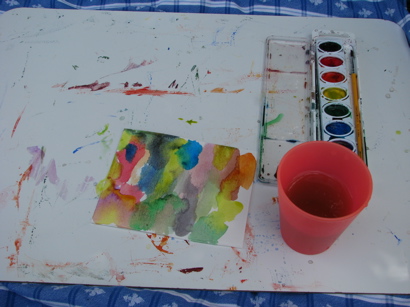 Comments
Christie says:

I'll add that we have similar painting boards. I cut some 1/2″ x 1/2″ square dowels (I don't know what else to call them!) the same width as the boards and when were done painting (but not dry) we stack the boards with the dowels in a corner of the room. No more figuring in out where to dry all that art. We have 6 boards for just the two of us.

We also use the boards for so many different projects. Know your beading project is going to take a few sessions? Set it up on the project board and then it will easily move it about the house as it is in the way. No need to clean up mid-project. For me that is death to any project because out of sight, out of mind.

Jennifer says:

I agree on the paints. My husband is very used to my habit of complicating things to where I don't actually get anything done. And if I have the option of being overly particular, I'll will normally do so. But I got sick of trying to decide on just the right paints, grabbed some Crayolas and they are perfectly fine and lovely. And there is less stress about usage so I give the children more freedom to create – what did you call it – 'mud-colored glop'. I think the freedom is more important than the medium. Also, the convenience really matters. What am I more likely to actually get out for the children to use frequently? The fancy-pants tubes or the easy to grab tray?
I also agree that watercolor paper is worth the splurge and so are prismacolors.

Isabella says:

I love your idea of a watercolor/art bag for the backyard (might even make one for the car too.)

I've taken some watercolor classes, and I don't like mixing up the colors, they never come out as I would like. I like really intense colors, and I always end up with too much paint, and not enough time to paint with them.

Last year I found a travel kit with high quality paints that you just add water too like the crayola ones. It can be found her:
http://www.shopatron.com/product/part_number=XNCW-18N/294.0

It's made by Sakura called Koi watercolors. I really like there brushes too, because the part you hold can be filled with water and you squeeze it so water comes out the tip. I got my at a local art store.

Sarah N. says:

I'm going to have to make an art bag to take outside now that we're having lots of warm days. I just started getting some more expensive materials like Prismacolor pencils and paints in tubes for times when my 5yo and I do "special art" together while my 2yo naps. For every day we use the crayola ones though the colors tend to get very mixed up. I'll have to try wiping them out with a rag. I'm not sure why I hadn't thought of that 🙂

Lisa says:

Please don't tell the flylady but I never thought about taking time to clean up the mess IN the paintbox! Great idea–probably means one or two less pleas for a new box of watercolors!

Yvonne says:

Thank you! I'm buying the "rocks" and the sketchbooks. My preschool sons will adore the rocks and my 5 and 7 yo girls will love the books.

We've already used your watercolor ideas. For my husband's Birthday I cut the watercolor paper into hearts, each of the children painted one, waited for it to dry, then wrote a message over the paint. Quite lovely.

And we love prismacolor too. Once we discovered them, my children actually prefered them to markers. We haven't replaced our whole set yet, but I replaced a handful of colors a few months ago–thankfully, Blick sells singles.

Lenetta @ Nettacow says:

I couldn't help but link to this on my blog. You give me lots of inspiration!