Dilly dilly.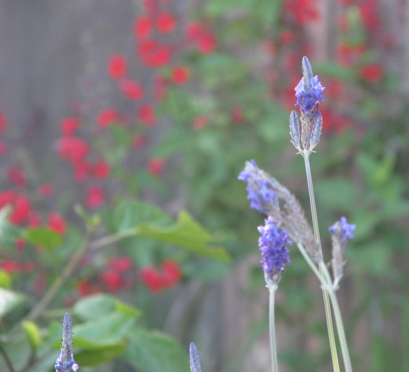 Comments
Peggy says:

Yep! Gorgeous and all along the side of the roads here. I give it 2 – 3 weeks before full-out Bluebonnet Heaven. What do you think?

Penny in VT says:

I'm planting some indoors today. Must.have.lavender.

🙂 Sweet.

Kay says:

Apple Lavendar Mufiin are the best.
Taste wonderful! Give them a try. Just make sure the lavendar is organic and free of pesticides and grown as a food product not a decorative product.
Hope you like them as much as we do.

kmom says:

dilly dilly!

Melissa Wiley says:

Ooh, Kay, thanks for the recipe! Our lavendar would work because that's our bee-and-butterfly garden, no pesticides allowed. 🙂

Penny, lavender is one of my top three garden favorites. The fragrance, the color, the foliage, the graceful spires…I just go sit and stare at it and am so happy. 🙂

(My other two favorites: milkweed—ours is starting to leaf out again, so the butterflies can't be far behind, hurray!—and portulaca (moss roses). Oh, and sunflowers, for the bee and bird frenzy they cause, and the fun of watching them shoot up high. And their so happy faces.)

Huh, so that's four plants in my top three.