Saturday at Midwinter was a happy day for Maud Hart Lovelace fangirls like me…HarperPerennial hosted a booksigning, giving away tote bags and copies of Carney's House Party and Emily of Deep Valley to a crowd of happy conference-goers. Mitali Perkins and I signed our forewords in the gorgeous reissues, and I loved getting to meet so many fellow Betsy Ray devotees, including several lovely women I know from the Maud-L discussion list.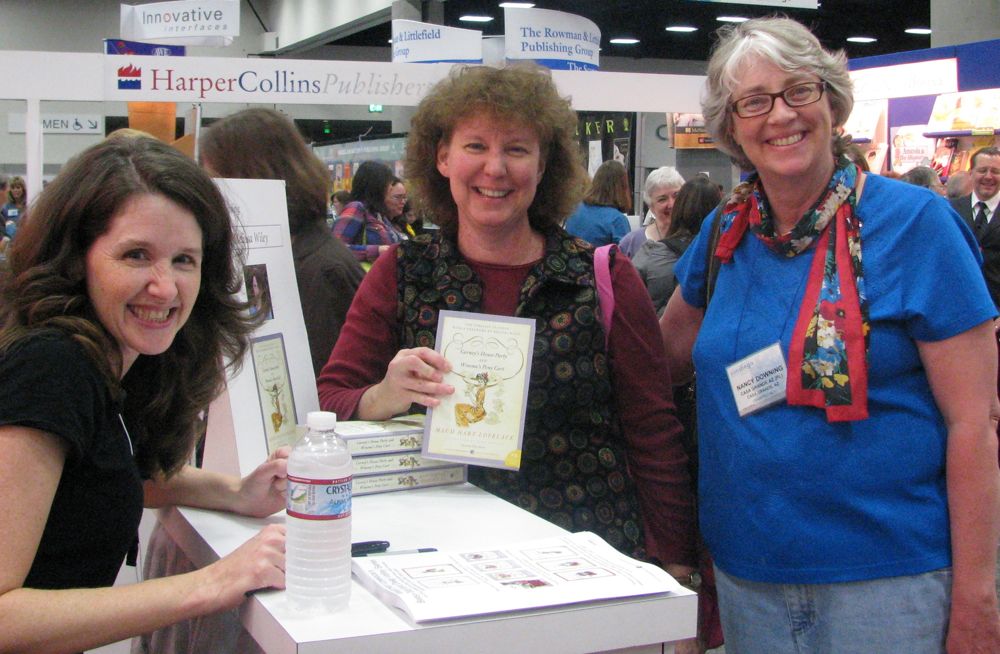 With Maud-L listren Nancy D. and Kathleen W., a happy meeting!
The lovely Mitali Perkins
Me, HarperPerennial's Jennifer Hart, and Mitali Perkins
Delightful lunch company. All of us are card-carrying members of the Betsy Tacy Society. (Well, I guess baby Lucy isn't carrying a card…yet.)
Related posts:
Heaven to Betsy! High-school-and-beyond books being reissued! (Sept 2009)
Betsy and Tacy Go Over the Big Hill
Betsy-Tacy e-books!
The Betsy-Tacy Songbook
Interview with Mitali Perkins, Jennifer Hart, and me about Maud's books
Photos of my visit to the real Deep Valley, as chronicled by Margaret in Minnesota
Why I love Carney
Why I love Emily
A Reader's Guide to Betsy-Tacy
Comments
Hannah says:

How fun! I had the great pleasure of reading both books over winter vacation (loved your foreword!). Can't believe I'd missed them all these years. Emily in particular really resonated with me, perhaps because she made something of her struggles.
It must be lots of fun to meet so many fellow fans!

Book Club Girl says:

Thank you so much for being there Melissa, it was such an amazing day! I met even more fans today who were so excited to see the reissues!

Melissa Wiley says:

@Hannah, isn't Emily wonderful! One of my all-time favorite books period.

It was so great to meet fellow B-T fangirls. Hence the goofy grin eating my face the whole time. 😉

@BCG–thanks again for all you do, all you've done, to keep our Maud alive and well!

Jeannine says:

Oh, my, I haven't been here in a while, but I must say:
a) Thank you for being such an advocate for Emily of Deep Valley. It has become one of my favorite books…when I need a kick in the pants, I read the chapter "Emily Musters Her Wits." Works every time!
b) You have the most gorgeour hair I've ever seen on a grown-up human (the caveat is in deference to my own daughter's gleaming tresses).
Grace and peace…
Jeannine

Jeannine says:

Um, could we pretend I didn't misspell and just let "gorgeour" be a new word that means even more gorgeous than gorgeous?

Melissa Wiley says:

Gorgeour! I love it! Let's propagate it! 🙂

And thank you. You have no idea how much that gratifies the bushy-haired seventh grader in me. It took me the better part of 40 years to figure out how not to look like Roseanne Rosannadanna.

EMILY really is a special book, isn't it. The "muster your wits in your own defense" mantra has been endlessly helpful to me over the years. Actually, I should write about that sometime.

Kay says:

Anna would have been in your book signing line in a heartbeat. SO sorry we are in PA and not MN. Anna, 12 has just gotten hooked again on Betsy-Tacy stories. She took a break when Besty whem Besty was around 10 years old. Now Anna is enjoying Tacy growing up.
Oh to be in MN in the heart of winter.
Love the BT society site. Anna started a bookclub when she was 9 that has meet every month since. Loves books, Maud too

Thanks, Melissa, for all the wonderful trails.