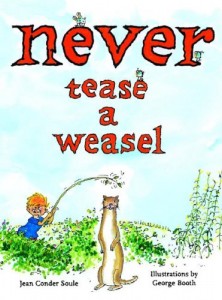 My very favorite book when I was a preschooler, made all the more wonderful by the art of the inimitable George Booth. "Never tease a weasel, not even once or twice. A weasel wouldn't like it, and teasing isn't nice!" This was one of the first books I learned by heart. Loads of fun with language, and that refrain is irresistible.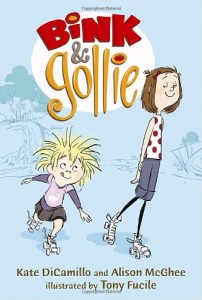 Bink reminds me of Tib: tiny, fluffy, determined. Gollie is just this side of an Edward Gorey character. Which is to say: I adore 'em both. Rilla won't let me read this one to her just once. Gotta be two or three times in a row. A smart, funny, sophisticated Early Reader—which sounds like an oxymoron but isn't. Rilla is captivated by the intense personalities of Bink and Gollie, and by the ups and downs of their relationship. Every time we read it, she wants to discuss and discuss. In a way, this is her first book-club book: that book you love so much you just have to talk about it.
Poor Mr. Pusskins, tormented by that rogueish kitten, and blamed for his hijinks to boot. Wonderful expressions on the feline faces here. Rilla is smitten with cat and kitten.
My SIL recommended this one and I bet I've read it a hundred times so far this week. No exaggeration. Huge hit with the three youngest, especially Rilla who is in a big rhyme phase. Bonus: vacuum cleaner sucking noises.
One of my favorites from my stint as a first-round CYBILs picture book judge in 2008. Now a repeat request from Rilla, who loves the quiet, earnest tone of this story about a boy who rescues an injured pigeon. The kind of book you pore over and talk about, heads together.
A family favorite. Grandma Jo loses her glasses the night before Little Lloyd is due for a visit. That's how she happens to bring home an escaped zoo lion instead. She plies her furry visitor with ice cream and dancing, and they have a fine old time, managing to thwart a burglar while they're at it. Big belly laughs from my littles over this one.
More book recommendations here.
Tags: Alison McGhee, Bink and Gollie, Bob Graham, books I adore, books my five-year-old loves, books my four-year-old loves, books my three-year-old loves, George Booth, Hooray for Grandma Jo, How to Heal a Broken Wing, Jan Thomas, Jean Conder Soule, Kate DiCamillo, Mr Pusskins and Little Whiskers, Never Tease a Weasel, picture books, Rhyming Dust Bunnies, Rillabooks, Sam Lloyd, Thomas McKean, Tony Fucile