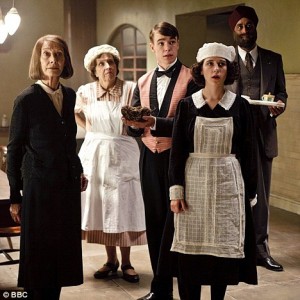 So what did you think?
A few years back, Scott and I watched the first few seasons of the original. Enjoyed it very, very much. So I got goosebumps when I saw the old familiar house number and realized we were coming back to 165 Eton Place.
And again when we first saw Jean Marsh! I absolutely love the premise of the new show: not a remake of the original, but another chapter in the life of the house…and in at least one of the people who lived and worked in it before. Brilliant.
The mother-in-law delighted me: not a stereotype at all. Her secretary, perhaps a bit.
Favorite moments: the cook's reluctance to take the job offer, her mild scorn at the "newness" of their baronetcy, her susceptibility to the lures of a gas range and top-of-the-line refrigerator. That, and the quietly emotional pleasure on Jean Marsh's face as she looked at the word 'housekeeper' on the tag.
The housemaid is going to be trouble, obviously.
Side note: I once began writing a novel inspired by the original Upstairs, Downstairs series, in which the main character was a girl whose mother worked in a turn-of-the-20th-century London household. In the story the girl's mother was accused of theft, and it was going to be up to the girl to save her. About four chapters in, the entire story up and transplanted itself to a homestead on the Colorado prairie. I know, that's quite a shift! It became an altogether different kind of tale, but the kernel of the original idea is still there. It will be published in Summer 2012 by McElderry Books—I can't wait!
Comments
Christine M says:

I love that your story transported itself! Can't wait to read it. I just recently re-read the novel based on the series- with the eye toward some research for a novel I was thinking about writing!

Annette W says:

I had never heard of it!!

Cate says:

I've seen the entire series. It isn't as transporting to me as the earliest USDS were, but it's a nice taste. It doesn't ever really get a chance to throw out as many narrative arcs as the original, but it's still a great deal of fun.

Lisa says:

The first love of my life was Simon Williams who played Major James Bellamy on Upstairs, Downstairs in the 70s. I hate to be a purist, but Rose would be too old for the "new" family–she'd have retired to Southwald by then! Still, I do plan to watch this. I wasn't sure about Downton Abbey and then turned around and just plain LOVED it, so I'll be trying this one if it's on pbs.org. Otherwise I'll have to wait to see it.

sarah says:

So exciting to hear of your upcoming book!

monica says:

so excited about your book! i have been wanting to tell you that when I saw Laura Linney in John Adams, all I could think was- she looks like Melissa Wiley!! There is something about the eyes, I think.
Loving USDS so far, but I havent seen the original. I love that lipstick and fingernail polish were what constituted a wild night on the town.

Hannah says:

Squee! You gave us a tiny sneak preview!

You're such a great source for BBC shows. We're watching Cranford right now, but perhaps we will try US/DS when we're done.

Melissa Wiley says:

Aw, Monica, that is so nice! I love Laura Linney. 🙂

I really am an easy mark when it comes to British costume drama. Period clothing and a charming variety of accents? You have me at hello! Even if I'm nitpicking them (as I found myself doing with many an episode of Lark Rise), I'm nitpicking within a general glow of affection.

Enchanted April
A Room of One's Own
everything Jane Austen, obviously
Gosford Park
Downton Abbey
Miss Marple anything
The Railway Children
Lark Rise to Candleford
Cranford
North and South which I haven't even watched yet but love it in advance 😉

I have no idea why I'm making this list, I just felt like it. It's a very happy list, don't you think?

Kathryn says:

A few more for you 🙂

Three that I loved when they were originally shown in the seventies, and are all on my Amazon wishlist:

War and Peace – the version with Anthony Hopkins and Pierre. Inspired me to read and love the book.

Testament of Youth – based on an autobiography of a young woman who lived through the First World War. Heartrending, but well worth watching.

Poldark – set in 18th century Cornwall. Romance and intrigue among the tin mines, based on books by Winston Graham.

Then some more recent series:

Various adaptations of Dickens – Bleak House, Oliver Twist come to mind.

Garrow's Law – nice 18th century twist on the legal drama (and based on a true story).

And somewhere in the middle (80s?) is Brideshead Revisited, which somehow I never saw (another one on my wishlist), but is considered to be the definitive TV version.

tanita says:

CAN'T WAIT to read that.
How hilarious that your story moved itself – but sometimes that just happens. The smartest thing to do is to let your story tell itself where it wants to, unless you're equipped to deal with the tantrums…

monica says:

another Dickens BBC good one is Little Dorritt. The ending is quite confusing, and it took some searching online for me to get what finally happened, but it is very good.

Thanks so much for the list Lissa, if i am ever in San Diego, or you are ever in KY, we need to watch something together.

Mary says:

You haven't seen North & South- well drop everything!

Jackie Parker says:

I've just been through the old 70's BBC series The Duchess of Duke Street. Really enjoyed it. You should try it if you haven't.

MelanieB says:

Just watched the first episode. Not loving it as much as Downton Abbey, but like you say, Lissa, it's got costumes and accents so I'm satisfied. Though I had to shoo Bella away, she wanted to watch over my shoulder and I wasn't so sure about that housemaid. Good thing it was right before the bar fight.

How on earth does a story jump from turn-of-the-20th-century London to a Colorado homestead? I suppose in a brain steeped in Little House that makes sense. I can't wait to read the novel. (Did you hear my squeal of excitement all the way out there in California?)

Melissa Wiley says:

"How on earth does a story jump from turn-of-the-20th-century London to a Colorado homestead? I suppose in a brain steeped in Little House that makes sense."

It had to do with research paralysis. 🙂 I was coming off 8 research-intensive LH novels in which I could hardly write a paragraph without stopping to look something up. What's the table made out of, what does a linen skirt sound like when you walk in it—does it rustle or crinkle or shoosh or what? So when I began this Upstairs-Downstairsish novel, there I was again, having to stop and dig for details in order to be historically accurate. And I wanted to just be able to WRITE, for a change. 🙂

I grew up in a suburb east of Denver—at the eastern edge of that suburb, on the edge of the undeveloped prairie. In college I worked summers at a wildlife refuge called the Plains Conservation Center—2000 acres of prairie. I drove a big old truck that pulled wagonloads of kids down winding dirt paths, and I'd jump out to talk about hawks and prairie dogs and cottonwoods and whatnot. And we had three small soddies on the property (they are still there, a big part of many school tours), and one of my jobs was to take kids into the sod house, smithy, and schoolhouse and talk about what life was like in homesteading days. I even got to make johnny cake in the old iron stove! We burned dried cow patties. 🙂

So for the new book, I already had all those delicious sensory details stored away in my brain. Didn't have to stop and look something up every other sentence. Of course it still took some research, but it's more of a tall tale/American fairy tale than a historical fiction novel, so I didn't have to drive myself quite as crazy with scrupulous historical accuracy as I did with Little House.

It was a fun novel to write—even though it took me ages. Although if you just add up the minutes I actually spent WRITING (as opposed to the weeks and months that sometimes stretched between furious bouts of scribbling), it didn't take nearly as long. 🙂

MelanieB says:

Ok I get how it was easier on the research end but were the characters really so amenable to migrating? I suppose you did say it became an altogether different kind of tale. 🙂 It's all mysterious to me anyway. I don't think I could ever write a novel or even a story. Characters and plots are simply beyond me. Though when I was younger I did dream of being a novelist. Now I'm content to just devour novels and count novelists among my friends.

Melissa Wiley says:

Oh the story completely altered itself. First the mother became a father. The inciting incident remained the same, but about three chapters in, a new character appeared and completely took over. The book I wrote is nothing at all like the book I set out to write. 🙂

Of course that means the original story, the one I didn't write, is still out there waiting to be told someday!