April 26, 2011 @ 7:09 pm | Filed under:
Television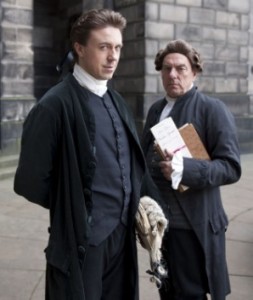 I'm bumping this up from the comments, because it's too delicious a topic to dispense with quickly. We'd been discussing Upstairs, Downstairs, and I felt compelled to make a list of British costume dramas I have enjoyed. And by "enjoyed" I mean "squealed with giddy delight every week when I remembered it was time for another episode."
I included films in the list, but for now I'll just list the television shows, along with one or two others I forgot. These are in no particular order, unless you count "the way they happened to pop into my head" as an order.
First, the ones we've discussed here at Bonny Glen already:
• Upstairs, Downstairs (obviously) (here's the link)
• Downton Abbey (link)
• Lark Rise to Candleford (link) (And oh! We have a new one to watch tonight! Color me pleased as punch.)
Others we've enjoyed/are enjoying:
• Pride and Prejudice, which goes without saying. The gold standard.
• Berkeley Square. Victorian nannies, which: you had me at hello. Scott & I watched this many years ago—just the first season. Were there more?
• Garrow's Law. Kathryn mentioned this in a list of recommendations (see below), and it was serendipitous timing because Scott and I had seen half an episode just the evening before—stumbled into it halfway through and were drawn in. We've now seen two more episodes and it has become one of my favorite shows. As Kathryn said: "nice 18th century twist on the legal drama (and based on a true story)." It's like early Law & Order with knee breeches and powdered wigs. Be still, my heart.
• Life on Mars. An unusual police drama in the 1970s, but that's still period drama. 😉 Modern-day detective goes back in time (or does he?) to the late 70s. A great deal of adult subject matter and violence, but brilliantly acted and quite gripping.
• The Railway Children. This was a TV movie, not a series. This one, from 2000, not the 1970 version. (Bit of trivia: the mother in the 2000 version was played by the same actress who played Bobbie in the original. Other bit of trivia, the 2000-version Bobbie was played by Jemima Cooper, who was the lead in Lost in Austen.) Anyway: I love this movie even more than I loved the book, which was a lot. Jemima's Bobbie is a wonder.
Next, reader suggestions:
• Cranford (I seem to have watched some of this, but not all? We must revisit. I've read the book.)
• North and South — recommended by several commenters who noticed my affection for Brendan Coyle of Lark Rise and Downton Abbey. We've got it in our Netflix queue. I think it may be available on streaming?
And more from Kathryn:
War and Peace – the version with Anthony Hopkins and Pierre. Inspired me to read and love the book.

Testament of Youth – based on an autobiography of a young woman who lived through the First World War. Heartrending, but well worth watching.

Poldark – set in 18th century Cornwall. Romance and intrigue among the tin mines, based on books by Winston Graham.

Then some more recent series:

Various adaptations of Dickens – Bleak House, Oliver Twist come to mind.

And somewhere in the middle (80s?) is Brideshead Revisited, which somehow I never saw (another one on my wishlist), but is considered to be the definitive TV version.
I also felt like Gosford Park and Enchanted April belonged on this list, even though they are films. And A Room of One's Own. And everything Jane Austen, obviously. And Miss Marple!
Comments
Hannah says:

CRANFORD! CRANFORD! Lissa, you must finish it. And "Return to Cranford." Judi Dench and Imelda Staunton are beyond wonderful in it. Plus, there's the butler from Downton Abbey.

One of my favorite moments from the second season: Mary announces timidly that she's sent something in for publication. Miss Matty is thrilled for her. "Oh, my dear! Is it … a recipe?"

I think I have Lark Rise to Candleford coming next from BBC.

feebeeglee says:

ITV Granada's Sherlock Holmes with Jeremy Brett. Possibly my favorite TV show EVER.

Does Doctor Who count? Ha 🙂

And did you know they made Life on Mars here stateside too? It was good.

Melissa Wiley says:

ROFL Miss Matty!

The Downton Abbey butler is the main character's father in Lark Rise—a wonderful role (most of the time—Lark Rise suffers from hyperbolic characterizations, now and then).

Judi Dench is wonderful in EVERYTHING.

Bumping Cranford up, 'cause Hannah told me to. 🙂

sarah says:

I loved North and South so much, I bought the dvd.

Melissa Wiley says:

Feebeeglee: Sherlock! OK, we watched I think two episodes of that before discovering that they weren't all available? And I guess episode three (or whatever the last avail. one was) ended on a cliffhanger, which we discovered from Jane's anguished wail—she had watched that ep without us.

So we're waiting for the full season—or the next season? I'm unclear on the lineup—before moving on. It was excellent, though, the part I saw.

And, er, I blush to admit this to you: you especially! I (whispers sheepishly) have never seen ANY Doctor Who.

BUT! In my defense! I recently asked Scott to add THAT to our queue—we'd read this article suggesting good entry points, and decided to start with Season 1 of the 2005 reboot—and we were just about to watch it LAST VERY NIGHT, when something else in our Netflix Instant queue caught our eye and we clicked on that instead. But, you know, I'll be rectifying this ghastly shortcoming very very soon!

Melissa Wiley says:

"I loved North and South so much, I bought the dvd."

Cranford. North and South. Doctor Who. Pardon me, I need to go watch 27 straight hours of television.

Jane says:

Wait, what? Who's Jeremy Brett? The Sherlock I watched had Benedict Cumberbatch as Sherlock himself and Martin Freeman as John. I don't think any of the minor characters were played by anyone with that name either…

http://en.wikipedia.org/wiki/Sherlock_%28TV_series%29#Casting

Jane says:

Ah! I see now. Jeremy Brett was in a different Sherlock Holmes tv show, not the one I saw. Or maybe four? British tv shows confuse me… Three episodes? I still don't really get how that's a season.

feebeeglee says:

Yes yes yes. The Sherlock you refer to was also excellent but not a costume drama as it was modern day.

2005 is an excellent place to start! Christopher Eccleston's Ninth Doctor is intense and brooding while also childlike and silly. Watch out for The Empty Child/The Doctor Dances, two really awesome eps from the season set during Blitz-era London. Then you get to segue into the David Tennant years, with the Tenth Doctor, my swooniest swoon. Oh, show. I love it so.

Rebecca says:

North and South is *fabulous*. As is Cranford. And Wives and Daughters (another Elizabeth Gaskell adaptation). I've listed a few more on my blog: http://www.homelearningvictoria.com/2010/10/adopting-adaptations.html

If you like Alan Rickman at all, then you might enjoy watching his younger (and slightly oily) self in The Barchester Chronicles.

Also, this site may provide more trolling for interesting films and series: http://enchantedserenityperiodfilms.blogspot.com/

And you have not lived until you've watched The Doctor (as in "Doctor… Who?").

Rebecca says:

Oh, and Horatio Hornblower with Ioan Gruffudd. 🙂

maria says:

Lissa!? You!? Never seen Doctor Who!?!?!?!? Oh yes, you must remedy that ASAP! You are going to have so much fun!
Of course, I'm the pot calling the kettle black as my children…..um…..are completely Doctor Who deprived. GASP! I can hardly believe it myself! I have been working on a way of making this right though, knowing full well that life will become about nothing but Doctor Who once the viewing begins. LOL 😀

As for specific Doctors, the Fourth Doctor, Tom Baker! 1974-81 are THE classic Doctor Who years for me. Love it!
I am jumping to watch the new Doctor though. I've seen bits and trailers, etc. Looks so fun!

Okay, do please forgive my rabbit trail rambles of Doctor Who.

Sara says:

Oh, Horatio Hornblower. I heartily concur!

I just watched Middlemarch and Daniel Deronda. Loved them. Downloaded the books for free on the Kindle.

You'll have to have a link in the sidebar to costume dramas!

Leslie says:

Love the suggestions! I have to say that our family (1 boy, six girls) has been really enjoying LRTC as well as the other BBC suggestions. Just last night there was a small group huddled around the lap top watching series 3 on youtube. Nothing like a 16 yr old macho young man watching chick flicks with his sister! (Of course he was angling for SALT but it was the girls turn to pick).

Someone just suggested the series "Sissi"-the young Austrian empress. Have you heard of these? They are in our instant queue.

Happy Easter and prayers for good health!

Sue says:

I loved Rumpole of the Bailey about a grumpy barrister.

Also Hercule Poirot.

And All Things Great and Small. Excellent show about a vet that led me to read the whole series of books.

And another vote for Sherlock Holmes. Jeremy Irons is the best Sherlock. Evah!

And I, Claudius about (surprise!) the Roman emperor who survives his scheming relatives by pretending to be a bumbling fool, when he's anything but.

The longer I thing about this, the more great shows come to mind.

Carlie says:

Am in deep salivation. Will be posting this list somewhere helpful and inspiring so that I will not lose sight of it. You rock immensely for sharing.

MelanieB says:

Oh goodness Horatio Hornblower is a must! And that makes me want to add Master and Commander even though that was a movie. I always want to lump Patrick O'Brien's Jack Aubrey in with Hornblower. If anything makes a costume drama more swoony it's Age of Sail ships.

Charlotte (Matilda) says:

I simply refuse to believe that you have never seen Wives and Daughters. You must, must, must! It's on Netflix Instant Watch right now!

Rebecca says:

Here here, Charlotte. I would bump Wives and Daughters to the very TOP of the list. It's so fantastic. (And Keely Hawes is in it!)

Also… Lost in Austen is so fab. It's Pride and Prejudice revisited, with a hilarious modern twist that will have you screaming "NO NO NO" at the same time you are yelling "YES YES YES". I was unexpectedly besotted.

Lesley Austin says:

Goodness, yes, Wives and Daughters is a must. Also, one of my favorites from long ago is Flambards (WW1, free-thinking heroine, wonderful clothes, English countryside).

Rebecca says:

Okay, I clearly have some enthusiasm for this topic. LOL. You should see my DVD cabinet. Okay, Little Dorrit (2008, Dickens) with Matthew Macfadyen is just brilliant and needs to be on anyone's "must watch" list.

Kathryn says:

Doctor Who … yes, the 2005 series is a good entry point. Then when you have caught up with the 21st century Doctor you can go back to the classics (second Tom Baker as a favourite!).

In the interest of giving credit where credit is due, I should point out that Upstairs, Downstairs and Downton Abbey are both ITV productions, not BBC :).

Morse. You *have* to have seen Inspector Morse. Yes? No? If not, then you must! The best detective series, ever. Also, you know there is a sequel to Life on Mars called Ashes to Ashes? And another vote here for All Creatures Great and Small.

A bit of Garrow trivia – the actor who plays Garrow also played Joseph in a BBC version of the Nativity shown last Christmas, which I reviewed here:
http://ukbookworm.blogspot.com/2010/12/nativity.html. If you read the comments, you will see that you know online (I imagine) his sister's goddaughter's mother. Small world ;).

Think you may have your viewing sorted for the next several years!

Haley says:

Oh, these are my favorite kinds of movies! Bleak House, Middlemarch, North & South, Horatio Hornblower, and Wives and Daughters are must-sees. The recent Bronte adaptations are good if you like the Brontes. A friend keeps telling me I have to see Our Mutual Friend, but I haven't seen it yet.

Forsyte Saga is one that hasn't been mentioned yet – it's very painful and certainly not for kids, but worth watching. The first couple of episodes are the hardest to watch, but if you keep going I think you'll be glad you did.

The 2008 Sense and Sensibility is to die for. I think I might like it even more than the A&E Pride and Prejudice. (shhh!)

Does Amazing Grace count? How about the John Adams miniseries? I love both of those.

My husband's TV genre of choice is British mysteries, so I've seen them all, too. My favorite by far is Foyle's War, which is set during WWII, so in my book it sort of counts as a costume drama as well.

Maureen E says:

I really enjoyed both the new Emma (Romola Garai) and the newish Little Dorrit with Claire Foy and Matthew Macfadyen. Also, North and South, Wives and Daughters, Our Mutual Friend.

Natalia says:

Have you seen this blog

http://enchantedserenityperiodfilms.blogspot.com/

And another vote for Wives and Daughters!

divina says:

It's been a looong time since I have commented here, but I wanted to recommend a good BBC drama (It's not a costume drama, though.) It takes place in the early 2000's. It is called Monarch of the Glen and has the actor Julian Fellowes, writer of Gosford Park and Downton Abbey. I think you might enjoy it!

Sarah E. Mitchell says:

I liked many of the episodes of As Time Goes By with Judy Dench, and some of Keeping Up Appearances. As Time Goes By doesn't always have great morals, but there are just such great characters on it and having an older couple as leads is rather unusual. (The lead couple met in a mid-century war — Korea, I think, although I never actually could make the timeline work in my mind — and then were separated for many years, marry other people, split from or lose their spouses, then find each other again.)

Keeping Up Appearances also has older leads, and the whole English trying to be fancy/social climbing reminds me of the garden club/bridge club social structure that is now fading in the South. (Of course, the lead character usually ends up with her grand plans going awry in the episodes — either by her actual low-class family, or by her own mistakes, or by circumstances.)

I guess they don't count as period dramas, exactly, although now that they are around 20 years old, the costumes are getting dated.

Our local library gets so many British series that I joke that we will all eventually wind up with British accents!

Elizabeth says:

Some great stuff here.

I have to disagree about recent Dr Who though. Such poor plotting and acting! I watched the oldies as a child and the daleks had me hiding behind the sofa so I obviously found it convincing in those days… Also, it used to be quite innocent but there was some slightly dodgy stuff in the recent episodes I watched — not such a 'family show' any more, to me at least.

My friend's brother is the yokel in Cranford — Jem?? Forgotten his character's name. Funny guy, good actor.

Elizabeth says:

PS: Ooh! I haven't been watching Garrow but Andrew Buchan — my friend's brother, indeed my daughter's godmother's brother, how about that? — is obviously the lead, and in your pic above.

Melissa Wiley says:

Elizabeth, how fun! He's a wonderful actor, quite nuanced.