April 26, 2011 @ 7:09 pm | Filed under: Television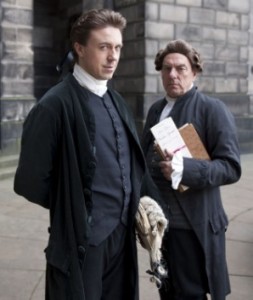 I'm bumping this up from the comments, because it's too delicious a topic to dispense with quickly. We'd been discussing Upstairs, Downstairs, and I felt compelled to make a list of British costume dramas I have enjoyed. And by "enjoyed" I mean "squealed with giddy delight every week when I remembered it was time for another episode."
I included films in the list, but for now I'll just list the television shows, along with one or two others I forgot. These are in no particular order, unless you count "the way they happened to pop into my head" as an order.
First, the ones we've discussed here at Bonny Glen already:
• Upstairs, Downstairs (obviously) (here's the link)
• Downton Abbey (link)
• Lark Rise to Candleford (link) (And oh! We have a new one to watch tonight! Color me pleased as punch.)
Others we've enjoyed/are enjoying:
• Pride and Prejudice, which goes without saying. The gold standard.
• Berkeley Square. Victorian nannies, which: you had me at hello. Scott & I watched this many years ago—just the first season. Were there more?
• Garrow's Law. Kathryn mentioned this in a list of recommendations (see below), and it was serendipitous timing because Scott and I had seen half an episode just the evening before—stumbled into it halfway through and were drawn in. We've now seen two more episodes and it has become one of my favorite shows. As Kathryn said: "nice 18th century twist on the legal drama (and based on a true story)." It's like early Law & Order with knee breeches and powdered wigs. Be still, my heart.
• Life on Mars. An unusual police drama in the 1970s, but that's still period drama. 😉 Modern-day detective goes back in time (or does he?) to the late 70s. A great deal of adult subject matter and violence, but brilliantly acted and quite gripping.
• The Railway Children. This was a TV movie, not a series. This one, from 2000, not the 1970 version. (Bit of trivia: the mother in the 2000 version was played by the same actress who played Bobbie in the original. Other bit of trivia, the 2000-version Bobbie was played by Jemima Cooper, who was the lead in Lost in Austen.) Anyway: I love this movie even more than I loved the book, which was a lot. Jemima's Bobbie is a wonder.
Next, reader suggestions:
• Cranford (I seem to have watched some of this, but not all? We must revisit. I've read the book.)
• North and South — recommended by several commenters who noticed my affection for Brendan Coyle of Lark Rise and Downton Abbey. We've got it in our Netflix queue. I think it may be available on streaming?
And more from Kathryn:
War and Peace – the version with Anthony Hopkins and Pierre. Inspired me to read and love the book.

Testament of Youth – based on an autobiography of a young woman who lived through the First World War. Heartrending, but well worth watching.

Poldark – set in 18th century Cornwall. Romance and intrigue among the tin mines, based on books by Winston Graham.

Then some more recent series:

Various adaptations of Dickens – Bleak House, Oliver Twist come to mind.

And somewhere in the middle (80s?) is Brideshead Revisited, which somehow I never saw (another one on my wishlist), but is considered to be the definitive TV version.
I also felt like Gosford Park and Enchanted April belonged on this list, even though they are films. And A Room of One's Own. And everything Jane Austen, obviously. And Miss Marple!