April 26, 2011 @ 2:32 pm | Filed under: Betsy-Tacy, Books
Today's a big day for Betsy-Tacy fans:
First of all, it's Maud Hart Lovelace's birthday…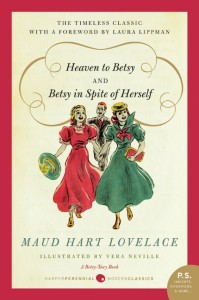 And second, many of the Betsy-Tacy books are available as e-books for the first time today!
Yes, I'm excited. The more ways we can spread the Betsy-love, the better. Here's what's available so far for Kindle, Nook, iPad, and other e-readers:
• Heaven to Betsy / Betsy in Spite of Herself (together as one volume, just like the recent reissues)
• Betsy Was a Junior / Betsy and Joe (ditto)
• Betsy and the Great World / Betsy's Wedding
• Carney's House Party / Winona's Pony Cart (Have I mentioned I wrote the foreword for that?) 😉
• Emily of Deep Valley (Please, treat yourself to this one. It stands alone, and it shines.)
The four "younger" B-T books will be released as e-books on May 17th. You can pre-order them now if you like.
New to Lovelace? Here's a A Reader's Guide to Betsy-Tacy (and Carney and Emily).
Related posts:
Heaven to Betsy! High-school-and-beyond books being reissued! (Sept 2009)
Betsy and Tacy Go Over the Big Hill
The Betsy-Tacy Songbook
Interview with Mitali Perkins, Jennifer Hart, and me about Maud's books
Betsy-Tacy booksigning at ALA Midwinter
Photos of my visit to the real Deep Valley, as chronicled by Margaret in Minnesota
Why I love Carney
Why I love Emily
A Reader's Guide to Betsy-Tacy