July 26, 2011 @ 5:16 pm | Filed under:
Events
There's just always SO MUCH TO TELL, you know? Argh.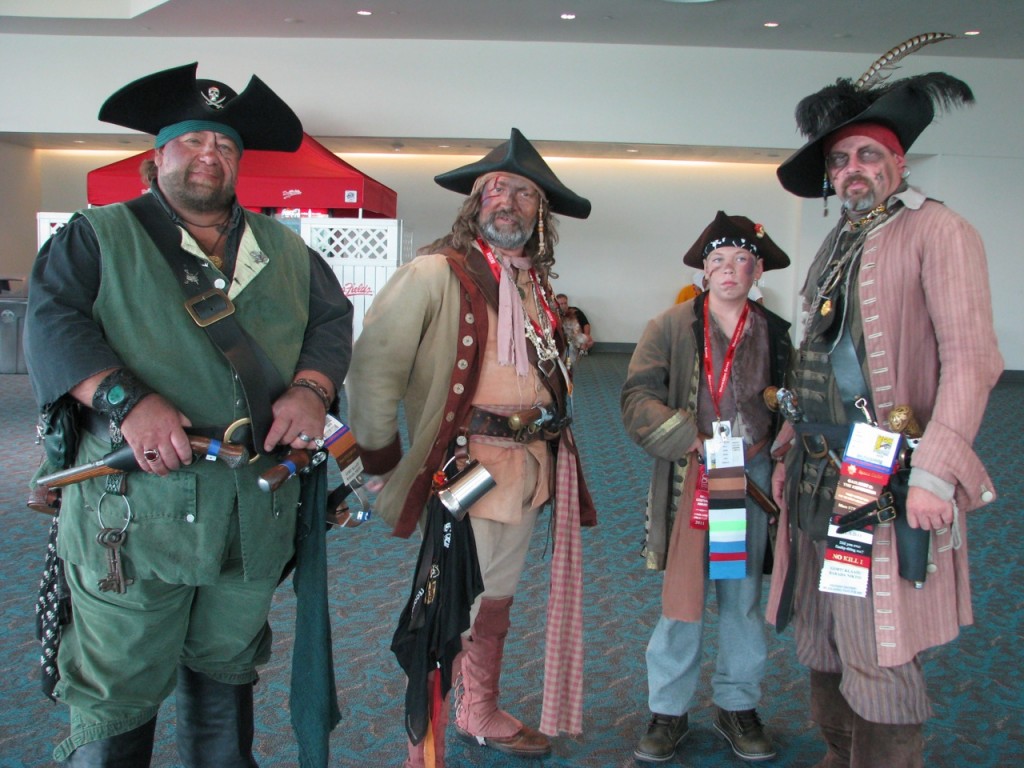 Okay, first: I went to five panels. I would like to recap each one. My recap of the SUPERCOOL Teen Comics Workshop is up at GeekMom. That leaves:
• Books vs. Graphic Novels and Comics—authors who write both talked about the differences.
• Comics in the Library—fantastic panel of librarians speaking about how they built comics/graphic novel collections in their branches.
• Comics for Teens—(not to be confused with the aforementioned Teen Comics Workshop). This one was all authors. Moderated by Scott Westerfeld. Excellent. (My GeekMom recap is here.)
• Disney/Marvel panel.
I don't know which I'll recap here, and which at GeekMom, but I'll add the links to this post either way.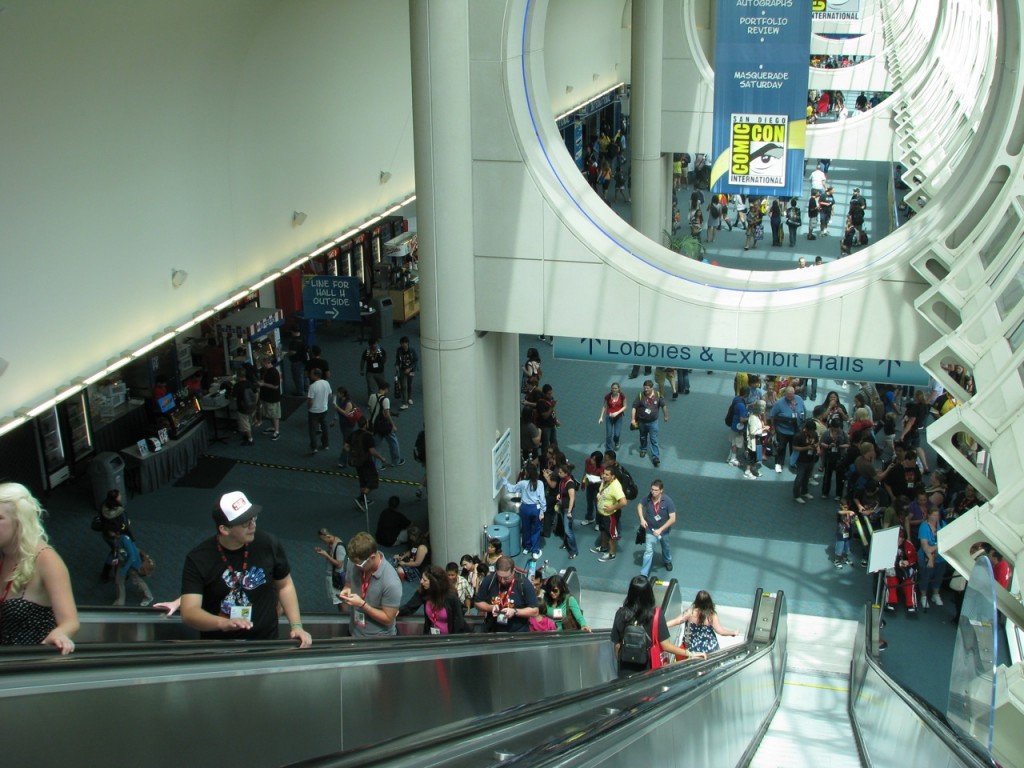 Now for my con diary. I went in alone on Thursday morning—Scott had a book deadline, and he was also celebrating not having to WORK at the con for the first time in five years. I had a full slate of panels I wanted to hit; of course I only caught two of them. You never get to do as much as you think you will. So much of the day is spent walking from one end of the enormous building to the other.
I started off with a tour of the floor. The crowds weren't too heavy yet, and I half wished I'd brought some kids with me instead of saving their visits for the weekend, which were sure to be packed. (Indeed they were.) But I kept bumping into friends at their various booths, so it's probably just as well my girls didn't have to stand around and wait while I gabbed. Catching up with chums I pretty much only see once a year is one of the best things about SDCC, for me.
I ran into our pals Marc Bernardin and Adam Freeman and snagged a copy of their kids' comic, Jake the Dreaming, which I'm eager to read as soon as I catch my breath.
And right around the corner from them was my local author/illustrator friend Eric Shanower, whose graphic novel adaptation of L. Frank Baum's The Marvelous Land of Oz (with gorgeous art by Scottie Young) would win an Eisner the next day.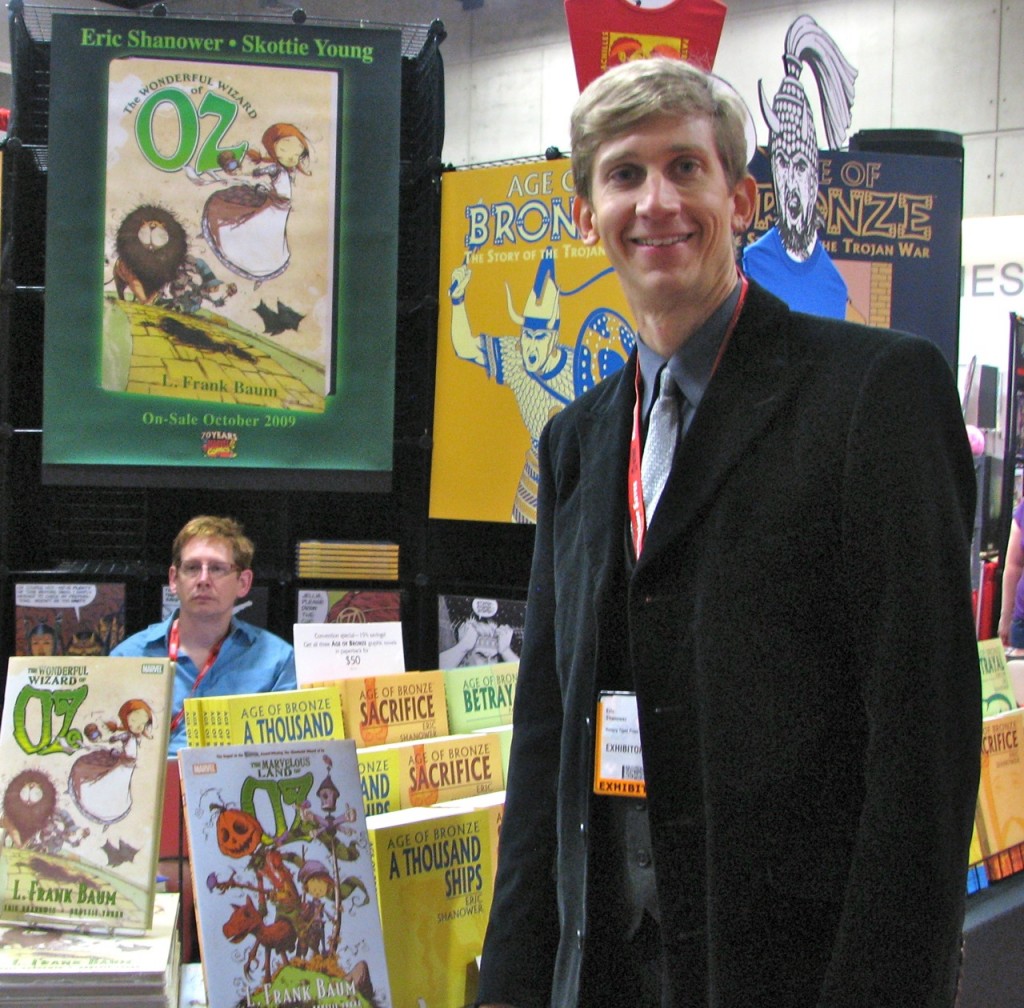 I explored the booths for cool stuff and found a lot to fall in love with: the little marshmallow doll I mentioned at GeekMom, and some Gama-Go shirts, and about seventy-eleven books.
I restrained myself and didn't buy the books: those things are murder on your shoulders by the end of the day.
I also didn't buy these shoes.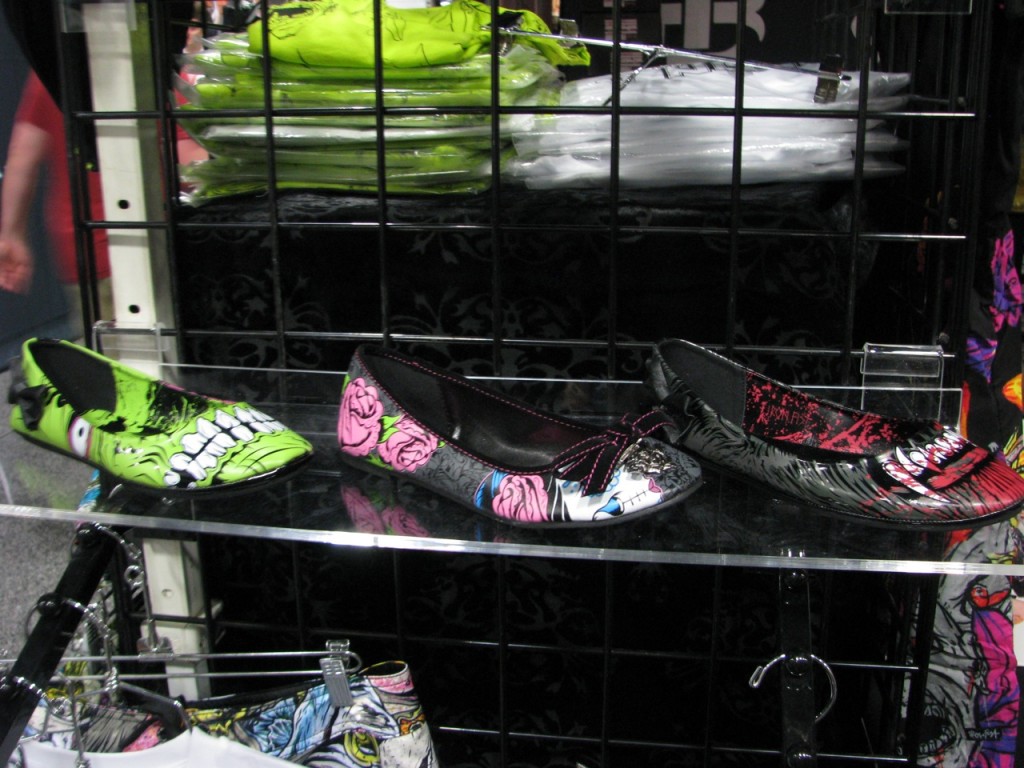 I did buy this ninja kitty shirt, but it turned out to be too small so I had to give it to Jane. ::shakes fist::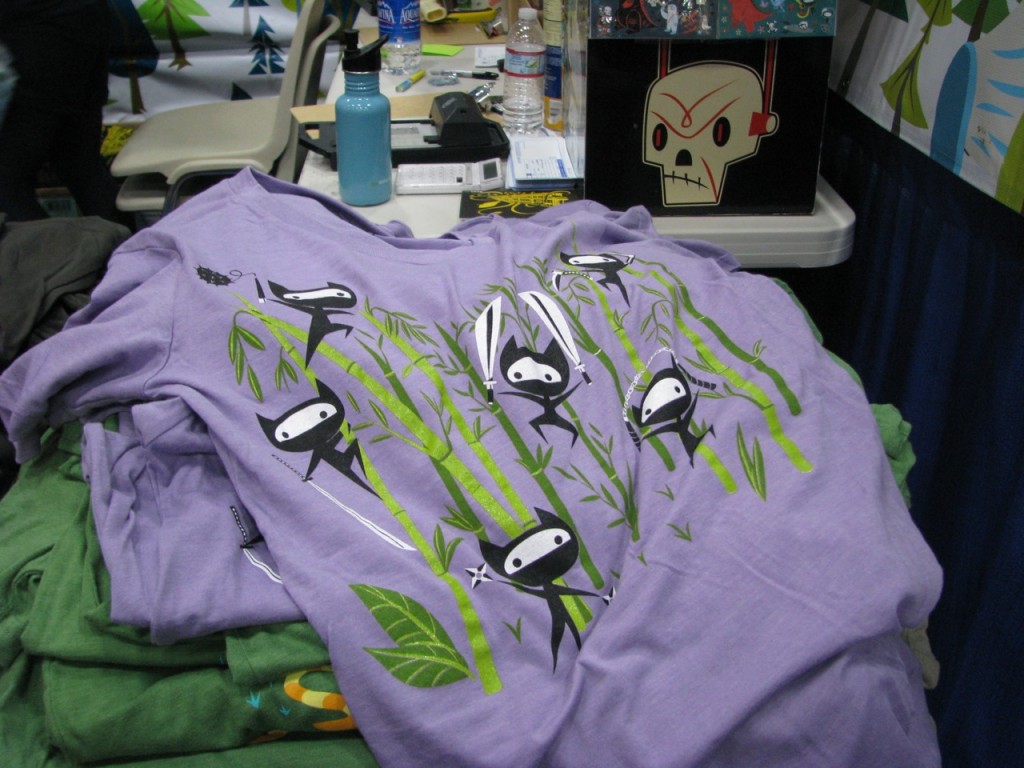 I may have gone home with some Uglydoll loot. Uglydoll creator David Horvath was there, signing autographs. He and his wife seemed awfully nice.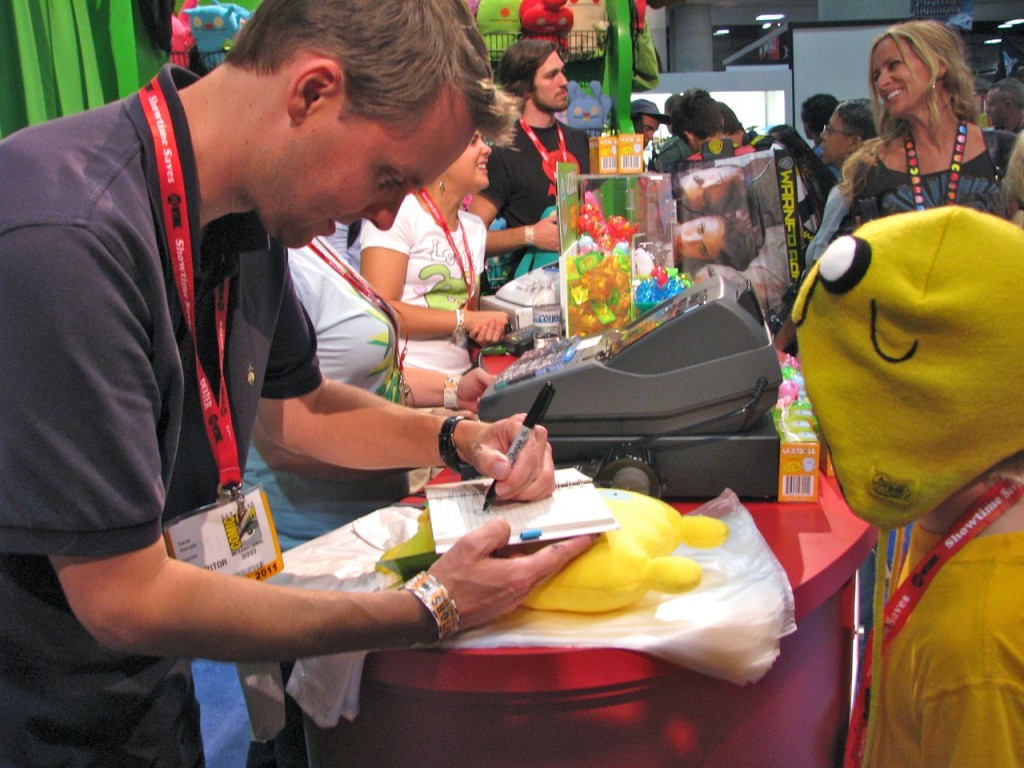 I wandered the aisles, marveling at cool displays like this Lego Boba Fett.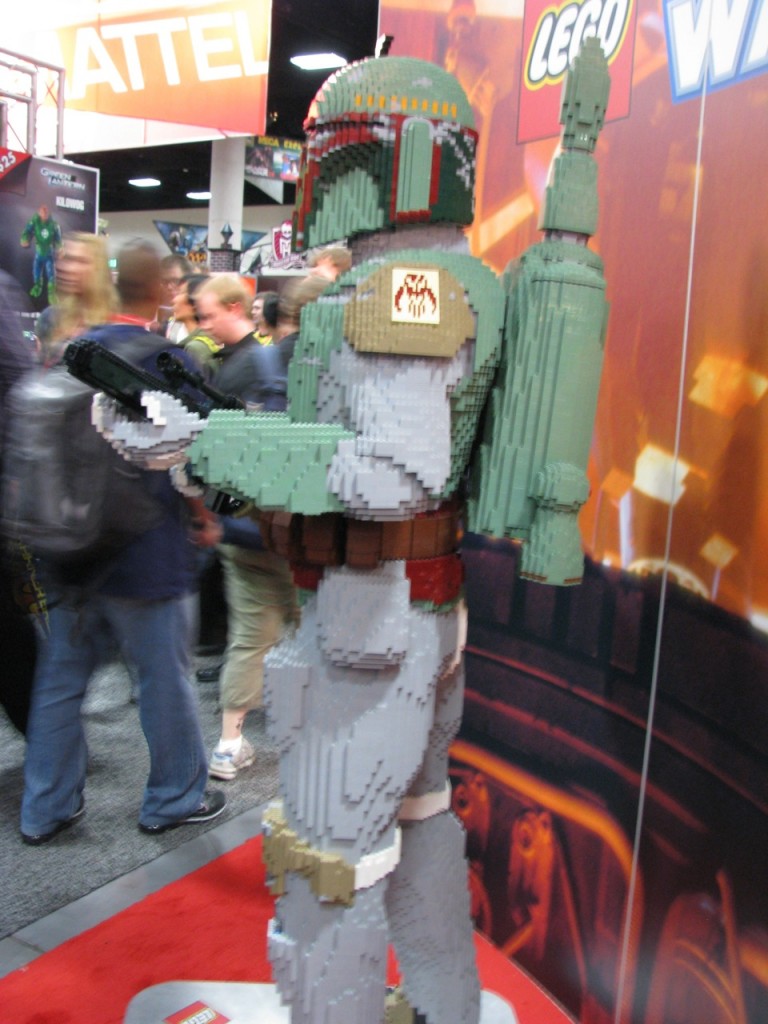 By now it was well past noon, and I had to hurry upstairs to catch the Books vs. Graphic Novels and Comics panel. More on that later, I hope?
The charming Matt Holm, illustrator of Babymouse and Squish, was on that panel, which was part of why I wanted to go.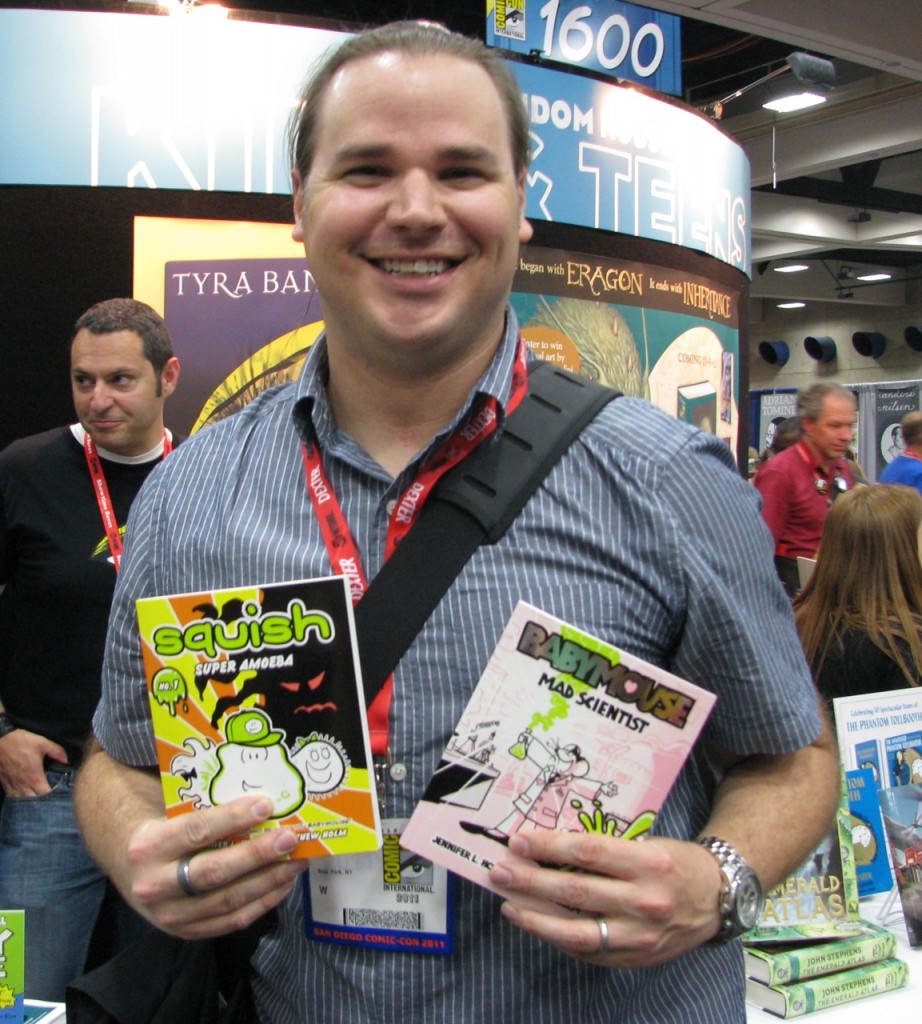 After the panel, back down to the main hall—this time to the Artists' Alley end. Looked for some friends, found a few, gabbed awhile. Got hungry, devoured a pretzel dog. I don't even like hot dogs, but this was delicious.
And then suddenly it was 4pm and I had to rush back upstairs to the Comics for Teens panel. I made it with five minutes to spare, and that's where I encountered that wonderful Neo-Victorian biologist and her mom that I posted about at GeekMom. What's funny is I was so enchanted by Linden's costume that it took me a while to notice that the man she was chatting with was Scott Westerfeld.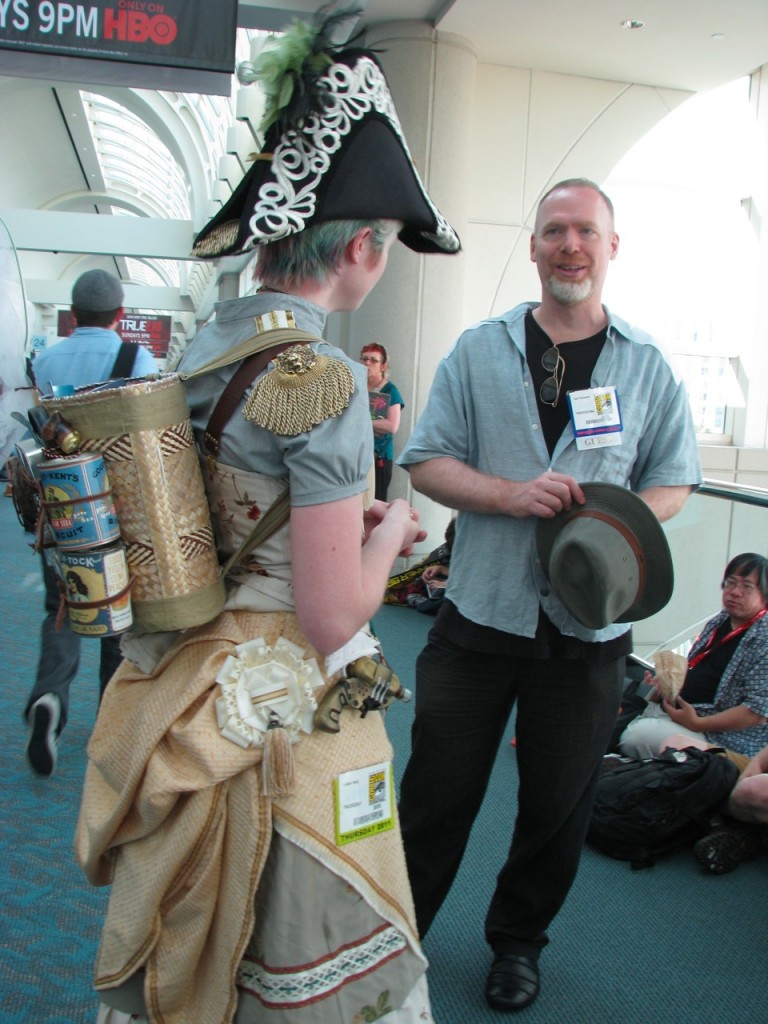 Well, the teen comics panel—which Scott Westerfeld moderated—was really excellent. The panelists were Cecil Castellucci (The Plain Janes, Rose Sees Red), Hope Larson (Mercury, Chiggers), Gene Yang (Level Up, American Born Chinese), and Nate Powell (Swallow Me Whole). Definitely more on that later. (Which means you'll see this photo twice.)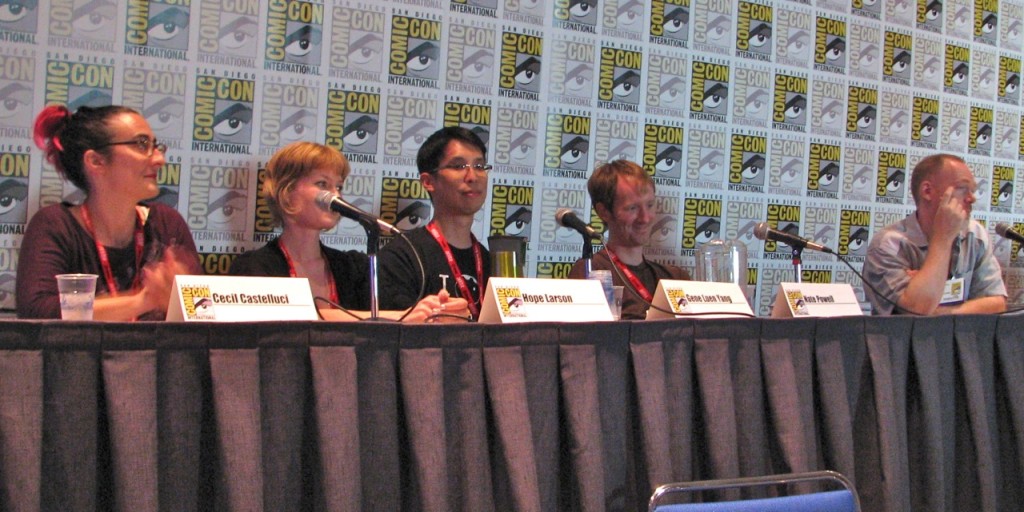 And after the panel, I took my weary self to the trolley and made my way home to show the kids our loot. Scott and I were supposed to go back downtown for a party, but (shhh)…we didn't.
Comments
sarah says:

I don't know how you had the strength to resist those shoes. Love the ninja kitties!!

maria says:

Love the pirates! Pretty sure my children will swoon over that photo. 😀 That pirate kid looks like Will Poulter, or at least as if realted to him.(he is the boy on the left) http://www.imdb.com/media/rm3217069568/nm2401020

So enjoying reading about SDCC! Thanks so much for sharing! And yes, LOVE the Ninja Kitty shirt…..and how rude of it to be too small. Blast those tiny feline Ninjas. 😉

tanita says:

Ohhhh, that Ninja Kitty shirt!!! And those PIRATES!!!

I think I would be sliding down a wall somewhere, twitching, about midday. Full. On. Awesome. Overload.

…I could still find you those shoes…

Ellie says:

Oh the kitty ninjas! Adorable, perfect! And the uglidolls, and the Boba Fett, imagine the number of legos involved!

These posts never get old, write as many as you want 🙂

Chynna says:

The shoes, the shoes! Who made them??

Melissa Wiley says:

I grabbed a card, will dig it out of the pile. They had platform heels too—maybe I need to do AN ENTIRE SHOE POST.