I was supposed to go to L.A. today to do something really super-fun, but I came down with a nasty cold instead. Because I am spontaneous and exciting like that. I've spent the weekend sprawled against my pillows in tragic poses (when someone is looking) and devouring Cybils nominees (when no one's watching).

Last night, around ten, I finished Brian Selzick's breathtaking Wonderstruck, bawling through the last forty pages. Which is the highest praise I can give a book: "it moved me deeply." Now, I don't know how people are writing reviews of this book without spoiling all its surprises, so I'm not going to say anything specific about it at all. Yet. Read it, and then let's have a nice long chat about it, okay?
Picture books Rilla enjoyed this week:
Chicken in drawing decides to help with the painting; hijinks ensue. Delicious art. This would be lots of fun to pair up with other picture books that break the fourth wall, such as David Wiesner's The Three Pigs or Melanie Watt's Chester.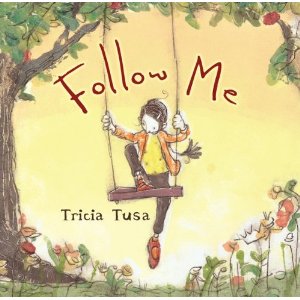 Lyrical poem with perfectly lovely art (I'd like walls the colors of her skies). "This book was very…unusual," declared Rilla approvingly. I think what she meant was that it's non-narrative, not plot-driven. Girl on swing thinking soaring thoughts.
More book recommendations here.
Comments