March 30, 2012 @ 6:45 pm | Filed under:
Poetry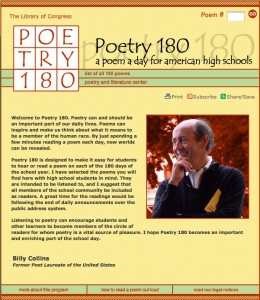 Yesterday I linked to a wonderful Billy Collins poem from the Poetry 180 website. That site's a new discovery for me, but it's been around a while and I feel like I must be the last poetry lover on the internet to learn about it. Just in case I'm wrong and you've missed it as well, here's the link.
"The idea behind Poetry 180 is simple: to have a poem read each day to the students of American high schools across the country."
We enjoyed the second poem today: "Sidekicks" by Ronald Koertge. Sparked a good discussion, and then we had to go look up all the cowboy-film sidekicks mentioned in the poem. I knew Gabby and Pancho, but wasn't sure about Andy or Pat. The latter turned out to be Pat Buttram, who rode with Gene Autry. Here they are on YouTube (embedding's disabled on the clip so I can't post it here).
Gabby or Pat, Pancho or Andy remind us of a part
of ourselves,

the dependent part that can never grow up,
the part that is painfully eager to please,
always wants a hug and never gets enough…
I'm late to the party tonight, but here's the Poetry Friday roundup, hosted this week by my juicy little universe.
Comments
Ellie says:

Well I didn't know about it either! Now bookmarked 🙂 thanks.

Michael Allen says:

Doesn't it seem there's a revivial in poetry? Not so much with the poets, but with the readers and the listeners? It seems to me that there's a greater audience now in place to appreciate the art.