Cover assembled from bits and pieces of my precious Small Meadow Press stash. I love that lantern beyond all reason, have ever since I first saw it on Lesley's papers and site.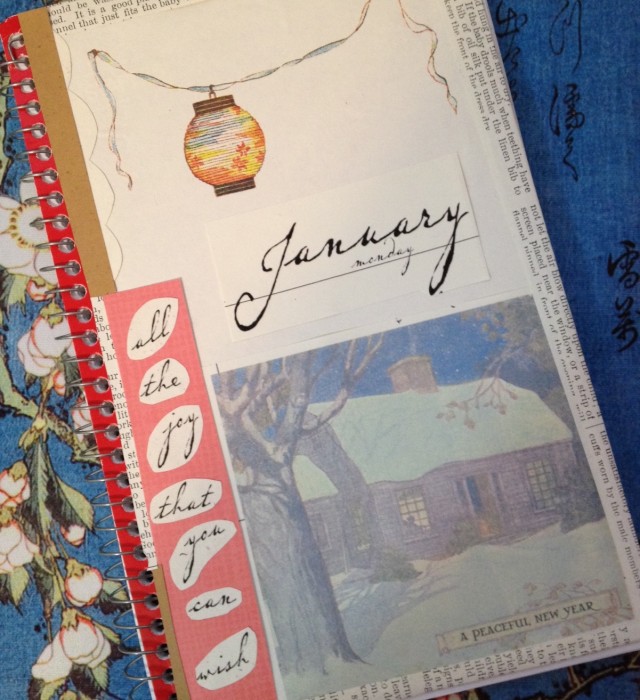 (Photo updated Jan. 1st after Rilla and I added the print borders)
The notebook isn't new; I've been scribbling in it on and off since October. And actually the first page is a reading log of Beanie's from a while back, but of course that makes me love it all the more. I switched notekeeping methods this past fall; for the past year or two I've been using the bright-covered unlined Moleskines, which work pretty well for me, but I decided I prefer a spiral (not in looks but in use) after all. I've used these little 5×7 spirals for a million years. Got stacks of them stored away in boxes: notes for various books; old shopping lists; scraps of poems; endless to-do lists; enough medical marginalia to fill a filing cabinet. Even though this particular book is in progress already, I decided to prettify it for the New Year. It will probably carry me past January into February and beyond, but I'll like looking at that lantern in any month.
Here's the inside front cover…you'll see that Rilla was having fun snipping bits of phrases out of the old (June 1890) magazine-page photocopy we were using for the borders. Eep for Babies indeed.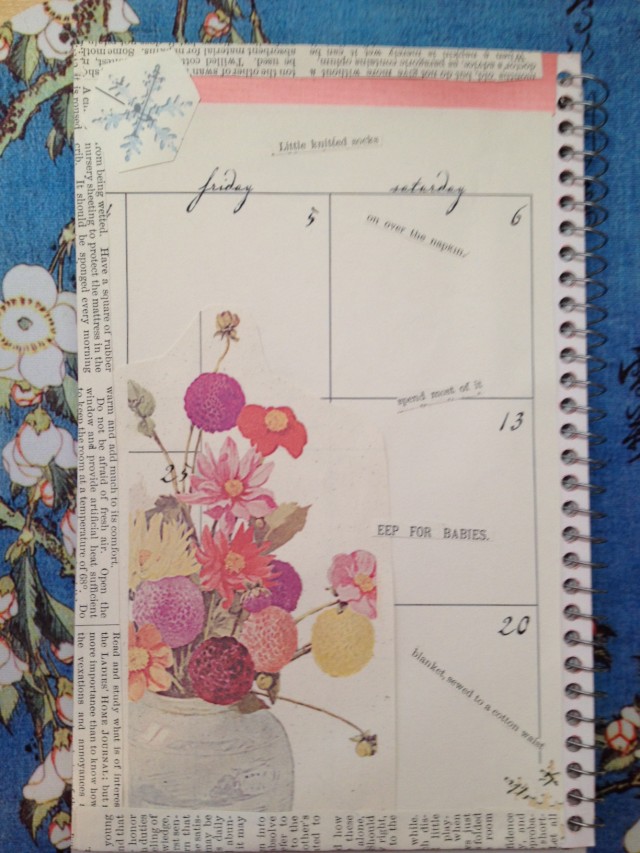 Speaking of Lesley Austin (and if I'm talking about paper, it's impossible for me not to talk about Lesley), she is hosting a "papery days" linkup, and if you too are what she calls a papergirl, you'll sigh happily over her lovely photos. I don't believe there's ever been a single Lesley Austin post that hasn't inspired me one way or another, both at her blog and over at Wisteria & Sunshine.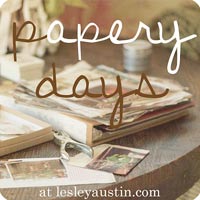 Related:
Workspace
Unearthed: the Notebooks