January 10, 2017 @ 4:52 pm | Filed under:
Books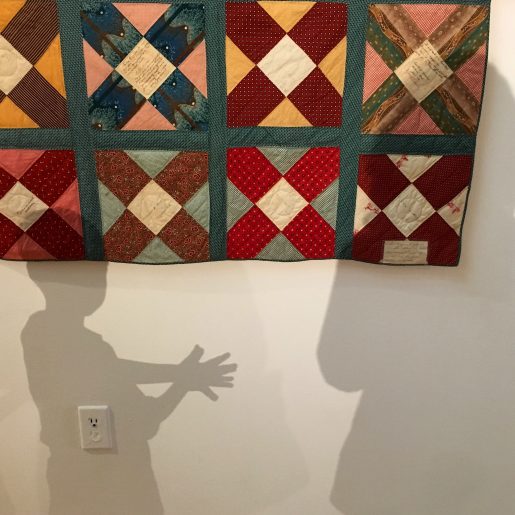 Five of us went to Balboa Park this morning. It was Free Tuesday and yet we actually got parking! We don't usually get out of the house early enough. Huck, Rilla, and I spent most of our time in the Museum of Man while Rose and Beanie roamed the Park. I need to go back soon (very possibly this weekend, with a visiting friend) to spend some time in the Scandinavian textiles exhibit in the Mingei. I got the barest peek—a breathtaking piece in the foyer—and am champing at the bit to return. (Sans seven-year-old. I love the kid, but long periods of thoughtful gazing at large pieces of cloth isn't exactly his specialty. Besides his own shadow, the thing he found most interesting in the Mingei was that wall outlet. He'll be forever haunted by the mystery of why the lower half is sealed over.)
(Ouch. Just realized that even if he were as fascinated with textiles as I am, I'd only have three days to go back with a seven-year-old. He'll be eight on Friday.)
Back in the '90s when I decided the thing missing from our little Queens apartment was a table loom (ahahaha), I quickly discovered that the weaving patterns that appealed to me most were the Scandinavian ones. My Carl Larsson obsession began about that same time. Although, as I mentioned the other day, I have finally grasped reality enough to part with one or two of my old weaving texts, none of the Swedish books were ever in danger. I love flipping through them, even though the loom's been in the garage for ten years. The clean lines and simple, bright geometric patterns fill me with such satisfaction.
The Erik Gronborg exhibit is also breathtaking and begs a good deal more of my time.
(None of my pictures came out, sorry. My phone didn't like the lighting. Plus I had a seven-year-old to watch.)
The Monsters exhibit at the Museum of Man was much more Huck's cup of tea. 🙂