January 5, 2017 @ 2:50 pm | Filed under:
Books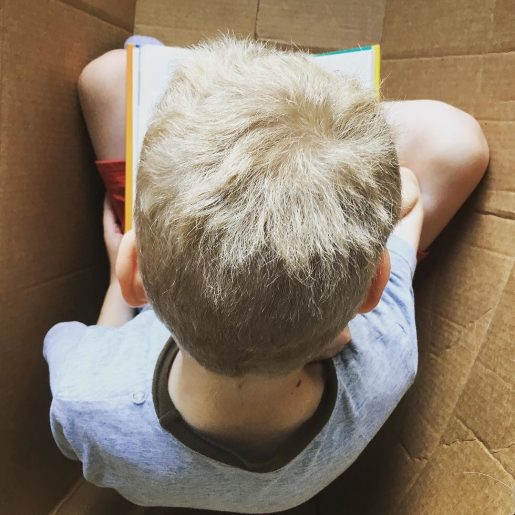 1.
I found a new(ish) middle-grade novel on my Kindle I'd been meaning to read with the kids. It's a review copy of The Secret Horses of Briar Hill by Megan Shepherd, sent to me by the publisher via Netgalley. I usually pre-read new books before diving into them as readalouds, but I liked the description and first chapters of this one quite a lot, and I decided to just dive in. So that's our next novel, and we'll save The Firelings for later.
Secret Horses takes place an English hospital during the second world war, a hospital for sick children—tuberculosis, it sounds like so far. The young narrator, Emmaline, sees winged horses in the mirrors and windows of the hospital. In reflections, the horses are vivid and present, nuzzling cups of tea on bedside tables. But when you look behind you at the real room, there's no horse there, winged or otherwise. So far (chapter two) only Emmaline can see them. Highly promising, methinks, and Rilla agrees. Huck is worried about the dying Anna, the oldest of the Briar Hill children, "but I'm okay with going a bit farther to see what happens," he says.
2.
Here's a list of our middle-grade readalouds from 2016.
Understood Betsy by Dorothy Canfield Fisher
Mrs. Piggle-Wiggle by Betty MacDonald
A Lion to Guard Us by Clyde Robert Bulla
The Family Under the Bridge by Natalie Savage Carlson
Harriet the Spy by Louise Fitzhugh
From the Mixed-Up Files of Mrs. Basil E. Frankweiler by E.L. Konigsburg
Ace: The Very Important Pig by Dick King-Smith
And these audiobooks:
Beezus and Ramona by Beverly Cleary (narrated by Stockard Channing—perfection!)
Frindle by Andrew Clemens
The Witches by Roald Dahl
Fantastic Mr. Fox by Roald Dahl
I feel like I'm missing something! But those are the ones I have written down.
All of these books went over well with Huck (age seven) and Rilla (who turned ten in April). I think Harriet the Spy was the only one that didn't really grab Huck. He wasn't sure about Understood Betsy, heading in, but by chapter three he was hooked. And when we came to the end, he asked in a quivery voice, "There are more Betsy books, right?" I had to tell him that no, not about this particular Betsy. But we do have some wonderful Betsy books waiting in the wings…
I think Mixed-Up Files and Understood Betsy were their favorites. And Frindle was a marvelous listen, probably my favorite of the bunch—although I would happily listen to Stockard Channing read the phone book, and her Ramona was quite satisfying. Rilla and I got about halfway through Ramona the Pest before our Overdrive checkout period ended and it disappeared from our queue. We're back on the waiting list now.
A Lion to Guard Us was the perfect companion to our colonial America studies. It's a short novel and had the kids pretty well entranced, although there were parts that distressed my sensitive Huck: the mother's death, early on, and then the sad disappearance of the kindly doctor at sea. He's okay with hearing about death in a story as long as there is plenty of space for discussing it as we go, and a cozy spot next to me under a blanket.
3.
All in all, a pretty good year for readalouds. Of course this is only one piece of the literary picture. There were also poems and picture books, history and fairy tales. Basically, I read to them all morning and then send them out to play while I work.
Scott handles the bedtime stories and I need to get a list from him, because I can't remember what he read this year.
Wonderboy (too old now for his baby blog name, but what do I call him here?) got into the Boxcar Children books this year, and Dan Gutman's Weird School series was heartily enjoyed by both my boys. They all read lots of comics—Calvin, Foxtrot, Peanuts—and too many graphic novels to list. And I've utterly given up at keeping track of what my older girls are reading. Too. Many. Books.
Beanie and I read a lot of good stuff for her literature class, which I teach to her and three other girls. In 2016 we did Jane Eyre, Pygmalion, The Tempest, Beowulf, Canterbury Tales, Sir Gawain, the first book of the Faerie Queen, and…what am I forgetting? We start Lear next week. She also has a taste for nature-and-science-related nonfiction, and I've pulled a lot of selections off this old Jane list for her.
4.
Highlights from my own reading year. So hard to confine to a small space! If I leave Cybils candidates for later, to narrow the field a bit, then the standouts are Passage and Lincoln's Dreams by Connie Willis—Passage in particular was wrenchingly good, and I find myself thinking about it all the time. I'd like to revisit it soon. I reread Julie Schumacher's comical Dear Committee Members on a plane this summer because I so enjoyed the voice of the beleaguered English professor's many lively epistles. And rereading Jane Eyre in preparation for teaching it burned that novel more deeply into my heart than ever. (Burned, get it? Motifs of fire and ice?)
I also had the fun this year of previewing a chunk of an upcoming Cassandra novel by Stephanie Spinner. She left me hanging and I'm itching to read more! (Hint…)
A new Connie Willis, Crosstalk, landed in my Netgalley queue just before the Cybils took over my Kindle. It's got a high-priority spot on my 2017 list.