I stood in the garden for a long while this afternoon, watching a carpenter bee patrol the salvia. He was bigger than the blossoms and seemed black all over; maybe it was the light but I didn't see any yellow on him. He inspected the bougainvillea and rejected it; same with the daisies. But the salvia pleased him. I counted how long he sipped at each small blossom: one, two, three—quick as that, no Mississippis.
Then the hummingbirds began to chitter and scold from the tops of the neighbor's pepper trees. They're like squirrels, a bit cheeky, a bit cross. They live in a different tree, the one just behind our back fence. I don't yet know what kind it is. Its ferny green leaves are obscured by fat orange pollen strands these days, so that the tree looks a little like autumn, all out of place in the springy garden.
I wanted to see more bees: bumble bees, honey bees. I'm deep into Fruitless Fall; it's a nailbiter, I must say. Jane pinched it from me yesterday and stayed up late reading. This morning when she came out for breakfast, she was reading as she walked down the hall. "You look troubled," I said, and she said, "I am. This book." She finished it by lunchtime and now she wants to keep bees. That's not an option where we live right now, but maybe someday. I noticed she was rereading the book later this afternoon. It's that kind of book. I plan to get my hands back on it tomorrow.
In the garden, ants were streaming up and down the sunflowers. I tried to see what they were up to, but the baby was falling asleep in the sling just then and I had to keep moving. A dragonfly buzzed my head and lit on one of our beanpoles: breathtaking creature. Its cellophane wings seemed threaded and edged with copper wire. It liked that perch on top of the pole. Five times it flew away and returned to the same spot. I went in for the camera and it was still there, sunning, the gypsy breeze blowing its wings a little the wrong way, backward toward the huge fly eyes. The copper wings gleamed. It looked like a piece of jewelry, not a live thing—and there it went, sailing over the wall.
You're a figment of my imagination, I thought, a fairy. But the camera says otherwise. Still, I know what I know.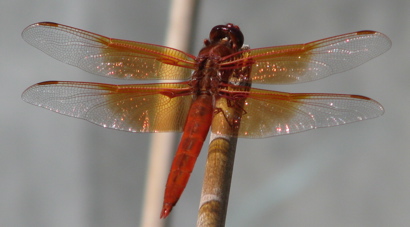 Comments
Kristen says:

Ah, such a gorgeous post!! I love your garden writing!

Penny in VT says:

What an awesome post – I've been eagerly searching for bees too, and have seen quite a few considering how early it is in Spring here.

Thanks for sharing the fairy disguised as a dragonfly – camera/schmamera… 🙂

Beth says:

Ah, wonderful photo.

mamacrow says:

it fascinates me that your dragon flies are ORANGE! I didn't even know they came in that colour!

Melissa Wiley says:

Mamacrow, neither did I until yesterday! I think it's a Flame Skimmer (going by this ID site). Guess it makes sense that a southwestern U.S. variety would be orange/copper to blend in with the rusty landscape…I'm thinking of the redrocks of Arizona.

Kay says:

Thank you for this post. We can now feel your CA sunshine on this cool, cloudy and rainy day in PA. We welcome the feeling and the much needed warmth.
To capture the dragonfly so clear is wonderful.
Dragonflies have been my favorite since we saw hundreds imerge one day and fly above a pond hidden in a wooded area. It was magical.
Anna then made for me a silver dragonfly necklace with green beads that I love and wear frequently.

Cascia @ Healthy Moms says:

Wow what an awesome article! Don't you just love spring? I love to sit outside when the weather is nice and watch God's beauty all around.

I found your blog on Mom Blogger's Club.

Karen Edmisten says:

Lovely.

helene says:

These pictures are really gorgeous!

Julie says:

Lovely post. We have been trying to film bees with our camera to make a wildlife film. Am amazed at the variety – and how beautiful they are when you stop and look (like dragonflies). We have been thinking about keeping bees – must read the book!