November 15, 2010 @ 6:04 am | Filed under: Betsy-Tacy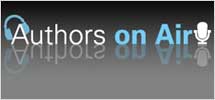 At 7pm Eastern time, 4pm my time, Mitali Perkins and I will join Jennifer Hart (aka BookClubGirl) on air for a discussion of all things Betsy-Tacy. Emily of Deep Valley! Carney's House Party! The true color of apple blossoms!
You can even call in and ask questions. I am really hoping you will call! From Jennifer:
Be sure to register on the site before 7 on Monday so that you can participate in the chat from the beginning. You can also call in and ask questions directly by dialing 347-945-6149 during the show.
Click here for more info.
Now I just have to figure out what to wear.
(Kidding!)
(Although actually there is a right way to dress for radio, or a wrong way at least. On my first radio interview ever, back in 1998—this was before internet radio, so I mean radio-radio in a radio station—I happened to be wearing a bead necklace and when I leaned forward, the beads clickety-clacked against my mic and made a horrible racket. Fortunately we weren't live. They had me take off the necklace and redo that part of the interview. So note to self: no beads tomorrow. Hahaha. As if any necklace could survive the grabbyhands of Huck.)