May 11, 2011 @ 7:51 pm | Filed under:
Books
As long as we're talking about The Penderwicks at Point Mouette, I thought I'd mention a few other books on my I'm-eager-to-read list: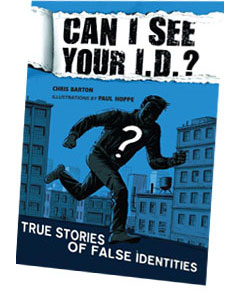 Can I See Your I.D.? by Chris Barton, author of the hilarious Shark vs. Train
"From the impoverished young woman who enchanted nineteenth-century British society as a faux Asian princess, to the sixteen-year-old boy who "stole" a subway train in 1993, to the lonely-but-clever Frank Abagnale of Catch Me If You Can fame, these ten vignettes offer exhilarating insight into mind-blowing masquerades."
Sounds way fun, eh? As does: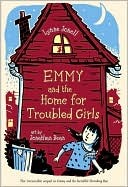 Emmy and the Home for Troubled Girls by Lynne Jonell
I flipped over this book at ALA Midwinter—the concept, the art, everything about it—but haven't curled up with it yet, nor its predecessor, Emmy and the Incredible Shrinking Rat. It struck me as likely to have very high Rose-and-Beanie appeal.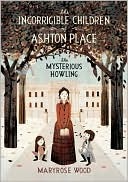 Plus I still haven't read the first Incorrigible Children of Ashton Place book by Maryrose Wood, despite having drooled over the cover months ago, and now the second one is out. Eek! Alexander, Cassiopeia, and Beowulf, I can't wait to meet you.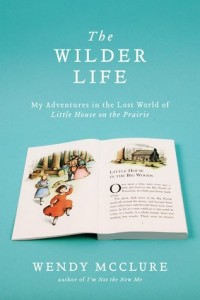 And you know I need to read Wendy McClure's The Wilder Life! Why do I not have a copy of this book yet?
Of course this is just the tip of the iceberg…as usual my TBR list stretches to Saturn. I keep rechecking The Beak of the Finch and After the Ice out from the library: two nonfiction titles that piqued my interest, and which I despair of getting to anytime soon. Especially if any of the above hit my doorstep.
Have you read any of these? Would love to hear your take…
Comments
sarah says:

They all sound alluring 🙂

Mary Alice says:

I loved the Incorrigibles, as did my nine year old, and can't wait to read the next one. Charlotte Mason philosophies applied to children who have been raised by wolves, and a society step mother? It is like Alcott gone mad!

Jen says:

I just finished The Wilder Life. I thought it was excellent. I had already read most of the source material that she used But with her spin it was both more amusing and more disturbing than I remembered. After I read the Laura bios, I had to put the "real Ingalls" out of my mind a bit. Wendy did too I think, so it was interesting following another fan through the process.

Jennifer says:

I had my reading schedule set and now you come along with this.

MelanieB says:

I just finished the Incorrigible Children too and it was one of those books I was kind of meh about but I know it's because of my own quirky hangups and not a fault of the book. I did a research paper in highschool about feral children and language development and it's a topic that continues to fascinate me. Especially intriguing to me the idea that there seems to be a window in which language acquisition has to happen and if you miss it and a child isn't exposed to language, then once that window is closed they really can't learn it. Anyway, this book pretty much ignores that and the incorrigible children acquire language proficiency at an amazing rate (with the exception of a few lingering wooos and howls). So I had a hard time suspending disbelief at the feral children and if you can't get behind that, that pretty much does the book in.

In general I love whimsical books; but I guess there's a limit to my whimsy. I do like books to get certain things right and get unduly annoyed when scientific observation gets left too far behind. I suspect it's in part because I am such a huge nerd about Charlotte Mason and Maria Montessori an trying to understand how children learn that I really wanted this book to get that part right. But that's not what it's about.

I will read the second one. That cliffhanger ending has engaged my narrative curiosity and the book was fun enough to make me want to continue. But I'll never be in love with them, you know.

Karen Edmisten says:

We just got the new Penderwicks in the mail yesterday, too. Betsy nabbed it first. 🙂

We really enjoyed Emmy and the Incredible Shrinking Rat. I haven't read the second one, but the girls liked it.

And now I must read the Incorrigible Children! I LOVE that cover!

Chris Barton says:

I'm delighted and honored to be on your list, Melissa — thank you!

Nancy says:

my daughter *loved* The Incorrigible Children to the heavens. I like the cover art, too, but it did give me pause — made me wonder if it was another of the Lemony Snicket ilk i.e. describes truly awful happenings to young children with a wink and self-congratulatory irony. not my speed at all. The Incorrigible Children is not that type after all; a great story, a marvelous, subtle main character. hooray for Penderwicks #3. we've put it on hold at the library and are revisiting the first and second in preparation. I love your book lists! when I'm reincarnated, I aim to be one of your children, please.

Lorna says:

Am just about to finish The Wilder Life. Loved it! You know you're a fan (of the books) when NOT ONCE when she was referring to material in any of the books (even most of the supplementary ones) did I say "I don't remember that". Yikes.

Toni R. says:

I read The Wilder Life yesterday, what a wonderful book. I'm thinking that I may need to learn more about Rose Wilder Lane what a fascinating woman.

coffeemamma says:

Add Miss Buncle's Book to your list (D. E. Stevenson). can't. put. it. down.

Melissa Wiley says:

@coffeemamma, ooh, thanks for the suggestion!

Teri says:

Beak of the Finch was great. I was glad I made time for it.

And I just finished The Wilder Life, and loved it. I'm teaching a Laura Ingalls Wilder: Book and Myth course at a public university in the fall, and I think I'm adding this to the syllabus — it reads well, McClure has a great sense of humor and enough subtlety to appeal to the better students, and it's a great book for examining the way that people choose to love the books that they love.

Carmie says:

I loved The Wilder Life! Thanks for all of your links! We just got the new Penderwicks too.

Carmie says:

Penderwicks #3 is on the nightstand and recently finished The Wilder Life and really enjoyed this memoir. Thanks for all your book links!