July 8, 2011 @ 4:45 pm | Filed under:
Poetry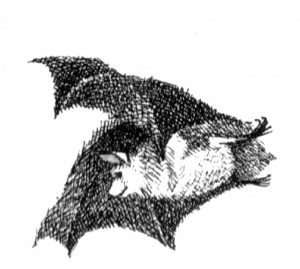 The bat-poet remembers his earliest days:
…And then the mother dances through the night
Doubling and looping, soaring, somersaulting—
Her baby hangs on underneath.
All night, in happiness, she hunts and flies.
Her high sharp cries
Like shining needlepoints of sound
Go out into the night and, echoing back,
Tell her what they have touched.
She hears how far it is, how big it is,
Which way it's going:
She lives by hearing.
More Poetry Friday posts: Wild Rose Reader
More Bat-Poet moments
Rose petal, rock, leaf, bat
Her bat mood