June 23, 2006 @ 6:30 am | Filed under:
Photos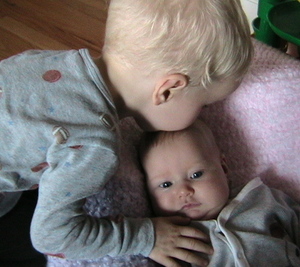 Comments
Rebecca says:

Oh! That picture just touched me so much. What beautiful children.

Mary Beth Patnaude says:

SO sweet! Two year olds are the best! This morning the baby got hold of a piece of paper. While he proceded to eat it, Aaron brought him a toy, and exchanged the two! He's always looking out for his little brother.

veronica says:

Beautiful. Big eyes and loving big brother. Nothing sweeter.

tracey says:

SO MUCH LOVE! It's breathtaking. What a lovely image.