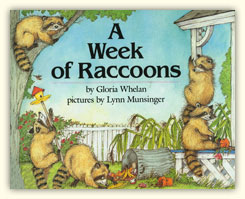 A Week of Raccoons by Gloria Whelan, illustrated by Lynn Munsinger.
Earlier this week Rilla was making a list of things that make her happy and she wrote this book down as number three. (To give you an idea of scale: #1) Daisies. #2) Daisy, presumably from Wow Wow Wubzy. #4) Grandma and Grandpa.) I concur; A Week of Raccoons makes me happy too.
A nice old farmer and his nice old wife keep discovering evidence of raccoon mischief: broken petunia pots, a toppled humming- bird feeder, trampled and devoured corn. Each night the farmer baits a trap and when, every morning, he finds a new raccoon licking peanut butter off its whiskers in the cage, he loads the cage into his truck and drives to the piney woods (past the tumbled-down log house, around the apple tree, across the stream, etc) to set the critter loose.
All week, the growing community of raccoons is trying to recall the route back to the farm. The Monday raccoon only remembers the last bit, but the Tuesday raccoon knows what came before that, and the Wednesday raccoon can retrace the route as far as the stream…by the end of the week, the critters are ready to depart the piney woods and make the backward journey. Luckily for the elderly couple, there are some tasty treats to lure the hungry raccoons off the path along the way.
Rilla loves the repetition, the whimsy, and the appearance of some very large grubs near the end of the story. She also greatly enjoys Lynn Munsinger's art; these are some mighty cute and expressive raccoons. Matter of fact, somewhere around here I have a notebook full of my attempts to copy them, circa 1997.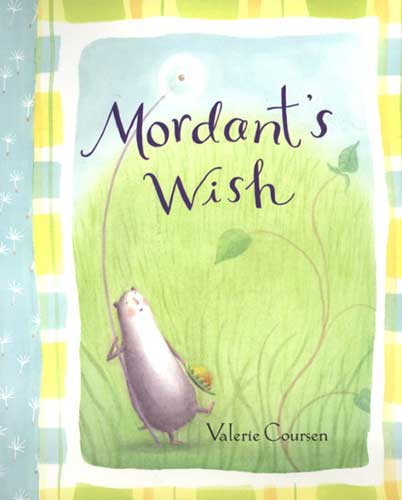 I wish I could remember who gave us this book years ago! It was published by Henry Holt, so it can't have been any of my Harper or Penguin buddies…However it came to us, it's a book we treasure.
Mordant is a mole who lives on the lonely top of a green hill. One day he sees a cloud shaped like a turtle and wishes (on a dandelion) that the turtle were real so they could become friends. The dandelion wisps sail off on the wind and swirl past the eyes of a bicycle rider, making him think of snow, which puts him in the mood for a snow cone from the little handcart not far away. His snow cone drips out the bottom, forming a puddle shaped a bit like a hat that belongs to the aunt of a bird perched nearby, and off he flies to visit her. This domino chain of events continues in a funny, fresh, and deeply satisfying manner. Rilla was enchanted, just as her sisters were in years past.
Like A Week of Raccoons, Mordant's Wish is (alas) out of print, but both are well worth tracking down in a library or used bookstore.