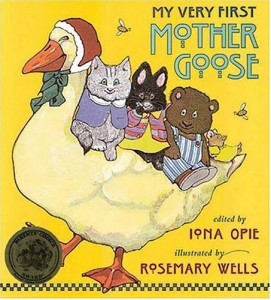 Today: My Very First Mother Goose, the Iona Opie/Rosemary Wells collaboration. A gift from my sister when Jane was tiny, so thoroughly loved by all six children overlappingly and in succession that the binding is cracked and peeling. Huck carts this one (and its companion, the red one, called something like "More Mother Goose" or "My Very Second Mother Goose" and yes, I'm being lazy) all around the house, loving on it, talking to the bunnies and cats, naming the nice big initial letters. Today Rilla chose it for our "quiet reading time" (it is seldom very quiet) and she basically read/recited the whole darn book to me, bearing out Charlotte Mason's theories about using nursery rhymes to teach reading without actually teaching.
Also: selected poems from Milne's When We Were Very Young.
Yesterday: Dinosaur vs. Bedtime at least a dozen times. And then three or four more rounds with Huck. This was one of my favorites from the Cybils nominees two years ago, and it is enjoying renewed popularity now that Huck is prime dinosaur material.
I can't remember if we read anything but Dino v. Bed yesterday, but then again it kind of dominated the whole day, didn't it? ROAR! DINOSAUR WINS!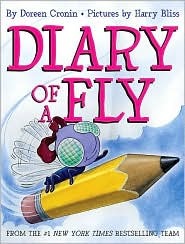 The day before that: Diary of a Fly, another repeat request, and I know everyone already loves Doreen Cronin's hilarious insect diaries so I won't say much beyond: Cronin's a riot and Harry Bliss's art is a delight. I especially love the way this book and its mates (Diary of a Worm, Diary of a Spider) suck my older kids in too and engender such animated discussion afterward. Same goes for Click Clack Moo, which, as someone pointed out on my Goodreads page recently, provides a most excellent jumping-off point for talking about collective bargaining rights.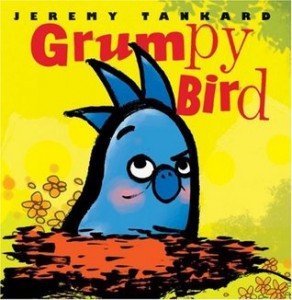 And finally, two books I pretty much need to mark down for every day this past week: Grumpy Bird and Boo Hoo Bird, both by Jeremy Tankard of Me Hungry fame. I was so enchanted with Tankard's art in Me Hungry that I absolutely had to track down more of his work. The two bird books do not disappoint. The crabby-face of Grumpy Bird—who wakes up one day too grumpy to fly—actually makes us laugh out loud. We've seen that face around here before. Great twist at the end, too. I probably can't say anything that tops Huck's endorsement, though. I snuck some video of him 'reading' these books after dinner the other night and if I get my act together I'll try and post it. Made me laugh.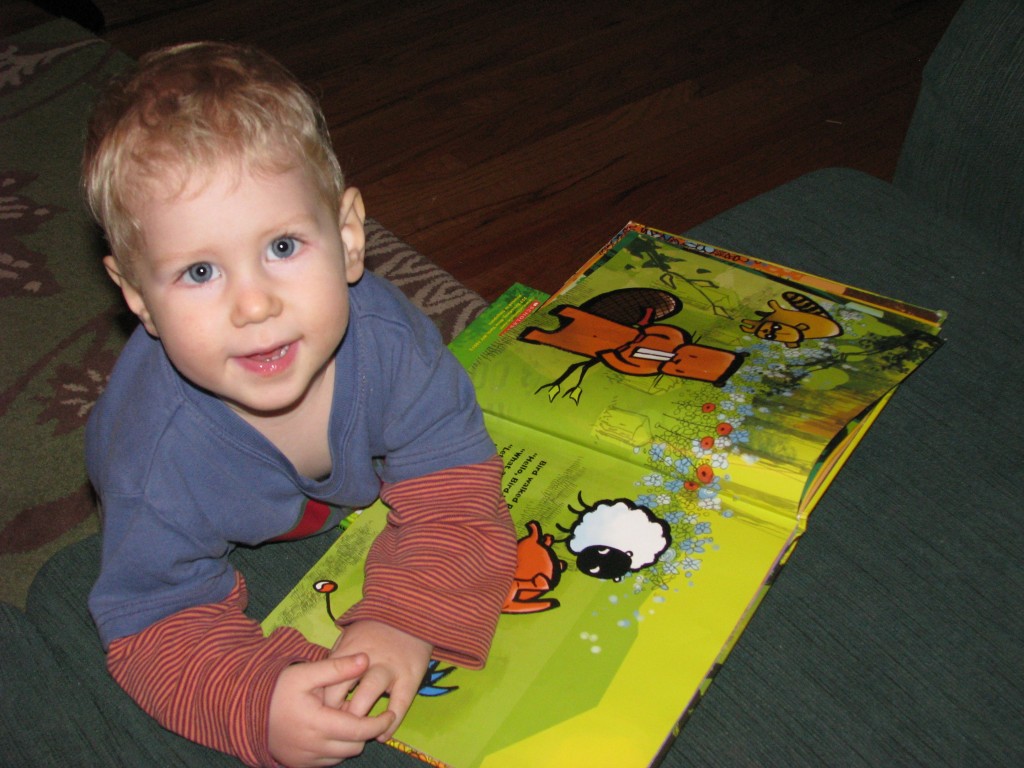 Neither a bird, nor grumpy.