Archive for June 5th, 2011
June 5, 2011 @ 3:32 pm | Filed under:
Photos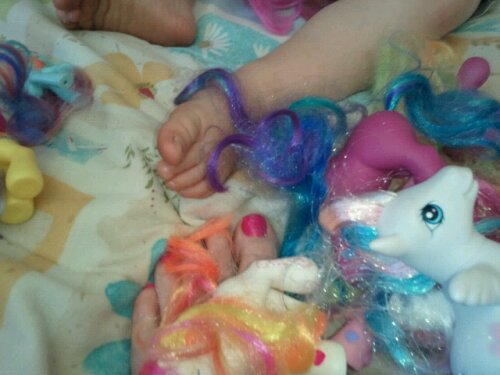 …despite its being, you know, Facebook.
Scott thought a remark I made in the comments ought to be pulled onto the main page and elaborated on a bit, so here it is. In response to a nice thing Melanie had said, I replied:
I do like thinking aloud about the new media…I tend to be an early adopter, and I've tried out loads of things that I didn't stick with for one reason or another. The way I know something works for me is if I'm still using it a year later. There are many platforms I've enjoyed briefly but didn't find expedient over time (for example, I love the look & functionality of Listography but forget about it for long stretches of time, which tells me it wasn't quite the right platform for my daily needs).

There are things about Facebook that drive me batty (the privacy issues) but there's nothing quite like it for staying in touch, is there? I mean, I've been on the internet since 1995, active on bulletin boards and email groups from 1995-2008, blogging daily since Jan 2005, on Twitter since 2007—but not until Facebook was I in daily internet contact with my relatives, high school friends, college friends, grad school friends, old work friends, etc. PLUS the interaction with online friends (with whom I became friendly first via boards, lists, blogs, etc), kidlitosphere colleagues, and so forth. And I find I really count on FB to let me know quickly who is safe when, say, a freak tornado touches down in Massachusetts!!
And actually, I think my main point got a bit lost in that paragraph. It's this: not until Facebook was I in daily internet contact with my relatives. My closest cousins, some of my aunts and uncles, one of my sisters and her husband, my other sister's daughter, three of my four sisters-in-law, many of my nieces and nephews on Scott's side. That's a big deal.
My father is also quite active on FB, to my delight—I seem to Like just about everything he posts 😉 —and he shows my mom all the photos and kid-quips Jane and I post there. But my affection for Facebook isn't because it lets me share glimpses of daily life with others—as I said, I've been doing that via a variety of platforms (including, for a long while, a private family blog) since 1995. What I love about FB is that it, for whatever reason, seems to be the first platform that has compelled a large number of my loved ones to share glimpses of their daily lives online. And I really, really love that. Scott and I have never lived close to our families, and the telephone is not the easiest way for this mom-of-small-children to keep up with loved ones. Appropriate phone-call hours overlap too completely with attending-to-younguns hours.
In my first twelve years on the internet, the people I talked to were almost entirely new acquaintances. Some of them have become very real and dear friends—Huck's godmother, for example. I've met dozens of internet-first friends in person, several of them repeatedly. They're real friends, and I'm glad to have them in my life. But it wasn't until Facebook, these past couple of years, that I had the pleasure of seeing, on a daily basis, what my cousins are up to, and my high-school friends, my college friends, my grad school friends…all of them, friends I've not lived near since the pertinent graduations, and so many of us busy these past two decades raising our families, attending to our jobs. It would take me hours and hours of telephone time each week to find out what Facebook can tell me in ten minutes.
(Occurs to me I can sum up this entire post with that one sentence.)
Don't get me wrong—I love those long, gossipy phone conversations. I'm simply unable to manage them very often during this season of my life. And this season has been sixteen years long!
Keeping a blog doesn't appeal to everyone. Commenting on blogs doesn't appeal to everyone. For whatever reason— convenience, layers of (hypothetical) privacy, the visual format— Facebook seems to appeal to a much wider swath of people. I love being able to see, with one click, my niece's prom pictures, a birth announcement from my high-school friend, a link to an article written by a grad-school classmate, and the beautiful wedding photo of one of my very first internet acquaintances—now a real-life friendship spanning sixteen years. I love the reminder that today is my Uncle Eddie's birthday. Happy Birthday, Uncle Eddie!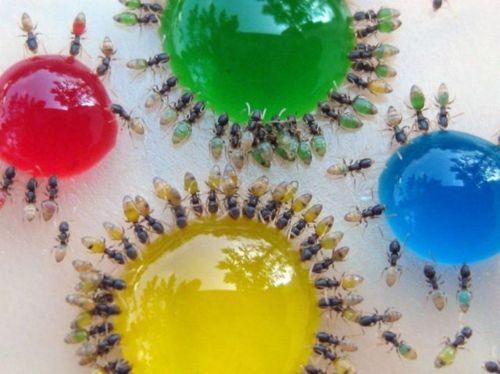 Via The Daily What. (Some content and comments there may not be appropriate for younger readers.) I can't tell from the original source whether this photo is real or a beautiful fake, but in the course of my search for verification, I've learned a few interesting things about the Argentine ant, the ghost ant, and the honeypot ant. Plus, you know, it's pretty.