June 10, 2011 @ 9:13 am | Filed under:
Books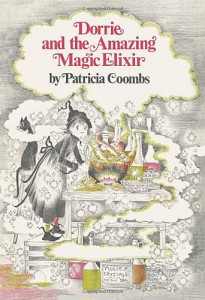 This morning, for no particular reason, I was hit with a wave of longing for Patricia Coombs's Dorrie the Little Witch books. Man, I loved those books when I was little. I was sure we had a few here, but I can't find them. How is that possible? Dorrie's the classic well-meaning character who keeps getting into terrible scrapes; the fact that her muddles are magical ones ups the fun quotient enormously.
Hmm…we were going through the costume stash the other day and found a pair of long red-and-white-striped stockings (from a Pippi Longstocking outfit, maybe?). Maybe they reminded me of Dorrie, who beat Punky Brewster to the mismatched socks look by twenty years.
Rilla's just the right age. Library trip ahoy.