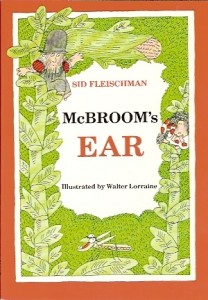 "Pa!" Mary cried. "They didn't even wait for my prize tomatoes to ripen. They ate them green!"

"Pa!" little Clarinda said. "What happened to your socks?"

I looked down. Glory be! Those infernal [grasshoppers] had eaten the socks right out of my shoes—green socks. All they left were the holes in the toes.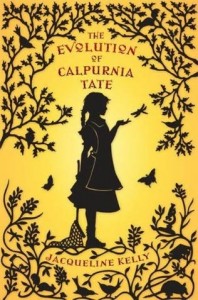 I next wrote in my Notebook that we had two very different kinds of grasshoppers that summer. We had the usual quick little emerald ones decorated all over with black speckles. And then there were huge bright yellow ones, twice as big, and torpid, so waxy and fat that they bowed down the grasses when they landed. I had never seen these before. I polled everyone in the house (except Grandfather) to find out where these odd yellow specimens had come from, but nobody could tell me. Not of them was the slightest bit interested.

As a last resort, I rounded up my courage and went out to my grandfather's laboratory. I pushed back the burlap flap that served as a door and stood quaking on the threshold. He looked up in surprise from the counter where he was pouring a foul-looking brown liquid into various beakers and retorts. He didn't invite me in. I stumbled through my grasshopper conundrum while he stared at me as if he was having trouble placing me.

"Oh," he said mildly, I suspect that a smart young whip like you can figure it out. Come back and tell me when you have."
Two grasshopper stories: not a coincidence. I started reading Calpurnia to Rose and Beanie today (with Rilla listening in and, after a bit, curled in my lap picking out words Scout Finch-fashion), and when it came time for me to read a story to Rilla, I went straight for McBroom. If I'd thought about it in time, I'd have hunted up Joyful Noise: Poems for Two Voices; there's a grasshopper poem in there, I'm sure. In fact, I can picture a hopper on the cover. Maybe tomorrow. Today has rolled on to the next thing. Polly Pockets for those three girls, and the Shakespeare kids coming in a bit to work on costumes for our Twelfth Night performance.
Related post: Sciency fiction and nonfiction
More about McBroom: Hoppers
More about Calpurnia Tate: Our first encounter; Naturalists in literature