June 3, 2013 @ 7:46 pm | Filed under:
Books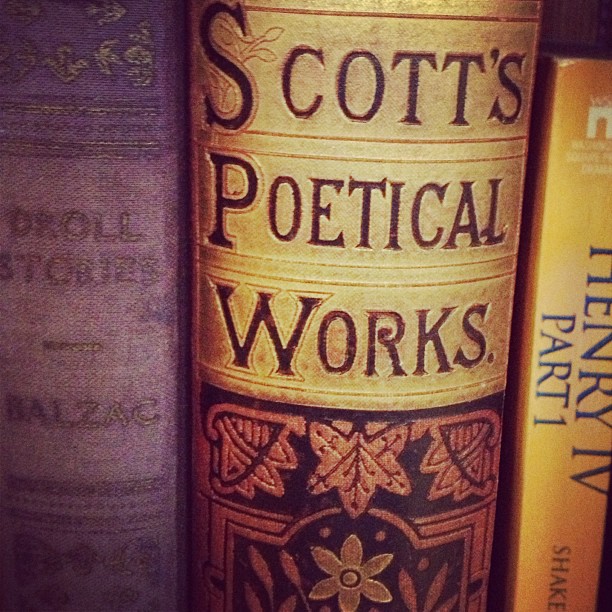 I've really dropped the ball on my reading notes, these past few months! I'm looking at my GoodReads list and ouch, I must have missed logging some things, because there's only one novel listed for May. That can't be right. Let's see, it's definitely missing The Scent of Water, which I reread in early May. That's one hitch with GoodReads; if you've entered a book in the past (I read it last year), there's really no way to re-list it except to change the date altogether.
Well, notables of the past couple of months:
The Scent of Water (reread)
Pilgrim's Inn, also by Elizabeth Goudge, immediately afterward. I was so in the mood for more Goudge, and this was a really lovely book, but I rather wish I'd had more time between the two; their themes are so similar, and the assortments of strong and quirky personalities. And the importance of houses, specific living, breathing houses who have to be counted as characters in their own right. (Like L.M. Montgomery, Goudge will ruin you for houses! The boxy mid-century bungalows of my neighborhood seem blank and bland to me after a dose of Goudge. No 'lashings of magic,' to borrow Jane of Lantern Hill's phrase. No quaint spool beds or cockeyed chimneys, no breathtaking views, no hidden chapels or wide, welcoming stairways. No secret lanes anywhere! Although you can pretend them into existence if you try…)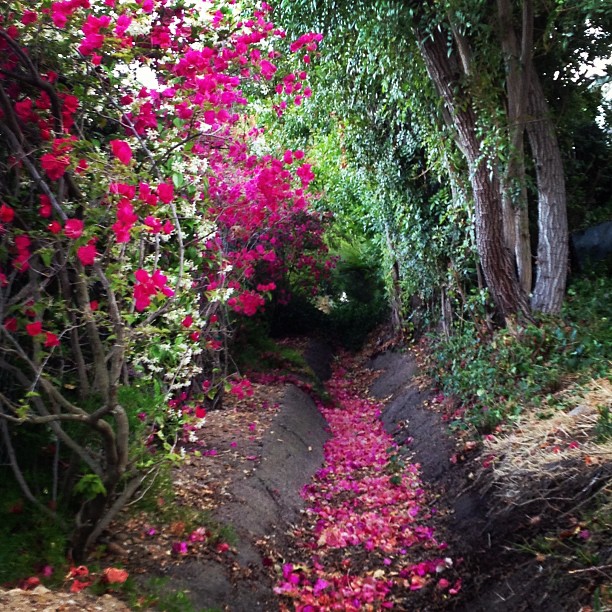 Crop out the houses and the runoff drain between two streets becomes a secret path…
Anyway, I'm teasing a bit, but I really loved Pilgrim's Inn and am glad I still have so much Goudge left to read for the first time.
Colson Whitehead's The Colossus of New York—a complete change of pace! A collection of gorgeously written, jangly, quick-beating essays about New York City. Made me ache, I missed the city so much. Sent me careening right back to my beloved Helene Hanff: Letter from New York, 84 Charing Cross Road (which is about NYC as much as it's about books and kindred spirits). I bounced back and forth between Whitehead and Hanff, gulping great chunks of each.
Do you know, I read this way more and more these days…a chunk of one book, a chapter of another, back and forth, six or seven at once, wantonly, greedily. I mostly finish things, but sometimes I don't. A few of the things I'm in the middle of this very moment: Wild by Cheryl Strayed; How to Watch Television (a new book coming from NYU Press, and it is CAPTIVATING ME); Blackout by Connie Willis (I never finished that one a couple of years back; picked it up again recently)—all of them active reads, all of them gripping me, each of them begging a free afternoon.
(Will I ever finish Blackout? Will I reach the point where I can't possibly put it down? That point usually comes sooner for me in a Willis novel.)
Back to the books that occupied my spring—only now it's gotten late, I'm not going to finish this list. I have to add Alice Munro's Too Much Happiness. I've been reading a story a week, more or less…she's so sad and rich, I have to take her slow. I read her sentences like each one is a small poem. Cheryl Strayed's Wild begins with a harrowing cancer story—I won't give too much away—and a woman who's just been told she has terminal lung cancer, maybe a year to live, asks her doctor if she can still ride her horse. But they're offering radiation to shrink the tumors along her spine, and the doctor says her spine will be so brittle, a jolt could shatter it to dust. That's how my heart feels after an Alice Munro story, like one more sentence would crack it to splinters.
From Munro I pendulum to the things I'm reading my children: Mrs. Piggle-Wiggle, Brambly Hedge (on endless repeat, it seems), Odd Duck.  Laughter glues me back together. But I can't do without the shattering books. I think you come back together a little different, every time.