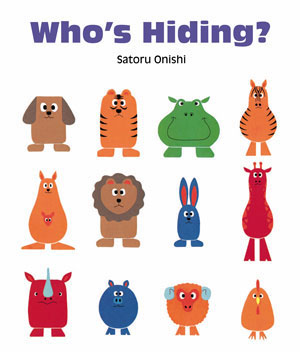 Who's Hiding by Satoru Onishi. Published by Kane/Miller.
I'm filing this under Rillabooks but it could easily be tagged Huckbooks as well. They are equally attached to it—the five-year-old and the two-year-old, if you've lost track of their ages.
It's an appealingly simple concept book: a page full of animals, illustrated in a clean and colorful style, as you can see from the cover. On the first spread, the animals are labeled: dog, tiger, hippopotamus, zebra. On the next spread, the animals are the same, but the background color has changed from white to blue. "Who's hiding?" asks the text. The blue animal has disappeared against the background and the child has to figure out who is missing (helped along by the bunny's eyes, ears, and nose showing up against the blue).
As the book progresses, more and more animals are hiding on each page. My littles absolutely love this game of hide and seek.
The "Who's hiding?" spreads are interspersed with emotion and action spreads. Who's angry? Who's sleeping? Who's crying? (My little goddaughter was distressed by the crying page, so watch out.)
Rilla seems to enjoy the hiding pages the most—the book turns into a game for her, a game involving my looking very intently at the book as I ask who's hiding, so intently that I, ahem, don't notice  a certain someone has gone missing beside me. "Who's hiding?" "I AM!" cries a triumphant voice from under the bed.
Huck likes the emotion pages best, or just plain naming the animals. I'm a big fan of Satoru Onishi's art. I'd love a poster of these animals for the kids' bedroom wall.