I love this series of posts by comic-book writer and artist Ty Templeton. In the 90s, Scott was Ty's editor on The Batman Adventures. Ty has been sharing a look at rejected cover sketches for various issues, with commentary about the changes that led to the final, approved covers.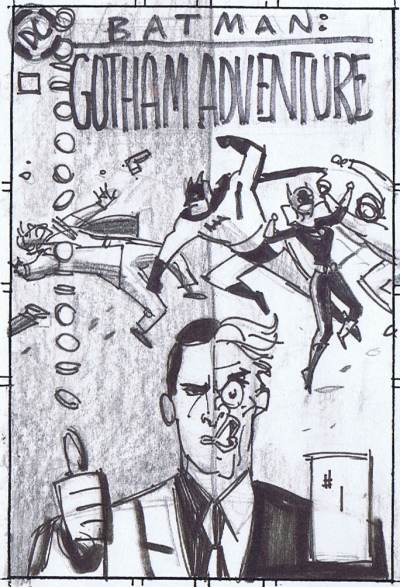 Unseen Batman Gotham Adventures Artwork…Two-Face edition | Ty Templeton's Art Land.
This particular issue was published after Scott had left to go freelance and the awesome Darren Vincenzo took over as editor of the book. I think it's very helpful (especially for kids) to see how even a highly skilled professional like Ty goes through many drafts on the way to a final piece.
Incidentally, here's what Ty had to say about Scott's contribution to The Batman Adventures and its successor comic, The Gotham Adventures:
I'd argue that Scott is the single most important creator who worked on the book. Besides launching it as editor, and hiring most of the well known talent that participated, Scott's editorial hand was very present in many of the best issues of the book ( He certainly helped me to be a better writer)…and let's never forget that Scott scripted more issues of the assembled series than anyone other than your humble blogger. By my count, I wrote (or drew) about fifty-five issues, and Scott wrote about forty-five, including one of the best Catwoman stories ever published by DC. When you add up his two runs (editorial and scripting) he put his hand in about two thirds of the complete run, and is integral to the series' success.
(Scott's going to be ticked at me for posting that, but sometimes a wife's gotta brag on her man.)
Comments
shaun says:

I would brag too — that is way cool. And I can't wait to send that link to my aspiring illustrator. (At least, when she is not an aspiring programmer, linguist, or girl-band leader.)

Annette W says:

Very cool indeed. So you both work in/with publishers, huh? Cool!