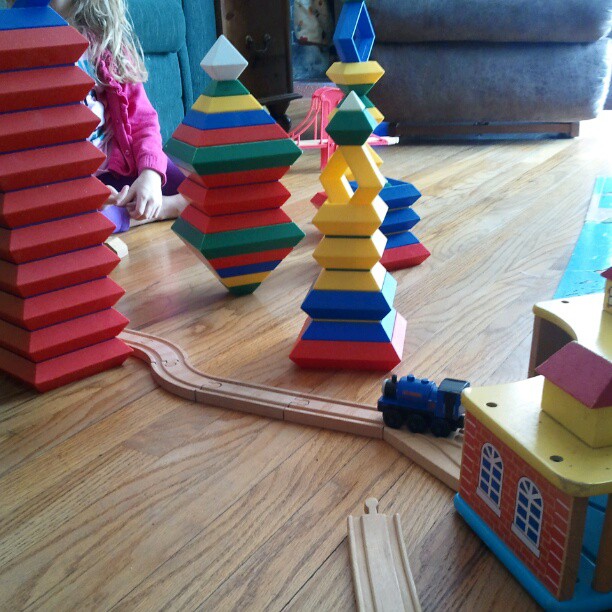 Ten years later, our Wedgits are still in near-daily use.
(That reminds me: I have a roundup of lots of gift-idea posts I've written over the years.)
Comments
mamacrow says:

oooo we have those! they are so popular our set gets argued over regularly 🙁

kimberlee says:

Oh yes, they're a very good call. We got them a few years ago for Eliza and my grown guys were like, 'Dude! We've finally got those things we've seen in the catalogs all those years!' and the two of them played with them all night long. 🙂

sarah says:

Wedgits are cool. And I didn't realize, until several years in, that they do more than just stack. You can wedge them together (duh) and make pretty complex figures that hold together.

There is a Wedgits Demonstration video on youtube you might find interesting.

Sarah

Leslie in VA says:

Just wondering what to get the 3 yr old that we dont already have! Thank you! Looking at your link to past gift posts and the recommendation of Settlers of Cataan. . . does that appeal to girls as well as boys?

A few years ago, I asked you about Keeper of the Bees by Gene Stratton Porter. We did end up buying it and LOVING it. Maybe something that you want to think about for your family shelves? Great story that is set in San Diego, love of flowers, a baby and lots of personal growth! Just my unasked for two cents though. . .