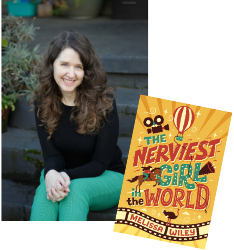 I'm Melissa Wiley, but everyone calls me Lissa. I live in Portland, Oregon, with my husband, Scott Peterson, who writes comics and kids' books, and our six kids. I've been writing children's books since 1995. (That was a big year. Got my first baby, first modem, and first book contract all in the span of six weeks.)
Among the books I've written are a pair of Carmen San Diego mysteries, a Christmas picture book, two series of novels about Laura Ingalls Wilder's ancestors (these were commissioned by the Wilder estate and were a tremendous joy to write), a bunch of early readers including the Inch and Roly series and Fox and Crow Are Not Friends, and a middle-grade adventure novel called The Prairie Thief. You can learn more about them by visiting my Books page. My new middle-grade novel, The Nerviest Girl in the World, will be published by Knopf in August 2020. (Preorder here!)
I've been homeschooling my kids since the get-go. We call our learning style "tidal homeschooling," which means sometimes we have pretty intensive "high tide" studies going on, and other times we are all off exploring our own interests, enjoying low tide. You can read more about that here.
I started this blog, Here in the Bonny Glen, in January of 2005. In my archives you'll find posts about our family adventures, our reading life, and our educational journey. I write a lot about the books I read aloud to my younger set, and I'm always keen for discussion of the books I read for my own enjoyment. If you're looking for recommendations, this page gathers my reviews of titles my kids and I have loved, and my sidebar has links to my own yearly booklogs. I also write about fountain pens, planners, sketchbooks, social media, bee-and-butterfly gardening, massive open online courses (MOOCs), San Diego Comic-Con and other passions and interests. When I'm interested in a subject, I like to go deep, and the blog serves as a place to ponder and articulate what I've learned.
I've had a bunch of interesting writing and editing jobs on the side, including stints at GeekMom, Damn Interesting, and a grantwriting firm. I currently teach classes in historical fiction and comics for BraveWriter.com and do advocacy and legislative outreach for a disabilities-related nonprofit.
Besides Portland, I've lived in San Diego, Virginia, North Carolina, and New York City. I grew up in Aurora, Colorado, at the edge of suburbia, with the blue mountains rising in the west and the prairie rolling away in the east.
I love Minecraft, but the best game of all time was Glitch.