My quest for the perfect planner began eight years ago when I first read Confessions of an Organized Housewife
. Crucial to housewifely organization, according to author and highly organized person Denise Schofield, is a book in which to keep track of All the Stuff That's Going On in Everyone's Life. FlyLady says pretty much the same thing, except she uses the term "side-tracked home executive" instead of "housewife."
Over the years I have tried a bunch of different versions. FranklinCovey and its less expensive imitators, Day-Timer and DayRunner, offer a variety of size and style options for durable binders with hole-punched inserts. Target carries FranklinCovey materials now, but if you want the full range of design choices, you probably need to shop online or find yourself a catalog. (Tip: Look for a used binder on eBay rather than shell out [gasp] seventy bucks for a new one. I once bought a gently used leather one for ten dollars.)
Lots of people swear by this kind of planner, and certainly it has its advantages. You can pick the size that suits you, whether it's a big one with lots of room to write or compact version that'll fit inside your bag. And you can customize for your own needs with all the many insert options: address book, notepad, week-at-a-glance planning pages, daily planning pages, little plastic photo holders, credit card holders, pouches to hold stamps, amazingly flat yet functional calculators—the choices are legion. And you can reuse most of this nifty stuff year after year, just swapping out the calendar pages.
But somehow the FranklinCovey-type of planner didn't work for me. Maybe it was all those inserts: I found it hard to write on my calendar pages because of the bumpy stuff underneath. And the hole-punched pages just seemed flimsy. I like paper with some meat to it.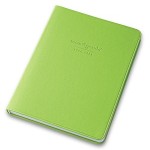 So I resumed my quest. And I discovered some treasures. Like this one: the MomAgenda. When I saw this planner, it was love at first sight. I was all, Ooh, it's so PRETTY! The lovely colored paper gives it a higher price tag, of course, but it really is a treat to the eyes. The stain-resistant shantung covers come in pink, blue, green, green, brown, black, and red. And the interior layout is brilliant in concept. You can tell it was designed by a mom. For each weekly spread, the days are divided into a large space for mom and four smaller spaces for the kids. If your kids have a lot of activities, this would be an easy way to keep track of them. Homeschoolers could use the kid-boxes to record lesson plans. Very clever design.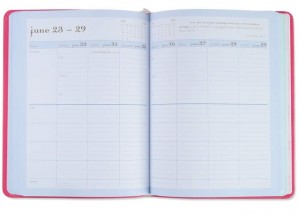 The planner comes with a removable address book. There is a bound edition with ribbon markers, or a hole-punched edition with binder. I have the bound version, which I have to admit doesn't lay as flat as I might like. I need my planner to stay open on the counter. Upon reconsideration, the binder/hole-punched version might have suited me better.
The momAgenda folks are now offering free printable downloads of their weekly planner pages, if you want a look-see.
Edited to add: One caveat! A couple of the quotes on the MomAgenda's pages are unsuitable for kids to see. If you're like me and leave your planner open on the counter in full view of the younguns, you're going to keep an eye on the quotes.
More planner reviews:
Catholic Woman's Daily Planner
Small Meadow Press — Circle of Days

Motivated Moms Chore Planner
BusyBodyBook