My quest for the perfect planner began eight years ago when I first read Confessions of an Organized Housewife
. Crucial to housewifely organization, according to author and highly organized person Denise Schofield, is a book in which to keep track of All the Stuff That's Going On in Everyone's Life. FlyLady says pretty much the same thing, except she uses the term "side-tracked home executive" instead of "housewife."
Over the years I have tried a bunch of different versions. FranklinCovey and its less expensive imitators, Day-Timer and DayRunner, offer a variety of size and style options for durable binders with hole-punched inserts. Target carries FranklinCovey materials now, but if you want the full range of design choices, you probably need to shop online or find yourself a catalog. (Tip: Look for a used binder on eBay rather than shell out [gasp] seventy bucks for a new one. I once bought a gently used leather one for ten dollars.)
Lots of people swear by this kind of planner, and certainly it has its advantages. You can pick the size that suits you, whether it's a big one with lots of room to write or compact version that'll fit inside your bag. And you can customize for your own needs with all the many insert options: address book, notepad, week-at-a-glance planning pages, daily planning pages, little plastic photo holders, credit card holders, pouches to hold stamps, amazingly flat yet functional calculators—the choices are legion. And you can reuse most of this nifty stuff year after year, just swapping out the calendar pages.
But somehow the FranklinCovey-type of planner didn't work for me. Maybe it was all those inserts: I found it hard to write on my calendar pages because of the bumpy stuff underneath. And the hole-punched pages just seemed flimsy. I like paper with some meat to it.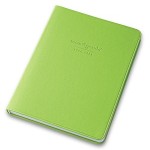 So I resumed my quest. And I discovered some treasures. Like this one: the MomAgenda. When I saw this planner, it was love at first sight. I was all, Ooh, it's so PRETTY! The lovely colored paper gives it a higher price tag, of course, but it really is a treat to the eyes. The stain-resistant shantung covers come in pink, blue, green, green, brown, black, and red. And the interior layout is brilliant in concept. You can tell it was designed by a mom. For each weekly spread, the days are divided into a large space for mom and four smaller spaces for the kids. If your kids have a lot of activities, this would be an easy way to keep track of them. Homeschoolers could use the kid-boxes to record lesson plans. Very clever design.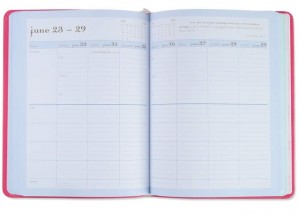 The planner comes with a removable address book. There is a bound edition with ribbon markers, or a hole-punched edition with binder. I have the bound version, which I have to admit doesn't lay as flat as I might like. I need my planner to stay open on the counter. Upon reconsideration, the binder/hole-punched version might have suited me better.
The momAgenda folks are now offering free printable downloads of their weekly planner pages, if you want a look-see.
Edited to add: One caveat! A couple of the quotes on the MomAgenda's pages are unsuitable for kids to see. If you're like me and leave your planner open on the counter in full view of the younguns, you're going to keep an eye on the quotes.
More planner reviews:
Catholic Woman's Daily Planner
Small Meadow Press — Circle of Days

Motivated Moms Chore Planner
BusyBodyBook
Comments
Jennifer says:

I was a little too excited about this post – To where I question how exciting a person I am now. PLANNERS!

Melissa Wiley says:

LOL, I know just what you mean. I decided a long time ago to embrace my inner geek. She is not so *inner* anymore…

Becky says:

I'm a geek too, but a cheap geek and lazy to boot. I found I just don't use the kind of planners meant to be toted around (I much prefer a huge central calendar in the kitchen for things like that — and I love the "Family Organizer" from More Time Moms, which sacrifices pretty pictures for lots of spaces).

But I do like to keep a record of the kids' work for the day, as you do, Lissa, and I've found that a regular "student planner" at Staples for under $10 does the trick. There was a lovely supermarket-brand one a couple of years ago, but it seemed to be a one-off 🙁

Elizabeth Foss says:

This is VERY cool! It's not 7-hole punched is it? So, you need to buy the cover and all? I have never seen a planner with kids' spaces like this one. Now, what to do with BOTH my Franklin Covey binders and my brand new Catholic Moms Planner (which I really like)? I think I could LOVE this one…

Melissa Wiley says:

No, it isn't hole punched: the bound version has a sturdy sewn binding, and then there's a spiral version that slips into a sturdy binder cover. (I just updated the post to clarify this–thanks for raising the question!)

The one I have is the bound version.

Here's Nina's blog entry that explains how she came up with the concept for the mom-and-kid-space format: http://www.momagenda.com/blog/2006/05/how_it_all_started_or_the_conc.html

I love the Catholic Moms Planner too–that's the one I'm reviewing next. Truly, it's hard to choose between them.

stefoodie says:

🙁 i just placed an order at franklin yesterday, i'm going back to paper after 3 years of digital — i'm getting tired of writing graffiti on my Palm. i wish i had seen this!!! however, i'm consoling myself with the fact that i got the Forms software to make my own pages, and that momAgenda is now out of the binder i want (the pink one, of course!), so i'm not feeling too bad. maybe i can make some forms that resemble both nina's and michele's. momAgenda is one pretty planner!! maybe when my kids are older and i have to keep track of all their activities i'll try it. thanks for the review, lissa!

Amber says:

Thanks for the review! It figures you would have read that book five years before I did. 🙂

That planner is definitely pretty and has mine beat in terms of portability and attractiveness… but I think I would have a hard time replacing my "system" (such as it is!) with anything off the shelf. I do think about it sometimes though!

Leslie in Springfield says:

Be sure to check out the FamilyTime.Mine planner from Tanglewood Press. Border's Books sells it. It has sections for seasonal, monthly, and weekly views with large blocks for each day. It's a 17-month planner that begins in September and runs through December of the following year. It is an 8.5 x11″ spiral bound size, though, so it won't fit in most purses. About 5-7 of the moms I know use it and love it. I just happen to be a PalmPilot kinda woman, myself.

CityMom says:

I have been waiting for this post, and am glad that you have come up with such great ideas, I have been frustrated over and over again with not-quite-right planners.

By the way, with regard to your move, when I read your post to my family my husband said that he would cry if he had to leave Charlottesville again, but then my mother said that she would leave anywhere for Southern California, so if you have to go it seems like a good way to do it. I just hope that in return for the upheaval you will be gaining comprehensive benefits!

Three Sons and A Princess says:

Confessions of an Organized Housewife is one of my favorite books. That is an organized woman. Lots of great ideas in there.

I will look into this momAgenda book, but it would take a lot to loose me from my Franklin. Thanks for the tips.

Listening says:

After reading your intriguing series of posts on Planners, Melissa, I bought my own pretty (because, yes, beauty is *essential* in a planner)hardback, spiral (it needed to lay open on the counter, if I was really going to use it) journal, with some adhesive tabs and made my own day planner based on the brilliant layout from the MomAgenda…with several caveats… (A Planner for UnPlanners):

1. I didn't label the tabs with all kind of subjects–I am only labelling them as I actually find need to jot something down–that way it is just what I acutally need and *use* as opposed to some imposed, unecessary division I'll never use. (So far, I have a tab for: Daily Schedules, Grocery Lists, Items needed for Children)

2. I am writing only a loose skeleton for the day's outline…no tight schedule for me. And then as the day progresses, I write in (loosely, only what I want to make note of) what I actually *DID*—like **scheduling in reverse**. That is working for me. I can see what worked some days, what didn't, what may have been a stumbling point and could be tweaked…and I feel a sense of accomplishment instead of discouragement. Seeing what I *did* on a day motivates me for the next day. And if I didn't get to "a bone on my skeleton" for the day, I just add it to the next day.

3. In the children's squares, somedays I jot in what I'd like to do with each child that day so I remember…or again, I jot in what we actually did together. Nice to have a record of our days.

3. Finally, I am only making up one week layout at a time in the journal… that way, if I choose not to continue (I am on my third week), well…I still have a blank, pretty journal to write in instead of a whole planner of scheduled, useless pages! ~warm smile~ (And one can *always* use a journal!)

I am *most* grateful, Melissa, for this series…with some tweaking, I think this is a planner that works unplanners!

My gratitude,
Ann V.

shana says:

Have you seen the newest planner on the scene? The Bizzi2Go Planner by Bizzimom Planners Inc. is an awesome planner—really cool flip out designs allows me tons of space for all of my kids (and you can see the whole month at a time).The best part is –it can fit in my purse AND it's not too expensive. I love it!!

Jenny says:

It a nice site collecting all info about shopping goods.
I need this info because i want to buy some home ware goods.
Thanks

Laura Marusa says:

After stumbling upon your blog, I just read your blog article regarding mom planners. You might want to check out mom-inspired planners by My Life On Time.