June 26, 2009 @ 8:11 am | Filed under:
Books
Why didn't I think of this before?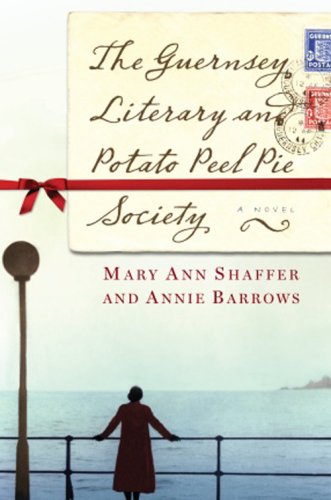 The Guernsey Literary and Potato Peel Pie Society by Mary Ann Schaffer and Annie Barrows. Have you read it? Let's discuss!
If you haven't read it yet, be warned: there may be plot spoilers in the comments below. Hurry up and read it so you can come chat with us here!
All those marvelous personalities. Who was your favorite?
Comments
Mary-LUE says:

Yippee! I'm probably not a good person to start the discussion because I'm HORRIBLE at remembering details… and I read the book in January.

My book club DID just discuss it last night but one of the members didn't like it. In fact, she disliked it and the discussion didn't get too far before moving on to life, the universe, and everything BUT the book.

All in all, I just loved the book. I loved the tone of it, the characters, the story of the literary society. I read straight through it.

I'll leave it with gushing for now but come back to see what others have to say. I might be able to contribute something more then!

Mamalion says:

SPOILER AT THE END…

Love it, love it, love it. I rarely reread books for a couple of years, and have already reread it twice- for a total of 3 times, since I got it in November. One thing I will say is that you need to get into it a bit before all becomes clearer who is who. I just bought it for my aunt to read, and she said she was glad I had said that, 'cause she found it hard to keep everyone straight in the beginning. I also love that you have this incredible story unfolding in letters only- a la 84 Charing Cross Road. And of course that Juliet and Dawsey find each other through a love of books…sigh…

Laurie M says:

I only have a sec to say "I'm In"
but I loved the letters & relationship between Juliet & Sidney.
I Lent my copy and now I want it back!!
I want to go to Guernsey!
And I'm smiling thinking of the characters…

Sara says:

At first I was put off by the letters; I had to go back to the beginning and start paying attention to who the letters were to and from. Then it started to appeal to me. I knew right away who Juliet would marry, but it's funny that I think you could read the whole book and not see it, like Isola and Dawsey's love!

I agree that it is just a perfect book. It made me laugh; it made me cry to think of the poor children who had to leave their families, and Remy and Elizabeth's experiences. It's full of literary references—loved the Oscar Wilde bit. (I've never read any of his, so now i"ll have to. But I have seen a couple of movies—does that count?)

I have to make my daughter read it before she starts something else! It was so good that I was convinced that it was all real and not fiction. Great storytelling! Oh, and my favorite character must be Dawsey.

Penny in VT says:

Whoo hoo! Just bought it this morning. 🙂

I'm *supposed* to save this for when we go away in July.

…but I think we all know *that* ain't gonna happen!

See you when I've finished (just to avoid spoilers).

Kay says:

Wonderful. Lovely living history. I shared my feelings/thoughts with my husband, son 15 and daughter 11 as I was reading the book.
We talke a lot about the things we have that we take for granted.
We started baking more, even though the weather is hot. Talked about our personal needs and freedoms. I bought a copy (I read a library copy — finished way before the due date!) and sent it to my mom, who loves anything historical.
I constantly was checking facts to figure out what was real and what was fiction to keep it straight.
It was delightful reading the letter format. I will be encouraging kids to write stories using letter format when our home education focus gears up in a month or so.

kort says:

number 342 on the holds list…maybe by Christmas i'll have it read!

Sheridan says:

I loved it.

It made me really appreciate FOOD and the availability of it. It made me want to stockpile some. Really the thought of the soldiers scraping flour off of the street and eating it. The hunger.

I love that it was about book lovers and people that didn't even know they loved books until they joined the society.

Great love story.

Beth says:

The mark of a great book for me…once I read it through, I pick it back up and begin reading it immediately again, this time out loud to my dear husband. That's how I read Guernsey last fall, and I suspect it will become an annual re-read for me.

I was amazed at how well an epistolary novel could work. Did work! I tend to think of that as a narrative device belonging to another age. Come to think of it, perhaps that's one reason I loved it so much.

The character's voices were what moved me. I could literally *hear* them in my head, by the time I got near the end. That's another reason I wanted to read it aloud…I wanted to experiment reading all those different voices.

I don't think I can pick a favorite character – Dawsey, Kit and Isola leap immediately to mind, but some of the other, more minor characters (some of whose names I'm not recalling) were absolutely wonderful.

Oh dear. I may need to re-read this sooner than I thought, and I just started my every-few-years re-read of The Hobbit!

Beth says:

Oh. And I loved Juliet. Like her, I was ready to pack up and head to Guernsey!

Melissa Wiley says:

Juliet completely won my heart when she included Lady What's-her-face as a reference. That said so much about her—her sense of humor and perspective especially. It was both humble and shrewd of her (quite a feat for a writer to pull off)—humble in that she knew what Lady Snootsy (I can't be bothered to look up her name right now) wouldn't have complimentary things to say about her, and shrewd in that she guessed that the manner in which Lady Snootsy expressed her criticism of Juliet's character would sway the letter's recipient in Juliet's favor—or if not, then Amelia wouldn't be likely to be the kind of person with whom Juliet could correspond satisfyingly anyway. Anyway, Juliet could guess from her first letters from Dawsey & Amelia that they were kindred spirits and you just know she figured they'd get a big kick out of Lady Bella's (I caved & looked up her name) version of the fire warden experiences. I loved what this one small episode told us about Juliet. Her fairmindedness, her boldness, and above all that delightful sense of humor.

Oh how I loved Dawsey. All of them, really, the whole dear bunch of them. But especially softspoken, thoughtful, observant, compassionate, overlooked Dawsey.

Is it just me, or did Isola remind anyone else of Rebecca Dew!

Actually, many of the characters (and their relationships) reminded me of L.M. Montgomery books. Dawsey has something in common with Matthew Cuthbert, if Matthew had been better read and less bashful…

Altogether delicious.

Penny in VT says:

Ok, I'm on page 132 and Mark has just asked Juliet to marry him.

She'd better not.

Todays quote: "Don't bother me children, I am READING!"

What a great book. I feel starved when they explained their famine, and I feel their anger at the Germans, and their compassion as well. I love how the German Dr's name was Christian – what a great "label" for him and his relationship with them.

I also wept when the children left, and then I rejoiced when Elizabeth smacked that uppity Adelaide Addison.

Can't wait to finish!

One of my favorite things so far? How well we get to know Sydney through Juliet, Susan and Sophie's letters to him. Neat.

Heather says:

Thanks for getting me interested in this book–I just read it last week! I didn't think of Rebecca Dew right off, but now I see the similarity! Isola's character was so much fun to read about. I also liked the letters to Juliet's friend in Scotland, and about her little godson Dominic.

Mary-LUE says:

Coming back with a question…

The person from my book club who didn't like it felt that the letters didn't read like real letters. She also thought the whole thing sounded too modern.

I completely disagree. Partly because I think people wrote different letters back then…

What do you guys think of that criticism?

Sara says:

I thought they read like real letters! Letters were much more chatty and newsy back then than they are now. Since it was the common form of communication, people put more details in. Today, letters are too utilitarian and boring.

I agree with Melissa about Juliet's getting a good and a "bad" reference. I thought that was so funny. How often would we think of getting a character reference from someone who does not like us??

Karen in SC says:

Am I the only one that thought that Julia didn't act as she should have to Mark? Yeah, he was a jerk, but she seemed to be leading him on. She knew she wasn't very interested in him, but she kept things going when she should have broken things off.

Kay says:

Loved Dawsey, love the bookclub. The ordinary is special. Enjoy the moment, enjoy each other. Back to the library for me to get the book again for a re-read.

Mamalion says:

Well, I personally feel that the letters are wonderfully indicative of that time- half of my family is British, and that is exactly the kind of letter I used to receive from then, back before the days of email. Very newsy, and the continuation of the last letter…

And I had no problem with Juliet's treatment of Mark. I thought he was a total jerk! Particularly when it came out that he was with another publishing company. I think her head was turned a bit, since they'd suffered so with the rations, and he could provide her things she hadn't had in so long. And later she was pretty clear that she wasn't interested, and he kept pursuing her…

The other thing that might need to be brought out is that with him being American, and her being British, and I'm assuming the authors are British, that there is a certain element of personality that is different. My family jokes that we are 2 countries separated by a common language. It was interesting to observe my brother and my aunt tiptoe around each other a few weeks ago, not wanting to offend the other, and both wanting the same thing, but the 'British Reserve' wouldn't let them say it. Me, home-grown American that I am, just came out and called a spade a spade. So I'm not sure there's not an element of Juliet's British reserve, and need to not offend that would make us say she was leading him on.

Mary says:

I read this book last year, and loved it so much that I passed it on to my mother who also enjoyed it. Although my mother and I share a love for reading, we don't genrerally enjoy the same books (I gave her a copy of "Pride and Prejudice" for some holiday, and she remarded that she had already read it IN HIGH SCHOOL.). Dawsey is my favorite charachter, because he knows what he knows, has what he has, is where he is and finds contentment. It's so nice to read a book where happiness and joy come to people who aren't always trying to change things but are living their lives as best they can.

Shari says:

I read this book in February and loved it! I think I like all the "small" characters that roam into and out of the letters best. This morning I was packing up some of my grown daughter's books to prepare her room for the next youngest to move into when I cam across an anthology of WWI poetry. I immediately thought of the fellow in this book who was disappointed in his anthology because it left out the WWI poets (too depressing). Needless to say, my daughter's copy of poets was not relegated to the attic but found a home on the bookcase!

Christine M says:

I just finished reading this book last night. What a delightful story. I loved all the characters. I felt like I knew them from the letters. I wanted to go to Guernsey. I loved how historical information was seeded into the story without it feeling like we were being fed that information. It was all relayed so naturally.
That the authors were able to make all of those individual characters remain completely individual and true to themselves through the letters is amazing.
I'm so glad I saw your post on this right before I went to the library the other day – otherwise I might have overlooked this great book!

Rachel says:

I reserved this book at my library on recommendation from this blog, and I LOVED it. It brought tears to my eyes again and again, and made me laugh, too. The characters were all so real and believable, I want to meet them all. I found myself wishing for more letters from all of them. I wish we had heard more from Sophie, there were a lot of letters from Juliet to Sophie, but hardly any (or any at all?) from Sophie to Juliet. I love how Elizabeth became such an important character even though she wasn't there, that her life and who she was made such a mark on so many people. I love that I now have such a vivid picture of what WWII meant to the people of the Channel islands even though before I wasn't even sure where they were, and certainly didn't realize Hitler had occupied them. The small kindnesses of desperate people to each other, like the soldiers knocking potatoes off the truck for the children following them, just broke my heart.

Laurajean says:

Oh, I read it all in one day! I could NOT stop! I, too, loved Juliet, and loved how she knew her own weaknesses. I was soo hoping she'd find real love (not Mark). This is the first non-homeschool book or Agatha Christie (yes, I'm an AC geek) I've read in a long time. Thank you Lissa! My libraries don't have the Actor and the Housewife – have any other recommendations?

Joann says:

Great recommendation, Lissa! I want to Guernsey! I really enjoyed this book. I was especially impressed by the authors' abilities to keep the characters recognizable through so much correspondence. One was able to identify the writer of the letter without even needing to know the o and from.' I thought it was masterful that they were able to develop and maintain so many voices fully. I loved that 'regular persons' became literate through the adversity of their situations. I really enjoyed the letters from the more simple folk like the fellow who read Chaucer. It was a good reminder that great literature can touch all of us, sometimes joining even enemies. It is hard even 60 years later to remember that those German soldiers were often young and sometimes acted like decent human beings in the lands they occupied. (Knowing survivors colors one's opinion of the Nazis.)
I did notice some resemblance to L.M. Montgomery and also thought there was some homage paid to Austen. Dawsey reminded me much more of what a well-mannered Mr. Darcy might have looked like. (Even the name…)
Thanks, Lissa, that was fun.

Joann says:

Well, I don't suppose anyone is following this thread any longer. But my oldest dd read this (actually all of my girls have read it – what fun!) She proposes that Sydney was NOT really what he claimed to be but merely trying to throw an over-amorous Isola off his trail. She said, "Can you imagine living with a parrot on your shoulder?!"

Sarah N. says:

Forgive me if someone mentioned this already, I'm only 2/3 of the way done so I don't want to read the comments and see any spoilers yet, but I just realized that Annie Barrows (one of the authors) also wrote one of my 5yo's favorite series, Ivy and Bean.

I'm in love with this book btw so I'll be back with more to say once I'm done.

janey greene says:

Too cute, too twee, too precious and whimsical. The concept was good but the packaging was insulting. Don't you all think we could have coped with the grown-up version?

chris pierce says:

Oh, poor janey greene. Grown-up version? I've just finished this book and the warmth and pleasure I feel is a gift. I enjoyed every minute of reading it while on vacation. There should always be time to read something for pure pleasure. I hope she is able to do something silly today.

Karen Edmisten says:

Just finished it — loved it. I loved Juliet from the start … loved her wit and honesty and her friendship with Sidney and Sophie. I loved Dawsey (anyone else see him as sort of Tommy Lee Jones-ish?) and of course loved Elizabeth and Kit. I particularly loved Elizabeth's final note in which she wrote, "P.S. Doesn't she have the most beautiful feet?"

What a lovely, lovely book.

Mama Squirrel says:

What a great discussion! I just finished this book and was about to post a review too–okay if I link back here?

Melissa Wiley says:

Mama Squirrel, I'd be delighted! And I can't wait to read your review. Rereading this thread makes me want to read the book all over again…

maryann says:

I loved the book and the letter format.
(I don't understand how the letters got to everyone so quickly though. I know some were put under doorways, but others were not. How did that happen?