• Young adult lit comes of age – latimes.com — "I think part of the reason we're seeing adults reading YA is that often there's no bones made about the fact that a YA book is explicitly intended to entertain," said Lizzie Skurnick, 36, author of "Shelf Discovery," a collection of essays about young adult literature from the 1960s and 1970s."YA authors are able to take themselves less seriously. They're able to have a little more fun, and they're less confined by this idea of themselves as Very Important Artists. That paradoxically leads them to create far better work than people who are trying to win awards."
• Léna's Lit Life: EDGES: ARC show & tell—Lena Roy is the granddaughter of Madeleine L'Engle. HT to reader Kay for the heads-up on Lena's upcoming novel, due out in December from FSG.
• Hopewell Takes On LIFE!: When a book validates your own experience – Review of The Confederate General Rides North by Amanda Gable.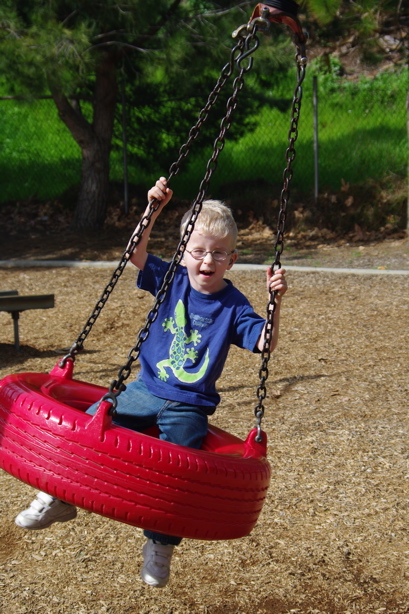 *Cute Boy on a Swing
Comments
Emily says:

Whoa, when did Wonderboy grow up?! He looks so mature! (of course one is never too old for swings. EVER.)

Penny in VT says:

I love YA lit – one of my goals is to haunt the YA section of the library and push books on unsuspecting passersby.

Assuming that's legal, of course.

yvonne says:

Oh he looks so joyous! We introduced our 6 month old to the back yard swing today–she loved it.