Rilla, who is four years old now, pointed to the garland (made by Lesley) that hangs between our living room and kitchen. "I can read that," she announced matter-of-factly.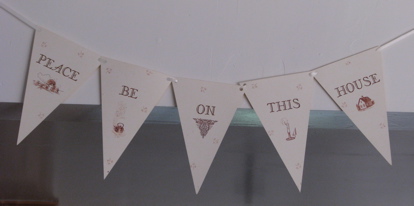 "It says, 'Please—be—on—this—house.'"
Comments
feebeeglee says:

Oh, four year olds. She and Trixie are peas in a pod.

tanita says:

Early messages to St. Nicholas from girls who are surely being very good?

Sue says:

LOL! She's adorable. I hope she knows that.

Penny in VT says:

Too cute. St. Nick was the first thing i thought of too. 🙂

Mary Ellen Barrett says:

ROTLOL

RecollectedStephanie says:

Well, technically she DID read it. She just didn't read the letters. Good job, Rilla!

Katy says:

So cute!

Every day when I drive my kindergartner to school, we pass the Foster Memorial Church. A few weeks ago a little voice piped up in the backseat: "Mama, I have been meaning to ask you…what is Frosted Memorial Crunch?" (we have decided it is our new holy breakfast cereal 🙂

mary says:

VERY cute.
LOL

Lesley Austin says:

This is *very* sweet, Lissa and makes me *very* happy to have been a part of…I wonder if that could be a new garland sentiment? If I were making them anymore, that is!

Melissa Wiley says:

Lesley, you are a part of many stories around here, because there are Small Meadow things all over the house. 🙂

Katy, Frosted Memorial Crunch! I love it! Too funny.

Karen Edmisten says:

We have that same garland here. 🙂 I'll have to tell my girls about Rilla's translation ….