Well, since all previous methods of logging our picture book reads have proven unsuccessful over the long haul, I'm going to give this quick-and-easy method a try: I'll try to snap a pic of each day's pile and toss it up on Instagram. Then, if time permits, I can annotate the photo here. Here's yesterday, a very good haul—mostly library books of the kids' choosing.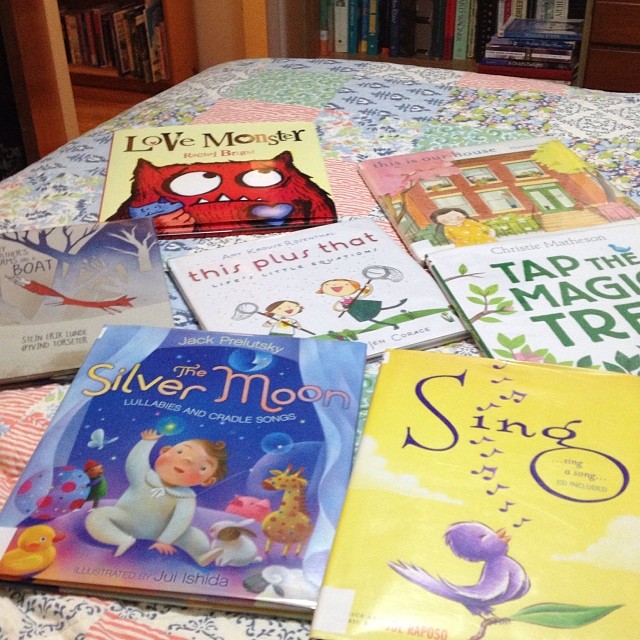 Love Monster was sent to me for review and has a lot of charm. I think we've all had days where we've felt like the only monster in Cutesville.
Sing is the familiar Sesame Street/Karen Carpenter song, but illustrated by Tom Lichtenheld, which is always a good thing. I would pretty much like my whole life to be illustrated by Tom Lichtenheld.
Tap the Magic Tree was a Rilla pick, I believe, and delighted all three of my youngest, but Huck most of all. At least, until he dissolved in tears over the page that Rilla tapped first. Each tap, rub, wiggle, or air-kiss brings changes to the tree as we follow it through the seasons.
This Plus That is delightful, and of this bunch is the one I'd be most likely to buy. Little equations from daily life. Chalk + sitting = school. Chalk + jumping = hopscotch. Gave us loads to talk about. Amy Krouse Rosenthal always does.
This Is Our House is a sweet and simple story of three generations of family making a life in one beloved city house. The kids seemed to find it really satisfying, in a kind of calm and peaceful way. It has been requested several more times since that first read. They enjoy the comforting full-circle of the pattern: the little girl learning to walk on the same street her mother had toddled on years before; the same cherry tree blooming in the spring. Wonderful art in this one.
The Silver Moon is a poetry collection and we've only read a few pieces—lovely so far.
My Father's Arms Are a Boat is a book I would hesitate to give as a gift but would recommend to certain friends, certain kids…it's a very sad story; the mother has died, the father and son are mourning, but this is shown through poignant words and actions, not spelled out in a narrative manner. It's one quiet night, one starry sky, one touching conversation. A hard book to describe. We were into it before I knew what I was reading, and the children were captivated, there was no turning back…and I wouldn't want to, I'm glad we shared it together. But it's a sad, haunting poem of a book, and I can see that it might be emotionally wrenching for some children. So don't do what I did. Preview it first. It's a good read for adults in its own right.
Okay, I can guarantee I won't be annotating every one of these photos. But I can snap the pic, at least, and have the record.
(No photo for today because—gasp!—we didn't read any books together!)