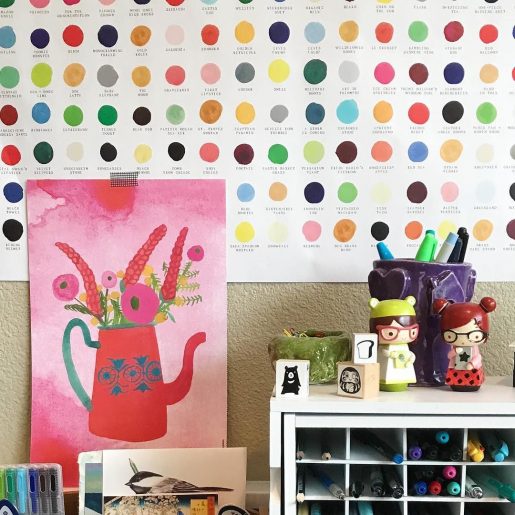 What's happening…
…on my Instagram: I've been sharing glimpses of our daily homeschooling adventures on the feed and in my IG Stories. Been playing a bit with Live Stories, too. Need to decide if I'm going to archive/upload them somewhere, since they disappear after 24 hours.
…on my Patreon: in this week's subscriber-only post, I shared the most important piece of advice I give my writing students.
…in my backyard: the hydrangeas are stunning, and the hedge is beginning to turn red. Summer, meet fall.
…on my nightstand: Where the Mountain Meets the Moon, the December Arrow selection.
…on our speakers: The Girl Who Drank the Moon audiobook.
…in my inbox: Naomi Bulger's "The Most Beautiful Letter You Have Ever Written e-course, which starts today. I'm pretty excited. Naomi's work is lovely and her gentle, thoughtful approach resonates with me. I think you can still join the class, if you're interested. (Affiliate link.)
…in my sketchbook: mostly rough pencil sketches of flowers, lately. Not as much of anything as I would like. I'm a bit buried under work, now that my radiation vacation is over. (Hahaha I slay myself. It was the exact opposite of a vacation. It was…not my favorite experience ever.)
(That reminds me: I shared these photos on IG but not here. If anything deserves to make the permanent archive, it's this moment that Scott captured on the day of my final treatment. When you walk out of the radiation room for the last time, the staff is waiting with confetti, cheers, and a 'diploma.' I had no idea this was coming, so the celebration caught me by surprise.)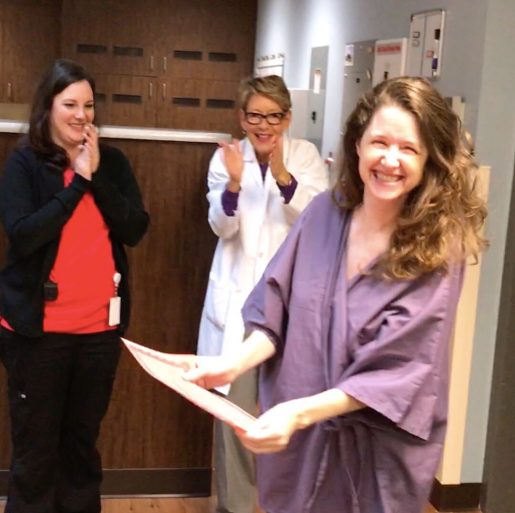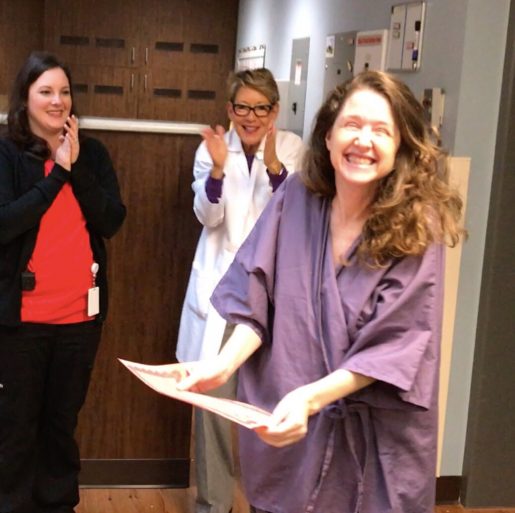 The next couple of weeks were pretty rough (side effects lag behind treatment, so my burn didn't get ugly until a few days after I was finished), but hitting this milestone wonderful. And now, three weeks later, I'm feeling pretty good. Not quite my old self? But getting there.
Comments
Penny says:

Oh my golly. Those photos make me weep. I'm sorry you had to go through that, and I hope with all me heart you never have to face anything like that again.

xoxo

Anne V. says:

Lissa, I have been keeping you in my prayers. Thanks for sharing the photos. A big YAY for you!! Keep on smiling, girl!

tee+d says:

Oh, those charming gowns! You look lovely in yours, and it's worth it to see the happiness spread so widely across your face that its closing your eyes. Well done for getting through it with your sense of joy intact.

Penelope says:

What a pretty purple gown 🙂 (i don't think i've ever had anything but the endless pale blue/white)

Love the color dot paper — love!

And love to you too my dear xoxo

Susanne Barrett says:

Congratulations on finishing radiation!! Your smile lit up my morning!! Thank you for spreading joy in the midst of your under-wellness!!

Take care!! You've been in my prayers and will continue so.

Warmly,
Susanne 🙂