June 7, 2016 @ 8:49 pm | Filed under:
Books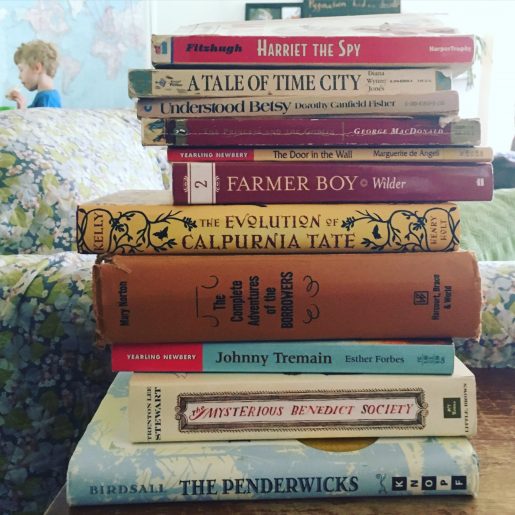 …is pick the next read-aloud. We finished From the Mixed-Up Files of Mrs. Basil E. Frankweiler—they loved it; more about that later—and today I had to choose a new book. You've seen many of these choices in the pile already this year. Sooner or later, everyone's turn will come around. Either for read-aloud or read-alone, I mean. Mysterious Benedict Society is a delight but it's a bit longer than I like for a read-aloud. I get antsy and like things we can finish in a month or so. Mixed-Up Files was exactly in my sweet spot.
Anyway, long story short, this time around we landed on Harriet the Spy. Good old Harriet. A key influence on me since, oh, age ten or so. Rilla's age. Chapter one roped them in immediately. I wasn't sure if Huck would be captured, but he was transfixed by Mixed-Up Files, and the Harriet-Sport dynamic seemed to engage him as much as the Claudia-Jamie relationship. Bossy girl, questioning boy. Hmm, I wonder what the appeal is? 😉
Would you believe I've never actually read Harriet out loud before? Am enjoying a chance to dust off my New York accent.
By the way, Dogsbody was a contender in this group but the consensus was that Daddy should read that one. There are protocols for this sort of thing. Scott reads My Father's Dragon, Watership Down, Lord of the Rings, By the Great Horn Spoon, Cheaper By the Dozen, and all of my books. I get Understood Betsy, Betsy-Tacy, Charlotte's Web, The Penderwicks, The Witch of Blackbird Pond (oh whoops! I just remembered THAT was supposed to be our next read-aloud), and The Secret Garden. HANDS OFF MY SECRET GARDEN.