September 15, 2014 @ 8:08 pm | Filed under:
Books
The other day I mentioned I've been meaning to write a post about the 1972 middle-grade novel Sarah and Katie by Dori White. THIS IS NOT THAT POST. This is purely a curiosity itch I can't wait to scratch. I took my query to Twitter, too, and…crickets. Now, ordinarily the merest mention of any book on Twitter, let alone a childhood favorite, garners zillions of immediate and enthusiastic responses. People love to talk about their childhood books.
Which leads me to believe that no one I know either on Twitter or here has heard of this book!
Can this be? Am I alone in my Sarah and Katie mini-obsession?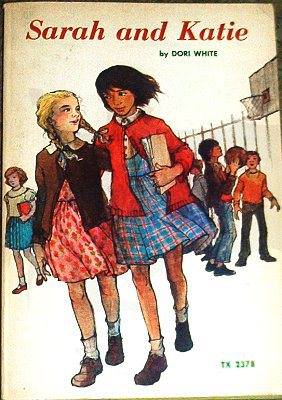 Illustrations by Trina Schart Hyman, you guys. It was a Scholastic Book Clubs book; I'm sure that's where I came across it.
Anybody? Bueller?
This book haunted me. I don't remember what age I was, maybe eleven? Story of two best friends, sixth graders, in Depression-era Oregon. Thick as thieves, a regular Betsy-Tacy pair, but the arrival of a new girl in their midst doesn't work out quite as well as when Tib shows up. (Then again, B-T and Tib were around six in that book. Big difference between six and twelve. Trios are much trickier, at twelve.) The new girl is dazzlingly beautiful, a cloud of red curls, glamorous, dazzling, a wee bit manic; and everyone including Sarah is smitten—except Katie, who sees through Melanie's stories. Ring a bell? No? There's a play, and of course Melanie gets THE PART, and she's amazing in it, she's this incredible actress, but that too sticks in Katie's craw…
And the whole scene when they go to Melanie's crummy apartment, and she's playing it up, lady of the manor, lavish, starletty…until her mother comes home and suddenly she's TOTALLY CHANGED—clothes, hair, voice, manner. All meek and humble. And Katie's like I KNEW IT!
What haunted me about it was the disturbed and disturbing tone, the undercurrents caused by Melanie's deception. And the idea, which must have been new to me then, that a girl could so thoroughly fool people, could fool even her own mother. And the gradual realization, handled so deftly by Dori White (as I noticed when rereading it last year for the first time in maybe two decades), that there was a deep longing and desperation behind Melanie's actions, that she wasn't just someone you could slap a Bad Guy label on. Katie awakens to this slowly, painfully, and she brought me right along with her. The only other children's book I remember experiencing that same awful poignancy in—almost a sense of guilt—was The Hundred Dresses.
Okay, so now I sort of have written the post I was thinking about, I guess. But really what I want to know is, have none of you heard of it?