September 11, 2014 @ 8:26 pm | Filed under:
Books
Here's a new game I've just thought of: close your eyes and grab a book from your shelves, any book, and then write a brief commentary about it. Or a long one, if you like. I've got so many books in my review stack, and so many others (the backlist and midlist titles I love to champion) waiting in my mental queue for some loving attention from me—books I mean to discuss or celebrate or simply wax nostalgic over. (Sarah and Katie, you guys. FOR FOUR YEARS I've been planning a Sarah and Katie post. The cover's been sitting there in drafts staring mournfully at me all this time.)
All those plans create pressure, and pressure, I have found, is the enemy of blogging. So I'm thinking about making a game of it, a game with a challenge built in. I do like a dare. 🙂 Will I find a few words to say about any book I pluck off the shelf? I suppose I'll have to allow the caveat that if it's one of Scott's books and I know nothing at all about it, I can choose another. And I might need to impose some mild rules upon myself about mixing up the shelves, since our books are sorted into a rough order and I could easily stack the deck by reaching for the favorites on the bookcase next to my desk.
Want to play along? Feel free to chime in below, or on your own blog (and share the link, if the latter). If there's enough interest I could make a Mr. Linky for it, but I wouldn't promise to host a linkup on any kind of regular schedule, because promises are pressure and see above. Unless maybe a Mary Poppins kind of promise…when the wind changes…
All right, here I go, getting up and squeezing shut my eyes. A bedroom bookcase, since that's where I am now, but not the one by my desk.
***
Okay, that was harder than I expected. It's tricky to get close enough to make a grab without either walking into the bookcase or peeking at the lineup on the shelf you're reaching for. I might have to enlist a child to help with future random selections. But I did nab a title, and here it is: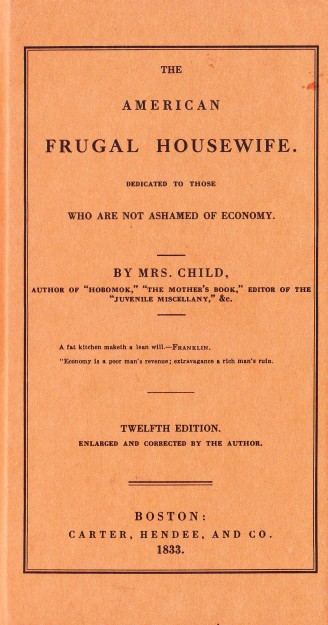 The American Frugal Housewife by Lydia Marie Child. Now, this little book may have had an unfair advantage over all the others because I happen to own two copies of it. They live side by side on a shelf, alongside my Blue-Back Speller. Both books were indispensable to me during the writing of the Charlotte books. A lot of the meals Martha cooks come right out of Frugal Housewife ("Dedicated to Those Who Are Not Ashamed of Economy"). Originally published in 1833, this was THE go-to book for housewives, covering everything from recipes to housecleaning to general life advice such as the essay on "How to Endure Poverty." Mrs. Child was the home management guru of her day, sort of a Tightwad Gazette meets Flylady meets Ina Garten. She's perhaps best-remembered today for her poem, "Over the River and Through the Woods." But I think her real genius shines in her foodie writing. For example:
RENNET PUDDING

If your husband brings home company when you are unprepared, rennet pudding may be made at five minutes' notice; provided you keep a piece of calf's rennet ready prepared soaking in a bottle of wine. [Blogger's interjection: I MEAN, OBVIOUSLY.] One glass of this wine to a quart of milk will make a sort of cold custard. Sweetened with white sugar, and spiced with nutmeg, it is very good. It should be eaten immediately; in a few hours, it begins to curdle.
That is but THE TINIEST SAMPLE of Mrs. Child's wisdom, and I could write for hours about this book and its sweeping influence—oh what a doozy of a selection I wound up with for this first go! Actually, I have written a lot about it already, ages ago, when for a time I was doing a recurring "Mrs. Child's Wise Advice" series here, entirely for my own amusement. Those quotes are a hoot. ("EGGS.—To prove whether they are good or bad, hold the large end of the egg to your tongue; if it feels warm, it is new; but if cold, it is bad.")
Scott's waiting for me to finish, so I'll leave it at that!