Can you see this post? I'm hearing that some folks can't get my site to load. Has been a problem all day; we're looking into it. I'm bumping the Ballet Shoes post yet another day until I'm sure the problem (whatever it is) has been resolved.
Meanwhile, noooooo! Google informs us Reader's days are numbered. Those of us who rely on a good RSS aggregator to make the web manageable are crushed—there's no better feed reader than Google Reader.
Some alternatives, none of them quite perfect (but I'm confident someone will rise to fill the void):
Feedly—this is probably what I'll wind up using. Not quite as streamlined as Reader, but it offers many options for customizing the look and function. In "Full Articles" mode, it's a decent Reader substitute: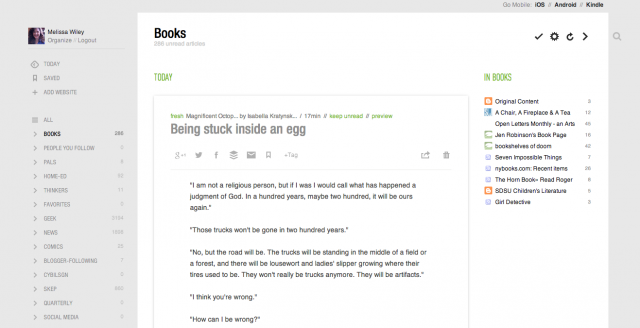 (I subscribe to way more book blogs than are visible in that list. I think it only shows the top twelve.)
If you click on the gear icon, you can toggle to different layouts: mosaic, list, magazine-style, etc.
You can export your subscriptions at Google Reader and import them to Feedly, or simply connect Feedly to your Reader account, which is what I did. For now Feedly runs off Reader's API but it is going to "seamlessly transition" to another source before Reader bites the dust in July.
A Feedly plus is that it has mobile apps as well, with syncing between your desktop, iOS, and Android devices. And if you connect it to your gReader account, it'll sync with that, too, as long as gReader lasts.
You can share posts from Feedly directly to Facebook, Twitter, G+, Delicious, and other platforms. Diigo isn't one of the preset share options and I really hope you can add it manually—haven't figured out how yet but it's early days—because Diigo is how I share links in my sidebar here. I suppose I could switch back to Delicious if I have to.
Here's Feedly in "magazine" view: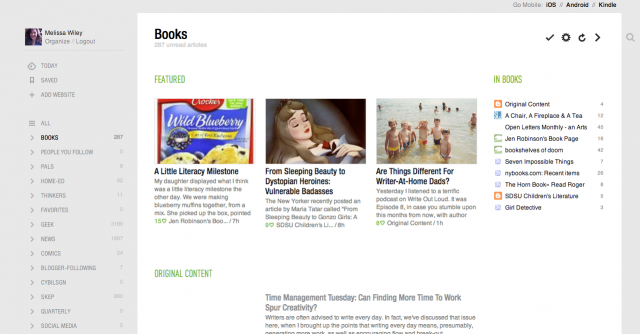 Other options: Bloglines (what I used before Google Reader came along). NewsBlur (after a certain number of subscriptions, there's a fee). NetNewsWire for Mac. The Old Reader. Pulp (a paid app for Mac). Flipboard for iOS devices (no good for me, as I need a desktop interface).
What's your poison?
Related post: Sending Web Content to a Kindle for Reading Later