Originally posted at The Lilting House.
Continuing our best gifts for homeschoolers (or really any kid) series, here are a couple of big-hit items my kids have received on holidays past.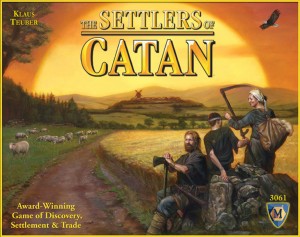 Settlers of Catan
. Our favorite board game EVER. You play that you're settlers in a strange land, using natural resources to build homes, villages, and cities. Sound dry? Not a bit. It's absorbing, exciting, and addictive. There's a Knights of Catan extension set, too.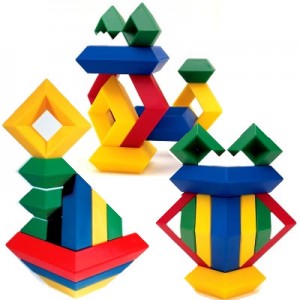 WEDGiTS
. These plastic stacking toys have been one of my most successful toy purchases ever. They're popular with every single kid in my house, from the eleven-year-old on down. Wonderboy (almost three) plays with them all day long. They nest into pyramid shapes, or you can turn them on end and build tall structures and contraptions. We keep a large basket in the living room, and hardly a day passes that they don't wind up taking over the rug. Timberdoodle used to have the best price—I haven't compared lately as we've had our big set for several years now.
Related posts:
Best Gifts for Homeschoolers
Catan Apps for iPhone & iPod Touch
This post contains Amazon affiliate links.
Comments
Annette says:

I've been enjoying your blog(s) from Sudan where we are living with five of our children (the oldest one is off to college). There are very few toys we can get here, so we try to choose carefully how we fill our suitcases for our desperate-for-toys three year old on our trips to the US. We're going to give Wedgits a try. Thanks for the suggestion!

Jeanne says:

Ok, so this is not technically a gift. This is a "find," and I had to tell someone about it.

Today while looking at shower curtains, I found a world map one in Walmart that is really decent and was under $10. I am pretty sure I am going to use it as a table cloth instead of a shower curtain.

I have looked for these and I know Sonlight used to have one in their catalogue but it was more expensive, as were others I've seen on the internet. Some of them had a layout I don't like – with US in the middle and Russia all split up. That confused me forEVER when I was a kid — why WAS half of Russia at the other side of the map??? (Yes, yes; I know consulting the globe on this makes a good lesson too. We have done this because one of the world maps we have IS this configuration. And yes, yes, I understand the downside of why Walmart's prices are low. My husband spent many years working in the textile industry and we have firsthand experience with these issues.)

While I'm on the map line of thinking, for one Christmas, my husband made simple frames for a world map and a US map for me, so they are nice enough that I consider them decorative "art" and hang them prominently in our kitchen.

Jennifer says:

We purchased the Wedgits for my son (with your recommendation a few months ago) and love them. I couldn't agree more. I love the idea of the board game. Thanks for all your research into this! 🙂

beachlover says:

I love Settlers of Catan too. You guys should try Carcasonne (I might have too many n's and not enough s's in that spelling.) You can play it with 2-4 players, and it's just so hard to find a good game that you can play with only 2 or 3 people. You can also really enjoy and finish the game in about 45 minutes. Give it a try, I bet you'll like it.

Silvia says:

Is the age recommendation accurate for Settlers? It says 12 and up.

Thanks Lissa!

Melissa Wiley says:

Looks like I missed this question from Silvia way back when. We've played Catan with kids as young as eight.