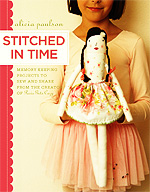 Have you ever pre-ordered a book and then forgotten you've done so? And then months later you get the shipping notice, and it's like a little piece of Christmas in your in-box? That's what happened to me the other day when a certain online book retailer notified me that my copy of Alicia Paulson's long-awaited Stitched in Time: Memory Keeping Projects to Sew and Share was on its way. It'll be here today. (You may know Alicia from her delightful blog, Posie Gets Cozy, which was the very first handcrafts blog I ever subscribed to.)
Hurry on over, Mr. UPS Man; we can't wait to get cozy with this book! (Good thing I got all caught up on my Cybils reading yesterday. I can't peruse any more nominees until the next batch of library holds comes in, or until another nice fat packet arrives from a publisher. Which may well be today. We've been keeping Mr. UPS Man hopping lately. And may I just say he is one of the nicest guys you'll ever meet? One day he brought us a bag of clementines from his neighbor's tree—he said he'd been given so many he couldn't eat them all and he thought maybe my kids would enjoy them. Don't think I'm unaware this is all Rilla's doing: she charms him daily with her warm reception as he jogs up our driveway with packages stacked high. "Hi dere! You 'liver dat for me?")
Comments
Jennifer says:

I'm looking out the window right now – come on mailman! And I stupidly kept checking the mailbox yesterday forgetting it was a holiday. Cannot wait for this book.

Melissa Wiley says:

LOL, Jenn. You are my sister in craft-book-junkiedom, for sure!

Karen Edmisten says:

ooh, that is like a little piece of Christmas! Enjoy it!

sarah (patience) says:

How lovely. Posie was one of my very first craft blog links too. But I must admit to being surprised by there being a question mark, not an exclamation mark, at the end of Rilla's comment to the UPS man 😉

Activities Coordinator says:

Sweet girl. She makes you want to send her something – just so it can get 'livered!

Toni says:

The ultimate handcrafting blog is whip up. net. All sorts of tutorials from different handcrafters, right now they have a tutorial telling you how to make a toddlers skirt out of an old sweater too cute.

kim baker says:

I love Posie Gets Cozy. I am going to have to pick up a copy of Stitched in Time.
Great blog! Kid lit and crafts, two of my favorite things. I ventured over from the Comment Challenge, and I'll definitely be back.