January 23, 2010 @ 8:12 am | Filed under:
Photos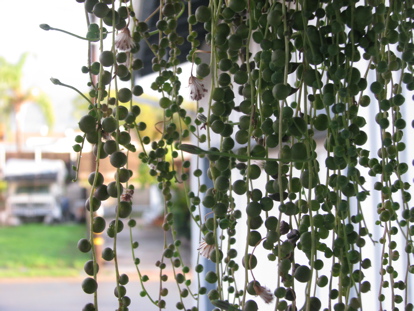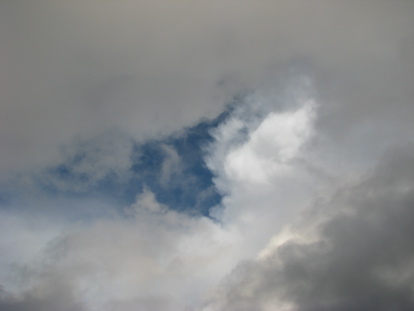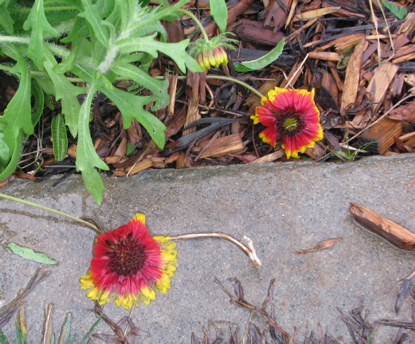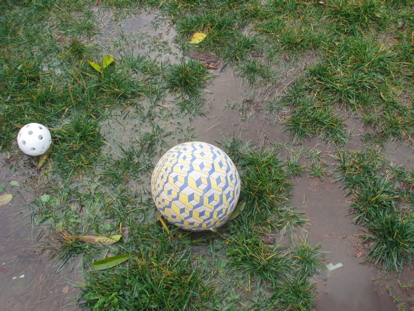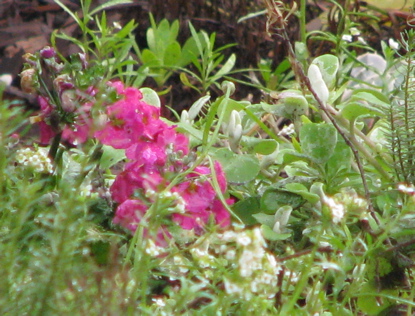 1. My beloved string-of-beads plant surprised me with blossoms.
2. After a week of storms, a delicious glimpse of blue.
3. The days of downpour left everything flattened.
4. And sodden.
5. And washed clean.
6. My excellent father converted a bunch of family photos to coloring pages and emailed them to us for printing out. Rilla and Wonderboy were over the moon. A brilliant way to combat cabin fever. Well done, Grandpa!
Comments
Ellie says:

Oh! I haven't seen a photo of Wonderboy for awhile (I think??): he's looking so much older! Really losing that "tiny boy/post-baby" look, you know? I was realizing that my 7yo son has lost that, too … *sob*

MelanieB says:

I've never heard of a string of beads plant before. Intriguing. Beautiful.

I love the coloring pages idea. How clever!

Mary G. says:

Lissa, your photos amaze me with how spring-like it is in San Diego compared to Orange County, VA!

Of course in the pic of the kiddoes coloring, my eye immediately noted the knitting on the desk behind Wonderboy!

Elizabeth M says:

Very creative idea to turn pictures into coloring pages. I'd love to hear how he did that!

Jen Robinson says:

The family photos as coloring pages idea is brilliant! I love it.

Keri says:

Oh yay!!! I was just wishing for more such photos after your last post:) So nice when wishes come true. You have such a way of capturing the feel of a moment or a place or a day. Love these.

Hannah says:

Could your most excellent father share some instructions for that very cool bit of computer wizardry?

Heather says:

I would also like to request info on making those cool coloring pages. My Ethan would love them!

Melissa Wiley says:

Keri, thanks for your kind words about my photos! Gosh!

Mary, that's Jane's crocheting you're spying on her desk behind the little ones. 🙂 She's been enjoying working with bamboo-fiber yarn lately. Lovely soft stuff.

The coloring pages: my dad said it's an option in the Kodak Easy Share software that came with his digital camera. He said some other camera software has a similar function, so you might check the disk that came with your camera. He sent us a number of photos converted this way—some of birds and squirrels (we love my dad's pictures of the action at his bird feeder), and several of the kids themselves. A photo of Rilla holding the baby were a particularly big hit; I believe Jane was required to print out half a dozen copies of that one. It now adorns my home in several different color schemes. 😉

Jim says:

Cool coloring pages and fun photos–thanks!

Lori says:

Okay, I missed Delurker Week, so I'm coming out now…this was just too cool!

I googled "turn photos into coloring pages" and found this: go to Crayola Kids Zone http://play-zone.crayola.com/play-zone/index.htm#/LCC and enter the code PR24QCHT for free pictures into coloring pages. Good tip–print several copies and save one for future copying since I don't think you can permanently save them.

Thanks for inspiring us with such awesome ideas, Melissa!

Melissa Wiley says:

All the credit for this particular awesome idea goes to my dad. 🙂 He is full of this kind of genius—I should do a whole post on his fun ideas.

Leslie says:

Please do!!! I really enjoy crafts/projects that are large family friendly! Please send our thanks to him for being such a fun Grandpa. Love the book for Wonderboy!

Lenetta @ Nettacow says:

Love this! I linked to it (and the Grandpa Gifts post) on my weekly roundup, post is under my name. Thanks for sharing it with us!