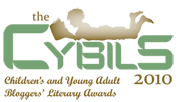 October 1st is the beginning of the two-week nomination period for this year's Children's and Young Adult Bloggers' Literary Awards. Watch the CYBILs site for your chance to nominate your favorite books of the past year in every category of children's & YA publishing—fiction picture books, nonfiction picture books, early readers/chapter books, middle-grade fiction, middle-grade & YA nonfiction, science fiction and fantasy, poetry, graphic novels, and young adult fiction. Those links go to the lists of this year's judging panels, if you want to see who'll be reading all the books you nominate. This year, nearly 200 bloggers volunteered for the hundred-odd spots on these panels, which speaks to the increasing influence of these excellent awards.
I'm delighted to have a spot on the 1st-round panel for YA fiction. Our task will be to read all nominated books in our category and narrow them down to a shortlist of, usually, 5-7 titles. You know how I feel about booklists. I adore a shortlist. Picking one winner out of a small group of contenders? Agonizing! But getting to share my enthusiasm for a select handful of books among dozens and dozens of hopefuls? Bliss. So I'm really thrilled to be participating in the CYBILs judging again this year. I served on the 1st-round panel for Fiction Picture Books in 2008, and I loved the whole intense, spirited process. Reading all the nominees (including reading many of them to my younger children), pondering the merits of the books I liked best, and discussing those fine books with the other 1st-round panelists—it was a fantastic experience.
(It's fun to look back at that shortlist and see how many of those books, especially Big Bad Bunny and A Visitor for Bear are still in regular read-aloud demand here.)
Here are this year's YA Fiction panelists, rounds 1 and 2, with links to our blogs and Twitter pages:
Panel Organizer: Jackie Parker, Interactive Reader [TW]
Panelists (Round I Judges):
Cherylynne W. Bago, View from Above and Beyond [TW]
Justina Ireland, The YA 5 [TW]
Kelly Jensen, Stacked [TW]
Ami Jones, Three Turtles and Their Pet Librarian [TW]
Jackie Parker (see panel organizer)
Amanda Snow, A Patchwork of Books [TW]
Melissa Wiley, Here in the Bonny Glen [TW]
Round II Judges:
Karen Ballum, Sassy Monkey, BlogHer [TW]
Kathy M. Burnette, The Brain Lair [TW]
Michelle Franz, Galleysmith [TW]
Alice Pope, SCBWI [TW]
Tasha Saecker, Kids Lit [TW]
I'm looking forward to some lively discussions in the months to come—and a whole heckuva lot of reading, of course. Start thinking about your favorite young adult books from the past year and be sure to nominate them between October 1st and 15th. You might want to subscribe to the CYBILs feed or follow @cybils on Twitter for updates.